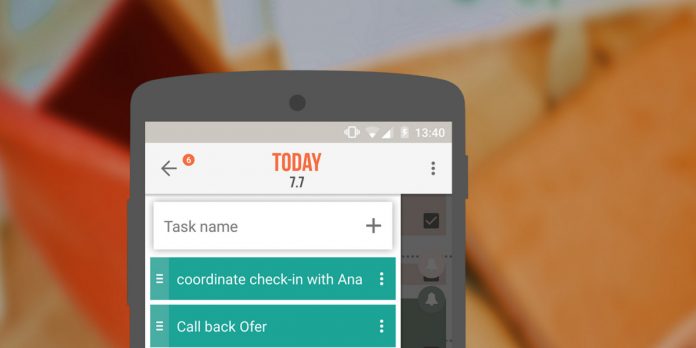 If you are a sort of individual who cannot manage your time properly, you certainly need something to remind you of the upcoming appointments, schedules, meetings, classes, or personal agendas. Fortunately, you now have many favorite to-do apps to make your life more organized. They go beyond simple reminders or agendas in your phone.
To-do list tools are impressive and innovative mobile apps, which can help your personal, social, and business life. Whether you need calendars to input your weekly, bi-weekly, or monthly agendas, or you need diaries to keep important notes or memories, the options are enormous.
Here Is the List of 2017 Favorite To-Do Apps
The following are the hottest options of 2017 to-do apps, which you can use to organize your life, as reviewed by Forbes: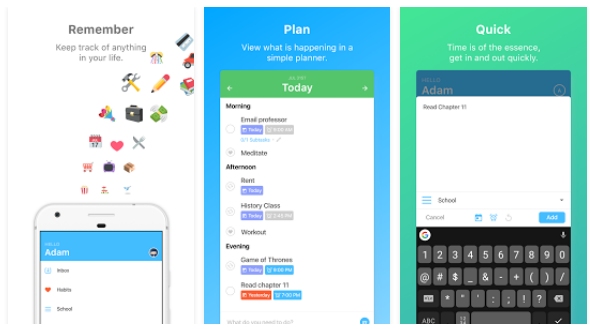 This is a multi-functional life manager, which fits every situation. This free app is available for iOS and Android. It allows you to keep personal habits, assign tasks and meetings, organize events, add notes and files, set reminders for important events, and share the list with others. For instance, you can share the list to friends who will also attend the similar agenda.
Other advantages of the app are its good-looking features and flawless operation. The following are some advantages, which you can enjoy:
• Personal task manager; it is greet for keeping personal projects and even for keeping track of groceries, which you want to buy. It is personal and private. You can organize everything on your own way.
• Shared groups; create new groups and invite friends to collaborate on a shared project. It is great for families, events, work, or event trips.
• Notifications; you can arrange a notification for every event and get notified for important meetings before the due time.
WeDo is a great companion if you want to make your life better. This is the time to break the bad habits and start something new in your life.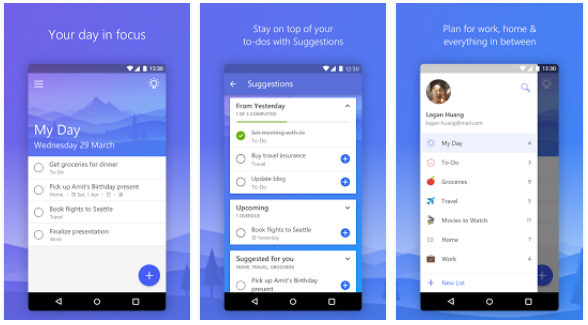 This is still one of the most popular and the hottest to-do apps for Android and iOS. It is also free and simple to use for everyone. Make your life better organized by creating a list of tasks for every area in your life, whether it is personal, social, school, and professional area. You can even create the list of groceries, household to-dos, or movies. Mark the tasks as they are done.
The app is powered by Intelligent Suggestion and comes with Office 360 integration. It allows you to arrange the schedules for the day, determine the priorities, and complete them. Make your day in focus and reach the targets beyond the routines, by using the following features of Microsoft To-Do:
• My Day; start your morning by filling up the May Day list. Add every thing you want to get done during the day;
• Suggestions; this feature enables you to prioritize the daily tasks. It is based upon smart algorithm, which displays to-dos in the lists and recommends the most important ones;
• Reminders, notes, and due dates; add them to the to-do list and never miss a beat on your days. They remind
• Personalization; make the lists more attractive by personalizing them with colors and themes. Anytime the reminder rings, you can immediately identify the topics.
• Syncs; get easy access to To-DO lists by synchronizing them using iPhone, Windows 10, Android, and the web.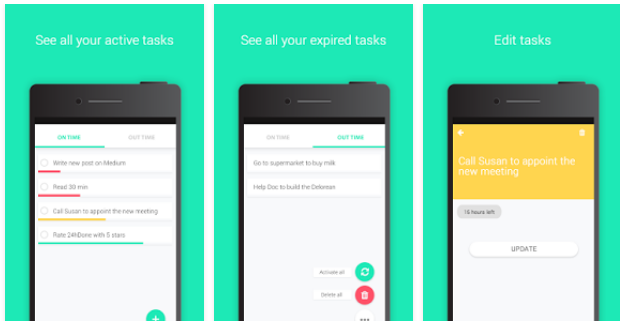 The app is available for free on Android gadgets. This is one of the simplest and the most favorite to-do apps to manage your day-to-day activities. It works differently from anyother apps. It only gives you 24 hours to complete the tasks on the list. In other words, you can only put daily to-dos.
There are two main tabs, which show the task status, namely:
• ON TIME tab; it displays all active tasks. Look at them and you will see that each task is colorized to indicate the amount of remaining time to finish it.
• OUT TIME tab; in case that you cannot finish the tasks in 24 hours, all of the expired tasks are moved into the tab. Don't worry. You can get into the OUT TIME tab and active the tasks again.
24hDone is an offline to-do list app. Therefore, neither internet connection nor signup is required. It is simple and intuitive, and you can edit, add, and delete the tasks in a hassle-free way.
Of course, there are many other favorite to-do apps on internet. Most of them are free, but if you want to have the hottest to-do apps with advanced features, you may choose paid one. Learn the features and see how they fit your needs. Grab them and make your life better organized!