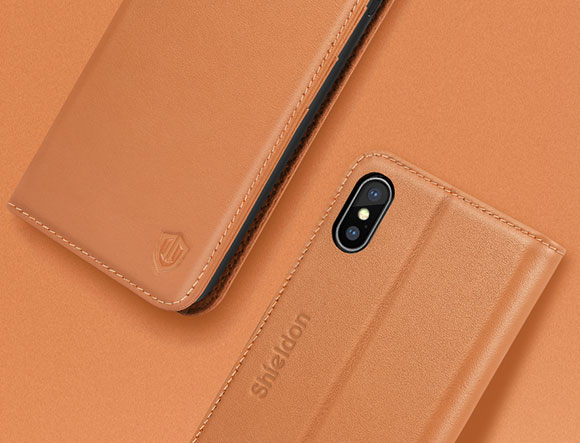 The phone case isn't only protecting your phone. It also gives your phone an additional aesthetic value, plus it also holds extra functionality. So, having at least one phone case for your phone is a necessity. Now, if you use iPhone, there are many choices of cases you can find. Below, we have a list of good-quality iPhone wallet case for you. They can give you the aesthetic and functionality that you need.
Silk Vault Case
Silk creates a nice wallet case for your iPhone here. It has wide space inside, where you can keep three cards. Of course, there is also enough room for your cash. But, the best about this wallet case is you can keep it on your iPhone when you do the wireless charging process. Then, Silk also adds various nice additions on it, such as air pocket corner, high-grip textured sides, and more. (Price: $15)
Spigen Slim Armor CS
Its absolute protection features allow you to carry your iPhone easily. The dual layer gives your iPhone nice protection against dust and scratch. Then, the air-cushion technology will absorb the impact, so your iPhone won't be damaged from the bump or fall. You can still carry cash and 2 cards inside. However, its design allows you to hide your valuable cash shown from outside. This is a great wallet case. (Price: $15)
Case-Mate iPhone X Case
If you love leather, this product is the best choice. It has many slots inside, where you can keep your ID, cash, and card. Moreover, the interior design will hold your iPhone in place. Nice feature, if you love to move a lot. The lifetime warranty is also another great thing from Case-Mate. Whenever you have a problem with it, you know that they will help you to deal with or replace it. (Price: $25).
Speck Presidio Wallet
Another wallet case that offered the best protection. The 10ft drop protection feature makes it become the great shield for your iPhone. That's not all. This wallet case also has Impactium feature. This shock barrier will add extra protection against bump and such. The design is really beautiful, slim, and elegant. Plus, it feels comfortable to carry your cash and card in it. (Price: $25)
Otterbox Strada Series
Otterbox isn't just the name of this wallet case. This is also the name of the unique technology that can protect your iPhone from many things, such as drops, scratches, and bumps. The leather material also makes it, not only comfortable in your hand but looks stylish and exclusive. Strada is also one of the top brands for wallet case. So, you get one of the best products here. (Price: $33)
UAG Trooper Series Case
UAG create one of the amazing wallet cases for your iPhone. It has much better protection compared to other cases. And, it also passes the military drop-test. So, you can imagine how this case can protect your iPhone really well. Moreover, it also has wide space inside, where you can put 4 cards and cash. The design is also nice, which allow you to access the touch screen and port easily. (Price: $40)
Ridge Wallet Leather Card Case
The interesting part of this iPhone XS wallet case is the feature where it doesn't block the RFID wave. Even though it has that feature, you can still use it to keep your cards and cash. The oil waxed full grain leather material make this wallet case looks beautiful and different. The raised bevel feature also gives your iPhone screen, good protection, while you can still access the button and ports. (Price: $40)
Twelve South Relaxed Leather
Talking about exclusiveness, Twelve South wallet case is the best choice. Using special leather material, each of the wallet cases was hand-finished by adding extra burnishing. Therefore, each of the wallet cases has different design and feeling, which add more to its value. With all of that great design, you also can still get the basic function of wallet cases, such as keep cash, card, and iPhone. (Price: $41)
Nomad Wallet Case
This wallet case is a good combination of appearance and functionality. Made of Horween leather and traditional leatherwork, it looks really beautiful when you use it to cover your iPhone. The design isn't only beautiful. It also has full feature for protection purpose. For example, it has a protective polymer, 6 ft drop protection, and more.The functionality as wallet case is also really satisfying. You can use it to carry your cash and 2-4 cards inside. So, with minimalist design and full feature, we can easily say that this product is one of the best you can find out there. (Price: $45)
Mujjo Leather Wallet Case
Actually, this is the reproduction product from Mujjo. They redesign this product and improve its functionality in order to become the best wallet case for your iPhone. The leather material is much better than the previous version. The full-grain vegetable tanned pattern also makes it looks beautiful. Moreover, its capability in holding cards and cash is also increasing. Now, you can use it to hold 2-3 cards and more cash. (Price: $50)
Bellroy Leather iPhone Case
Bellroy is well-known with their slim and minimalist wallet case. However, even though their product uses slim design, but the protection is really good. It uses LWG weather with the microfiber cushion feature. They provide the best protection against impact or scratches. More than that, you also can use its functionality as a wallet to carry card and cash inside. (Price: $50)
Ezra Arthur iPhone Wallet
If you love vintage style, this iPhone XS Max wallet case is the perfect choice for you. Using the Chromeexcel leather, this wallet case can protect your iPhone from abrasion as well as the negative effect of UV light. Overall, this is one of the best iPhone wallet cases you can find in the store. So, it's worth to buy and use for your daily activities. (Price: $95)