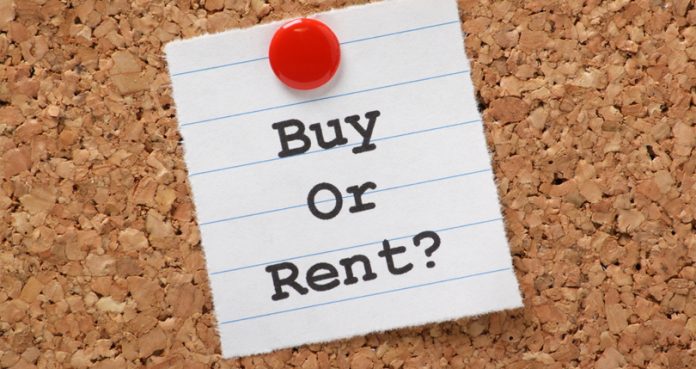 For a long time, there has been a passionate debate about which makes more financial sense between renting and buying a house. Both sides have a number of pros and cons which can be a bit confusing.  The most important factors to consider are income, personal status and commitment. At the current property market in Dubai, it makes more sense to buy than to rent.
Even though buying requires a lot of money for the down payment, it does not earn you money. In fact, it is like you will be paying to stay in your own house. Also, the cost of borrowing is increasing which means mortgage payment will rise. On the other hand, due to increased competition, rental prices are coming down. However, no matter the price of buying a house, it does not make sense to pay for rent while that money can be used to pay the mortgage. Depending on the terms of the contract, the house will be yours after a few years.
One of the most important factors to consider is your personal needs. If you are looking forward to a long-term stay in Dubai, buying will make more sense than renting. However, if you are not sure about the long-term plans, renting is more viable. This is because it offers you a lot of flexibility especially when considering the rise in interest rates.
There is more to consider than just rental and mortgage payments when it comes to comparing between buying and renting. Under each option, it is important to factor in the numerous hidden cost involved such as maintenance, service, insurance, among others
When buying a house, you should consider the cost of putting your funds into a property that will not offer any cash in return. However, the property has the potential of appreciating in capital returns.
As the Dubai Expo is around the corner and the tourism industry is improving, all the signs are suggesting that it is a good time to buy than to rent. Also, in the recent past, sale prices have been falling significantly more than rents. In addition, rental yields have increased which makes the market more attractive to investors.
Would you like to buy a property in Dubai? There are numerous new projects such as the Dubai Creek Harbour by Emaar and Bluewater residences by Meraas that are expected to be completed soon. The biggest advantage of buying these properties is that they are sold off-plan at affordable prices and come with friendly payment plans. So if you are finally making the move from renting to buying, make sure you take a look at the above mentioned off plan projects in Dubai.