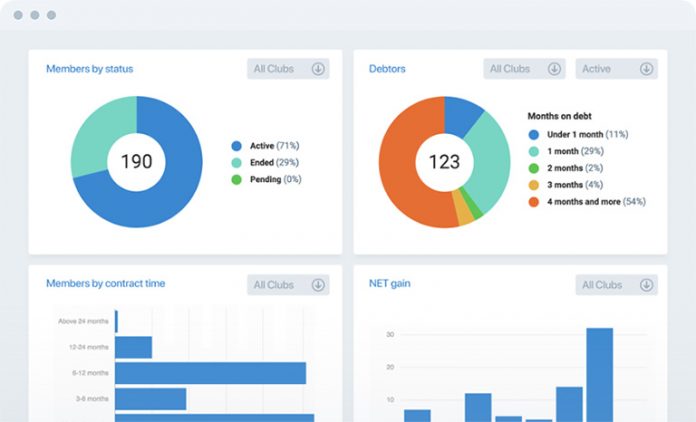 Gym management can be a little stressful if you run it as a business, but with advancements in technologies, it's now easier.
There is now 24-hour gym management software you can set up to manage your fitness room even while you sleep.
What is an Online Gym Management system?
An online gym management system is simply the use of software to manage a gym,  and fitness programs.
A gym management software can be designed to handle bookings for fitness programs, gym schedules, feedback from clients, automated billing, payment processing, and many other administrative tasks.
Why do you Need Gym Management Software?
Running a gym business can be time-consuming and challenging, of course, yes, you would need staff to handle administrative tasks and the daily operations in the gym.
But with all-in-one gym management software like perfectgym, designed for gym and health club owners, membership management comes with ease.
Here are some of the advantages of using gym membership management software for your fitness business.
It simplifies your Operations
You can handle daily operations in your gym more effectively and efficiently.
The administrative workload can be minimized since most of the tasks would be handled by the software, and it's automated, for example, data entry, check-ins and check-outs by members, service subscription, renewal, and others.
This can help to streamline the daily activities and operations in the gym house, and you'd only need a few staff, to be able to reduce the cost of operations and increase productivity.
Membership management and satisfaction
Besides being able to collect and process data, you can use this software to automate marketing campaigns and retain your clients.
You can also interact with your customers, plan classes, offer promos, offer free gym safety training, get feedback on their experience and improve member satisfaction.
Some gym management software can be used to offer personalized services to clients, and also use different data points to send personalized messages to members.
Gym management tools would not only help to manage membership and keep everything running smoothly, but it would also help to manage your staff.
Most fitness club software has 3 portals – The membership portal, the staff portal, and the admin portal.
In the admin portal, you would be able to manage both staff and clients.
The software can help to manage the staff on duty, their activities, and process their payments.
Data is king! Fitness club management software would enable you to collect and have access to real-time data which can help to have more insights into all activities of the fitness business.
Data such as membership growth, sales growth, members' preferences, outstanding balance, the behavior of clients, and performance can help you to make quicker and better decisions that would help your clients and your business.
Walking into a gymnasium, making inquiries from the receptionist, going to the cashier, making payments, getting prospectus and some other processes can be stressful for a busy man.
However, with most gym management software, different payment gateways can be integrated to make payment easy for potential clients, and some can connect their clients to a third-party system.
Whichever way it is, it's still better than manual payment. As a business owner, you can get your payment easily, and as a client, you can make your payment the way you want.
As a gym manager, you would be able to process refunds, manage recurring billing and settle payment issues with your customers.
Conclusion
Gym management software is important if you want to run your gym, yoga studio, swim school, dance studio, etc easily.
Perfectgym has got almost everything you would need to run a health club and gym efficiently.
The software has features like staff management, POS system, powerful dashboard, nice reporting system, payment system, online booking and registration, and self-service for an awesome experience of your clients.