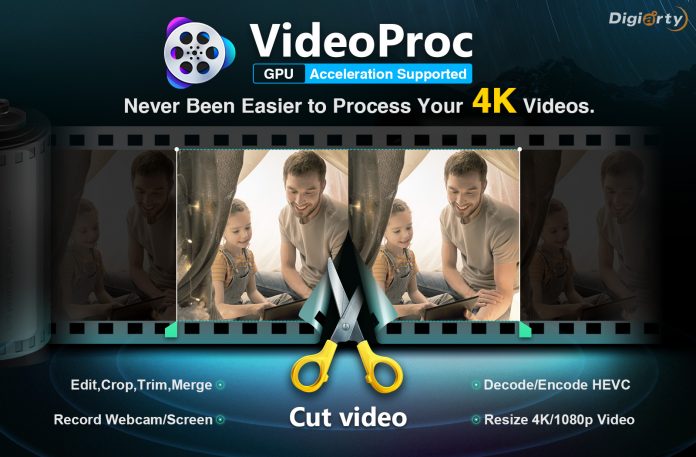 Playing videos in Smartphone is an activity likable by many users for some reasons. First, it is indeed easy, simple, and practical as you can just do it anywhere. Second, Smartphone whether it is iPhone or those with Android OS now also provides a video player that is compatible with various formats. Third, the quality offered is also really stunning. You can even choose the quality based on your wants and necessities.
However, it doesn't mean that all problems in playing videos can just be solved well with the default app available in your Smartphone. Sometimes, you may need an additional app like VideoProc. So, what is it? Here are the explanations.
What is VideoProc app?
Particularly in iPhone, videos not playing on iPhone may happen now and again. Well, it is indeed not something intended by the producers for sure. But the following things just often happen. The first problem is regarding the format issues that cause the failure to play some video formats like MKV, AAC, and FLV. Second, when you have only installed the old versions of players like QuickTime, Windows Media Player, Adobe, and others, it is highly possible that you cannot play or edit iPhone HEVC videos.
Third, have you ever experienced that your videos cannot be played smoothly on VLC and other video players? Yes, there are possibilities for damages and others. Well, it is just really annoying. Fourth, some video formats created by the drone, GoPro videos, and so forth are also problematic when being played on iPhone. Lastly, it is not exactly about the videos anyway but more about the music formats. Sometimes, they cannot be as well on your iPhone.
Okay, if you are experiencing one of those problems, it means you need an additional app or software to solve this problem. VideoProc can be the best solution anyway. In general, the app is a video converter but the way it works is relatively simpler, easier, and faster than any other apps. The app is powered by GPU acceleration that is versatile to convert audio and video from and to any format with no quality loss. By converting your videos through this app, the problems mentioned above can be solved more quickly.
How does VideoProc works?
Of course, you need to install the software on your computer and then launch it to make sure that it is able to work well with your system. There are some features available in the app aside from the quality maintenance. It offers the video edit, compression, download, and record feature. Each of them is available in a button and you can just tap it to start the process. Further explanations of the features are as follow.
Convert iPhone Videos
You may convert iPhone HEVC/ H.265 videos to H.264 videos to make it compatible with all types of video players and editors. There are some parameters applied to make the conversion work more properly. They are including the frame rate, bit rate, resolution, and more. Interestingly, it is possible for you to convert the videos into GIF.
Convert Videos and Audios for iPhone Playback
So, what are the formats that can be converted to each other through VideoProc? They are MKV, FLV, AVI and the general conversion for the successful playback on iPhone. Aside from the videos, it is possible to convert music to AAC, MP3, AIFF, M4A, and others to be played on iPhone. Do you want to convert the music into iPhone ringtone? Convert it also using VideoProc. Upload them more easily to your social media including YouTube, Facebook, Instagram, and more without complex manual setting.
Converting videos and audios are relatively difficult to be done in any other video conversion. However, such a thing may not be experienced in VideoProc due to the features of some kinds of great feature. What are they? They are the unique level-3 hardware acceleration tech, support for the large video conversion, and 420 device-specific provide for the social media necessities.
Bonus Features
So, do you want to have more from VideoProc? You should not worry since this app is still able to give more gifts to you? They are downloading the videos from YouTube and numerous other sites more easily; editing, cutting, cropping, merging, adding filters, and more on videos; recording the computer and iPhone screen without problems like the red bar, converting all types of DVD videos for iPhone playback, and more.
VideoProc Giveaway & iPhone XS Max Sweepstakes
Based on the benefits mentioned above, VideoProc is highly recommended to be installed for your iPhone and, of course, Android. Moreover, there are also a giveaway and iPhone XS Max Sweepstakes for you the lucky users. Here are the details for Free Get VideoProc and Win iPhone XS Max.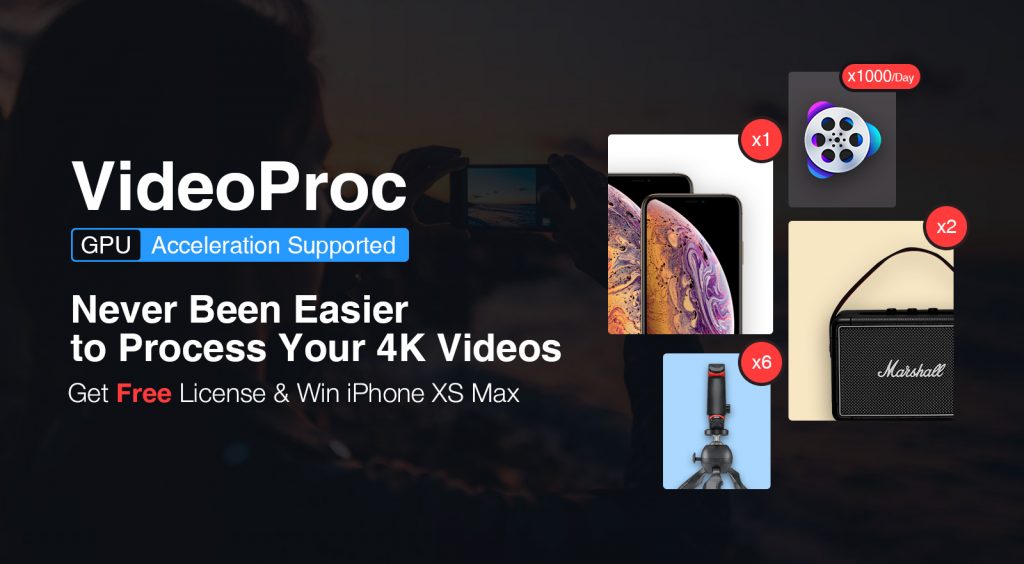 To enjoy the app, features, and giveaway, you must go to the official giveaway page of VideoProc for the duration from January 11, 2019, to February 20, 2019. There are some Grand Prizes available;  iPhone XS Max x1, Marshall Kilburn II x2, PIXI Plus Mini Tripod Kit x6, and free VideoProc iPhone Video Converter for around 1000 copies per day.
To win the prizes, it is really easy in which you only need to enter the valid email address to earn one entry of the iPhone XS Max Sweepstakes. Since it requires the license key of VideoProc, make sure you receive it.
To increase your chance in winning the prices, you need to share the contest page via social media accounts, whatever they are. Besides, sure, you must not forget to download VideoProc, follow VideoProc social media accounts, and visit VideoProc official sites. Well, the more entries you have done, there are more chances to win the prizes.
Conclusion
VideoProc is video converter software available for both Windows and Mac. There are some primary uses that enable you to solve some problems when the videos are not able to play well on your mobile devices. Besides, there are additional features to make your playing, editing, and sharing videos easier and more interesting. Additionally, there are prizes to be achieved only by doing some simple requirements.