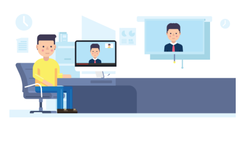 Installing a video conference system is one of the ways to scale up your business to the next level. It makes your business activity more flexible, faster, and easier. You can discuss anything with the team, clients, or partners anywhere and anytime. The most important thing is that you use a trusted video conferencing camera supplier to handle the installation. PABX System Kenya facilitates business owners with video conferencing products.
Polycom Video Conferencing
Polycom Video Conferencing becomes one of the most popular brands because of its high-quality hardware. This product has a great feature such as Polycom telepresence. This feature helps to connect and communicate with business partners, teams, or clients from desktops, meeting rooms, classrooms, and even mobile devices. This product also has a specific feature known as Polycom Smart Pairing. This feature allows the participants to join the conference by using a tablet computer. Then, they can transfer the video call to a room easier. You can control the conference by using the tablet. The system is also compatible with Microsoft platforms such as Lync and Skype for business.
Grandstream Video Conferencing
PABX video conferencing camera supplier is also offering video conference systems by Grandstream video conferencing. Companies love to use this video conference because of their high-end system. The system is compatible with Android 4.4 software. The conference is much easier since you can use a variety of apps such as Skype, Hangouts, and many more. The system is also easy to install, so you can use it immediately. The system is ready to support a conference that consists of up to 9 participants. The most important thing is that you don't need to use an external MCU or server at all.
Avaya Video Conferencing System
Avaya tries to give a comfortable virtual conference with smooth video quality resolution. Just imagine that you are about to conference with your partners with resolutions up to 1080p/60fps. The system is also compatible with various devices including PCs, desktops, tablets, Android, and others.
Yealink Video Conferencing System
Yealink video conferencing system is another flexible system. You will receive the same quality whether you use the conference system in a small, medium, or large meeting room. The features and connectivity support you to hear a clear voice from the participants. As a result, you will get all the important points from them. The system is not only using an HD audio but also noise proof technology. It prevents background noise from being included in the audio. You can focus on the meeting without any distraction from the noise.
You can consult about the best video conferencing system you should use to support your business meetings. PABX video conferencing camera supplier will guide you to get the best video conference system. The team will help you from the beginning until you can use the conferencing system. Indeed, this service will help companies or businesses in Kenya to grow maximally. Soon, coordinating your team will be much easier even if you don't meet them face to face. Turn on the video conferencing system and start to coordinate them.