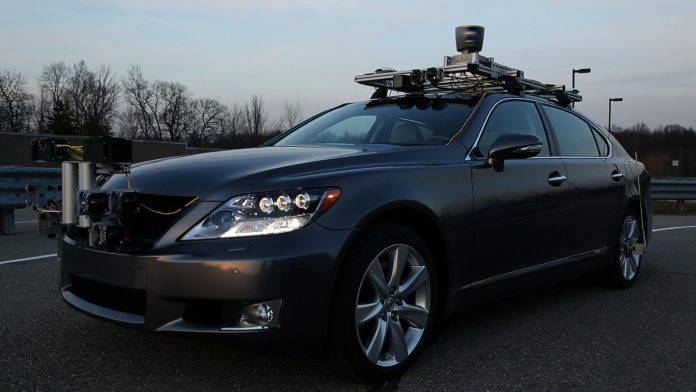 Toyota Tests Its New Self-Driving Technology for the Second Time This Year
The highly anticipated Toyota self-driving car is back with a new update after it was revealed for the first time six months ago. Lexus LS600hL is still chosen as the test bed and this time the new generation autonomous system is called Platform 2.1. Several cars were sent for testing both on closed and public streets in several areas such as Michigan, Ann Arbor and Massachusets.
So, what's new in Toyota self-driving car platform 2.1? Well, there are plenty of big updates and a little surprising and unusual element inside the cabin. The most important update of this car is the new LIDAR that allows the car to have better awareness of its surrounding.
Thanks to the new LIDAR, the car is now able to see with further range, gain more data. Furthermore, since the LIDAR comes with dynamically configured field of view, it can even focus on certain areas that need more attention which will guarantee safer driving.
The brand new LIDAR system is developed by Luminar. The best thing about Luminar's LIDAR system is the fact that it is built from scratch which will ensure that Toyota will have a one of a kind self-driving system. Luminar also puts its all into this project because Toyota is its first big partner and the success of this project will put it in front of its biggest competitions like Velodyne and Quanergy.
Besides an excellent LIDAR, Toyota self-driving car is also equipped with various better radar and cameras. It also sports a new deep learning artificial intelligent system which improves the car's ability to spot objects around it as well as finding a safer path. Overall, this update is certainly an improvement to Toyota self-driving car autonomous system that was revealed last March.
The new update is great and all, but once you look inside the cabin, you might wonder what on earth were the designers thinking when designing this car. From outside, it is just an ordinary Lexus LS600hL with all its glory. But inside, you will find not only one but two steering wheels with the other one located on the passenger's side.
Well, this is not a coincidence or some sort of design malfunction. The additional steering wheel is used to improve study regarding the safety of a self-driving car. The so-called "unique dual cockpit configuration" is used to study a better method of shifting control between the computer and human. During the test, if human intervention is needed to ensure safety, the safety operator can quickly take over with the second steering wheel. It is a great way to keep the test ride safe, but in the same time keep the driver seat empty to allow the car drive by itself. Since it is only for research purpose, the additional steering wheel certainly will not be included in Toyota self-driving car once it is officially launched.
The extensive study on shifting control between human and robot as well as all the efforts to improve the vehicle's sensitivity to its surrounding show automaker's commitment to create an autonomous driving car with the best safety system. Improvements in the technology are not only needed to win the competition among the car manufacturers, but also to convince the buyers and law makers. A self-driving car must be able to sense the objects in its surrounding as well as give faster response than the human driver.
It becomes very important for Toyota since Toyota self-driving car Chauffer and Guardian are researched to operate at level five of the SAE standards. Chauffer is a fully autonomous car meanwhile Guardian is a driver assist system. It will monitor the road and the condition around the car, warn driver if a potential danger is detected and then take over when it is deemed necessary to avoid accidents. Its concept is pretty similar with Tesla's Autopilot.
The fact that the second unveiling is only six months away from the first one reveals something about Toyota's commitment in the world of autonomous driving car. Other big brands like Tesla, BMW and even Fiat Chrysler have showed tremendous improvement in their self-driving technology. It seems like Toyota doesn't want to be seen as a follower and wants to show that it also has impressive self-driving technology to anticipate even though it indeed came late in the self-driving vehicle scene.
Back in 2015, Toyota also confidently stated that its self-driving car will be ready by 2020. It is only three years from now, so it is safe to say that we definitely will hear more about Toyota self-driving car in the very near future.
Visit also: damaging a car in an accident