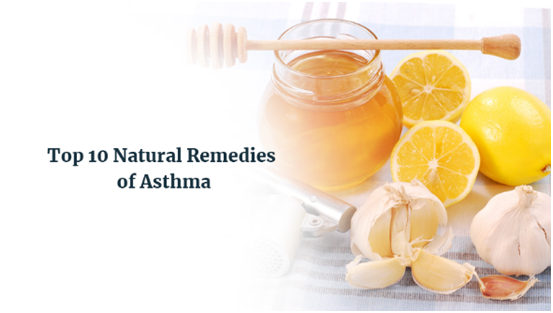 Although there is no cure for asthma, there are some natural remedies that can prevent asthma attacks by reducing the effect of the malicious agents in the surroundings. Some natural substances manage symptoms of asthma along with doing some basic exercises and yoga can reduce stress levels which reduce the risk of an asthma attack.
Proper diet and good food can also reduce the risk of asthma symptoms. It is suggested that along with your medical therapies, you also indulge in some of the natural therapies of treating asthma. It would be beneficial over a long time and does not involve much cost. Inhalers also beneficial for asthma treatment, you can use Asthalin Inhaler Dosage for Child for asthma and cough 
Below mentioned are some of the remedies which include some food items you can have during an asthma attack and some forms of exercises and yoga. Make sure that you are not allergic to the foods mentioned below.
1. Eucalyptus Oil              
 You Will Need
What to Do
Put a few drops of the oil in the towel and hold it close to your nose. Otherwise, you can also boil a cup of water put some drops of oil in it and inhale the vapors.
Why it Works
It helps to clear the nasal passages if you have a blocked nose due to cold. Eucalyptol is the chemical present in eucalyptus oil which helps to clear the mucus.
When to Use 
Use it before going to sleep at night or in winter when you are having difficulty in breathing. You can also use this technique when you are have caught a cold.
2. Kalonji Oil
You Will Need
½ teaspoon of kalonji oil

1 teaspoon honey

1 cup of water
What to Do
Add kalonji oil and honey to the water and mix it well with a spoon. Drink this twice every day once before having breakfast and once before dinner.
Why it Works
Kalonji oil is also called black seed oil. It works as an anti-inflammatory agent. It is also used in the treatment of bronchitis.
When to Use
Prepare this solution and drink it twice every day. Keep doing it over a period of time to see improvements.
3. Turmeric
You Will Need
¼ teaspoon turmeric 

A glass of water
What to Do
Add the turmeric to water and stir it well. Drink the solution.
Why it Works
Turmeric has a substance called curcumin. This phytochemical substance prevents inflation of your airways and is a good anti-microbial agent.
How Often To Use
Do the turmeric water thrice a day for at least 20-25 days. For better results, drink it minimum one glass every day.  
4. Coffee
You Will Need
One cup of hot coffee
What to Do
Brew a cup of hot coffee and drink it.
Why it Works
Caffeine acts as a bronchodilator and opens up constricted airways. It is one of the easiest and most popular ways of dealing with asthma attacks and works within minutes.
5. Ginger 
You Will Need
1teaspoon of finely grated ginger 

A cup of hot water

¼ teaspoon of honey
What to Do
Boil a cup of water and freshly grated ginger in it.
Allow it simmer for five minutes.
Strain the water and add ¼ teaspoon honey and stir well. 
How Often To Use
Drink this herbal tea at least once every morning. 
Why it Works
Ginger has been used as an anti-inflammatory agent since medieval times. Ginger relaxes your airway muscles and relieves constriction. It also regulates calcium intake.
6. Garlic
You Will Need
8-10 garlic cloves

½ cup milk
What to Do
Boil the milk and add the garlic cloves in milk and wait for 5 minutes.

Filter out the cloves.

Drink the milk while it is lukewarm.
Why it Works
It clears the congestion in your lungs and airways.
When to Use
Use it during the winter season when there is a chance of catching a cold.
7. Spinach
You will Need
Spinach leaves.
What to Do
You can consume spinach in your daily diet. Make various recipes like soup, mix it with vegetables or fish and meat.
Why it Works
Spinach contains loads of vitamin C vitamin E, magnesium, and calcium. Both vitamin C and magnesium are helpful in treating asthma.
8. Okra
You Will Need
Okra (ladies finger)
What to Do
Consume okra daily by making recipes like soups or drink okra water by slicing okras in water and leaving it overnight.
Why it Works
Okra contains high amounts of vitamin C. It is helpful in treating wheezing symptoms in children.
9. Belly breathing exercises
What to Do
Sit in an upright position and breathe slowly through the nose.

Hold it for 5 seconds.

Exhale the air through mouth very gently.

Repeat the sequence at least 30 times.
Why it Works
This exercise evenly distributes air to the lungs. It has been practiced by the sages and monks from ancient times. It prevents the risk of asthma attacks. It also reduces stress. 
When to Do
You can do it during any time of the day, preferably during the early morning.
10. Buteyko breathing exercise
What to Do
Sit in an upright position and breathe in gently through your nose.
Exhale slowly till there is no air left in your lungs.
Hold the breath for as long as possible and then breathe normally.
Repeat the cycle 10 times.
Why it Works
This technique is important for those people who have higher and irregular breathing rate. It makes us learn to breathe slowly and in a regular fashion.
Conclusion 
There are many natural remedies for preventing asthma symptoms. People suffering from asthma should daily do any one of the remedies mentioned above. So you can buy Omnacortil 20 mg Tablet form arrowmeds.com. The food items mentioned above are generally available in all household kitchens. They are cheap as well. The exercises involve breathing and do not involve physical exhaustion as in running or push-ups. Doing these exercises help to prevent asthma attacks as well.