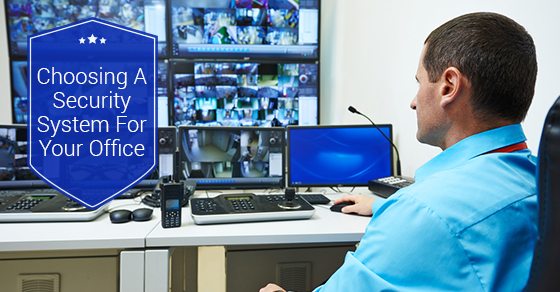 Running a business is pretty challenging nowadays. As an entrepreneur, you need to take all the actions to ensure your business is secure. One weak password may lead to information leaking and monetary losses. Let's forget that cyber attacks are on the rise. Most business owners are aware of it and try to prevent disasters. However, they forget that all cybersecurity measures are useless in case thieves will physically get into the office. If you don't want to lose any digital data, paper records, your favourite office chair and other company assets, install a security system. It will also help you control your own employees. According to the statistics provided by Alarm Relay, approximately 75% of employees stole something from their workplace at least once. These are the things to consider before choosing a security system for your office:
Choose the right system
If you want to keep the situation under control, find a security system with smartphone compatibility. It will allow you to watch live video and record it even if you are not in the office. It might put some of your employees under pressure. From another side, you will know who really works and who spends their workday scrolling Facebook and flirting with colleagues. Also, you will get a notification in case of an emergency. If you choose this kind of security system, make sure your account is difficult to hack so that your competitors will not know the details of your current projects.
Get to know your provider
There are a lot of security system providers on the market. Choose the company that will offer a warranty in case something goes wrong. There will be more than just one camera, so you need to make sure someone will come to fix it if it doesn't work. Ask about all the equipment the company has; maybe there is something new on the market that you might need. Also, ask about extra payments and discuss maintenance costs. Usually, the companies don't include all the services to the price, so tell them that you are aware of this and that you want to know it all. Avoid the security systems that will require you to pay extra for watching real-time streams.
Access control
You shouldn't be the only person who knows all the passwords. If you want your business to function normally when you are not around, find a person you trust. You can also consider installing a security system that will include card-scanning technology. You will have the possibility to give access to everybody who has a card. Large corporations have been using the same system for years.
The right amount of cameras
If you don't know how many security cameras you will need, ask the provider. The professionals can take a fresh look at your office and think over all the details. You will definitely need entrance cameras with excellent night vision. Also, invest in cameras with high resolution, so that you will be able to identify the licence plate or a face. It will help the police find the perpetrators faster. Do not hesitate to show off your cameras, so that everyone will know that this office has a security system.
Keep it going
Your security system should be turned on all the time even when you are in the office. It will be cost effective especially even if your system includes remote monitoring. From another side, you will have real-time protection. Another great benefit is that your security system can supply your evidence in a lawsuit. Some employees will be happy to sue you for different reasons. So, security footage will help your lawyers to protect you in the court.
Choose the best alarm system
Your perfect alarm system should allow you to arm and disarm it on the distance. Also, make sure you can add a third party company that will monitor your alarms when you are not able to do it on your own.
Once you analyze your security needs properly, you will be able to find the right system provider for your business. There are a lot of things to consider, so take your time to do research. Also, make a list of factors that can impact your decision-making process. The list should include the number of doors in your company, how many people work in the office, the frequency of social events in your building, type of inventory and the number of expensive physical assets you have. To get a clear vision on types of security systems, consult with your provider. Nowadays it is essential to invest in the best available technologies to secure your business, protect your employees and private data. It will take some time to find a system that will fit your office needs. From another side, you will be extremely grateful once you have it.