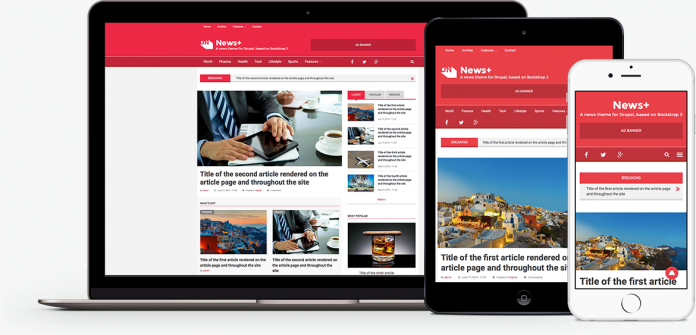 The first thing that people notice about a website when visiting it is how it looks overall, which is why it's so important that you select the right theme. If you use Drupal as a content management system, you will absolutely need to select the right theme for your site. The theme that you ultimately choose will determine what your website looks like as a whole, so you will need to make sure that it's aesthetically pleasing but also very functional.
Marketplace D8
The Marketplace D8 premium theme costs $55, and it is worth every penny that you spend on it. You can use this theme to create a very aesthetically-pleasing website that will help you make your website even more functional and attractive. This is definitely one of the better premium themes that you are going to find on the internet, so it's important to look into it before making a final decision.
Scholarly
Priced at $69, the Sholarly theme is perfect for all sorts of educational institutions like colleges and universities. Anyone who wants to create a website for any kind of educational entity will need to take a close look at this theme. This theme offers complete support for video and slideshows, even on internal pages.
There are also lots of different special content types that are specifically tailored for academia. All in all, this is certainly one of the better Drupal themes for all sorts of educational institutions.
Zircon
Zircon is a basic yet effective Drupal theme that you should make a point of familiarizing yourself with before making a final decision. If you are part of the Drupal community and need to select the right theme to match your website, you will definitely need to see what this one has to offer. It is a fully responsive theme that makes use of the latest version of Drupal 8, so you can count on it to run just fine without any problems at all. The customized views module is something else that you will need to keep in mind for this one.
Bootstrap Business
You will find that Bootstrap Business is a completely free Drupal theme that is perfect for many different types of businesses. It is based on Boostrap 3 framework, and it has an extremely responsive layout. Some of the different features it has to offer include HTML5 and CSS3, color module integration, 1, 2 and 3-columns layout support, and much more. If you are interested in a new theme for your business's website, this one could have everything you've been searching for.
Tourism+
This is a truly gorgeous theme with an amazing design that you will be sure to love overall. It is perfect for tourism-related businesses that want to get the word out about the services they have to offer. If you have a business that offers tourism services of any kind, you will certainly want to think about going with this theme in particular. There is a brand new custom Cookie Consent module in the Pro and Enterprise versions that you will want to keep in mind as well.
Clean Corporate Theme
The Clean Corporate Theme is a great theme to look into if you run a corporation and need a Drupal theme that is going to deliver just the right aesthetic and functionality that you require. Anyone who needs a corporate website will definitely find that this is an excellent overall option.
Progressive
The Progressive theme has a multipurpose design, and it is known for being very responsive as a whole. Some of the features of this theme that you can expect to get include unlimited HTML version, buttons and social icons, content band, frames, Google Maps, Notification, animations and much more.
There are over 200 items that come standard with these page designs. This is a fully customizable theme, so you shouldn't have any problems at all when it comes to getting it to look and function exactly how you want. Anyone who wants to create a good-looking website through Drupal will find that this theme is quite attractive overall.
Final Thoughts
Each individual Drupal theme has something different to offer, so you will therefore want to look into your options while considering your specific needs. The more time you take to do this research, the easier it will be to decide on a certain theme to use. Not all of these themes will meet all of your requirements, so you will therefore need to do the required research. There are so many of these options that you should really think about your options before making a final decision. In the end you will be glad that you did this because of how much it will benefit you and your site.