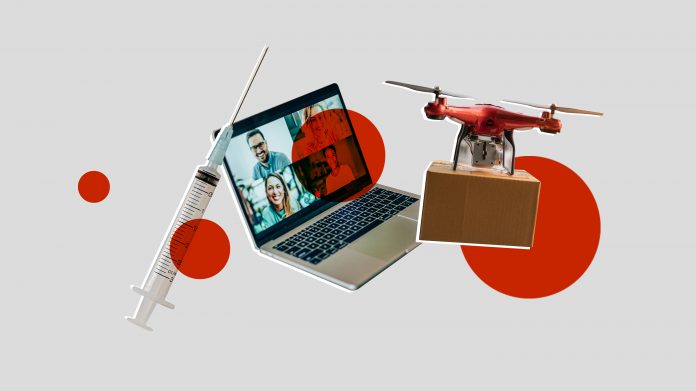 Each passing year there are always new tech trends that emerge that shape the business world. These tech trends usually emerge as a result of technological developments and consumer habits, but in 2021, it is obviously the pandemic that has had the biggest impact. Nevertheless, a number of tech trends have emerged as a direct result of COVID-19 and a handful of others that every business owner should be aware of. It is important to stay current when it comes to tech trends so that you can modernize, streamline, and stay competitive. So, what are the main business tech trends in 2021?
Remote Work
Remote work is one of the most notable trends and one that has carried over from 2020. Many businesses are bringing staff back into the office on a part-time basis with a hybrid model, but many major global brands have fully embraced remote work. Remote work can bring a wide range of benefits for both the business and staff, so it is certainly worth considering. In addition, many remote work tools are now available that can help staff overcome the challenges of remote work and ensure that the business runs smoothly. It also opens a wider pool of potential applicants who are qualified for the job. In fact, a lot of businesses are looking for qualified professionals to join their team. For example, there are a lot of available remote jobs in Atlanta for those applicants who are looking for work from home opportunities.
Cybersecurity
Cybersecurity has been a growing issue for many years, but now it is a major threat to every organization as there has been a spike in digital attacks as a result of COVID-19 and the rise of remote work. A digital attack can destroy a business in more ways than one, so organizations have to ramp up their cybersecurity efforts to prevent attacks and for peace of mind. There are many ways businesses are doing this right now, including investing in new cybersecurity products, backing up externally, and providing staff training (particularly for remote ones), this makes cybersecurity-focused jobs more available as well..
Contactless Tech
Another obvious trend to emerge from the pandemic is contactless tech. Card payments, ordering via apps, and video conferencing has all become the norm in recent times, and likely, contactless tech is here to stay even once the pandemic is over. Contactless tech is a lot more convenient, plus it is also a healthier option as it can prevent the spread of other infections illnesses too.
Green Tech
Another major global issue right now that is everywhere is environmental damage. Shocking images of climate events worldwide have led to a sharp increase in both people and businesses doing more to protect the environment. In addition, consumers are becoming increasingly selective of the brands they are using, which is another reason businesses need to do all they can to reduce their environmental impact. There are many ways to do this, such as:
Solar power
Energy-efficient equipment
Increasing recycling
Green materials
Remote work
Paperless office
Upgrading Office Tech
Businesses are also finding themselves having to upgrade office tech, whether this is for staff that are returning to work or providing equipment for remote workers. Again, using an office equipment provider like gbsflorida.com is smart as they can listen to your needs and make recommendations, which means that you are getting the best office tech and equipment for your needs to boost productivity and ensure that you are not wasting money on equipment that you do not need.
Data-Driven Decision Making
Data continues to play an incredibly large role in business and is helping many to manage during this challenging period. Data-driven decision-making can help businesses make intelligent, informed strategic decisions to improve and remove risk from decision-making. Data can be used in just about every aspect of business and help companies to make the right decisions in a time where there is not much room for error.
AI & Automation
Businesses are also finding more ways to use AI to boost their operation and achieve higher levels of success. There are all kinds of ways that businesses can use AI in 2021, including process automation, chatbots, personalized experiences, forecasting, and much more. Now is the time to embrace AI, as it will only become more prevalent in the years to come.
These are the main tech trends that are currently shaping the business world in 2021. Of course, this is a unique time in business, and many of the trends that have emerged reflect this, but there are also other trends to emerge as a result of tech developments and other changes in the world.