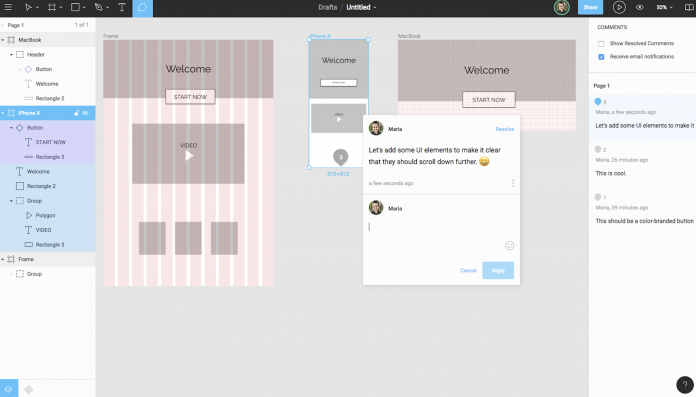 Wireframe tools are an excellent resource for boosting productivity and getting your design team to synchronize. There are dozens of these tools on the web, but we've compiled a list of the top four tools for software developers so you can skip the research and get right to the development process.
1. Mockplus
Mockplus is a highly rated prototyping and wireframe tool. The software boasts a short learning curve for those unfamiliar with wireframing or even coding. The software is completely interactive so that your team can focus on design rather than learning the program.
Mockplus' interface is completely interactive and visually based. The drag and drop interface allows for seamless design and easy real-time edits. You can see exactly what you're doing as it happens.
The software also includes over 3,000 icons and over 200 components that you can easily drag and drop into your app or website design.
Cloud storage means you can easily save and share the project with clients or team members to keep everyone updated. You can also preview the new software on your device without the need for a USB connection.
Mockplus also has a great customer service platform and is utilized by dozens of businesses across the globe. With easy to use interfaces, collaboration and sharing tools, and a solid customer service reputation, Mockplus is the perfect software for beginners and experts alike.
2. Moqups
Moqups boasts over 1,000,000 users worldwide, and services some popular brands such as Amazon, SONY, and Oracle. With a large customer base and excellent reviews, Moqups is one of the top design and prototyping tools in the world.
Utilizing cloud storage, Moqups provides your team with a single platform from which to collaborate on the project. The hassle of downloading and uploading project files is eliminated by the cloud server, allowing for seamless collaboration and sharing.
Moqups has made sure that their software is easy to use and doesn't require a large learning curve. You can move through designs, wireframes, and prototypes within a single interface, keeping the entirety of the design process centralized to one place.
The software also has a built-in library of icons, stencils, and other templates to speed up the design process by providing the basics. You won't have to go searching for a social media icon any longer; everything is provided with the software.
Whether you're a small business or a large corporation, Moqups can provide a simple and effective interface for all of your design projects.
3. Axure RP
Axure RP is widely used and highly rated. The software provides the basics of wireframe tools, but also offers much more for its users.
As with many wireframe tools, Axure offers its own cloud storage and sharing platform for easy collaboration and sharing of files. Its users can work within and save directly to the cloud itself, eliminating the need for lengthy downloads and large files.
The cloud also allows several people to work on the same project at the same time, cutting costs associated with wait times. Collaboration has never been easier with this real-time multi-user cloud platform.
Axure doesn't only offer wireframe tools for software developers. The software also allows you to create flowcharts and idea boards along with your wireframe. Keep your team updated on the design process and deadlines with this effective and unique software.
Axure has been in business since 2003 and has since become the industry leader in wireframe and prototype software. The software supports a wide range of other programs, from WordPress to Java and Android.
4. Proto.io
Proto.io provides an easy to use, interactive interface trusted by such companies as Disney and PayPal. With thousands of customers across the globe, there's a reason Proto.io made the list of the four best wireframe tools.
Proto.io boasts dozens of features including a drag and drop interface, templates and design tools, distance guides for placing elements, and the ability to add animations to your prototype.
A newer addition to Proto's tools is their VR compatibility. With the rise of Virtual Reality technology, there will soon be a need to design apps and websites that are VR friendly. This can be a complex process without the right tools.
Proto has a dedicated customer base and an excellent customer service reputation. Whether you're looking for a simple website design or you're creating a virtual reality app, Proto has the right tools for your project.
Choosing The Right Tool
Choosing the right tool for your project depends on your team's comfortability with wireframe tools and the objectives of the project. You may need a simpler or more complex interface or design tools, depending on what your team is developing.
Always research your options thoroughly before making a decision. Many wireframe tools contain the same or similar elements, so look for a tool that offers a unique tool for its users.
Don't forget the client during your design process. They should be able to understand your interface and the general concept of the process you're using to create their software. The client is an integral part of your design team, setting expectations and eventually paying for your services.