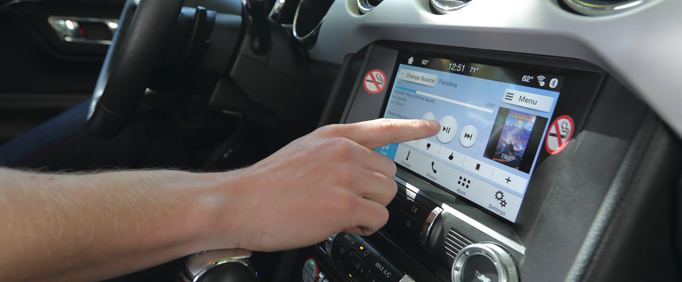 Auto technology is becoming more and more a part of driving today.  The autonomous features available on new cars is far more complex than modern drivers have ever experienced, and for some, the technology is overwhelming.  
Until the driver is fully aware of how to navigate all of the different tech feature on and in their vehicle, it's probably not a good idea to hit the roads.  Read through a few hidden dangers arising on the roads from the speedy influx of technology in our cabs.
Distraction while driving leads to accidents
Driving while participating in several other technologically inclined activities leads to collisions on the road.  More often than you are probably aware, insurance companies and legal agencies are charged with cleaning up the aftermath of distracted drivers.
Learn the features of your new car while parked
Fidgeting with the fancy contraptions on your new car while driving is not safe.  The technology built into the design of your vehicle is purposed to provide a new level of safety on the roads, but trying to "figure it out" while driving can lead to some unintended consequences.  
It may sound like a waste of time, but it helps to read up on the functions of your vehicle before testing them.  Read and learn how to use your new vehicle's super cool gadgets, so when you're on the road with them for the first time there will be less fidgeting and more safety.  
Texting and driving is a huge contributor to distracted driving
You should already be aware of the dangers of texting while driving.  There are very few drivers on the road who can successfully navigate their route and the keyboard on their phone at the same time with efficiency.  
There is almost always a moment of swerving, and the moments spent looking away from the road have led to thousands of injuries and deaths.  The awareness of the dangers of texting and driving is ubiquitous, leaving no excuse for you to continue to put other people's lives in danger.  
Hands-free isn't really hands-free
Though hands-free talking and texting are purposed to keep drivers safe on the roads, there are a few hidden dangers in the technology.  Your mental focus on the act of driving is part of being present on the roads.
Your hands-free gadgets will keep you from having to hold the phone, but it won't keep your mind from being distracted by the multitasking which so often is a result of technology.  
Large media screens in the dashboard
Today's vehicles are regularly coming equipped with large media screens worked into the design of the dashboard.  Though it's great for the eyes when you're working the navigation system, the ability to play videos and other multimedia on your built-in screen can be quite distracting.