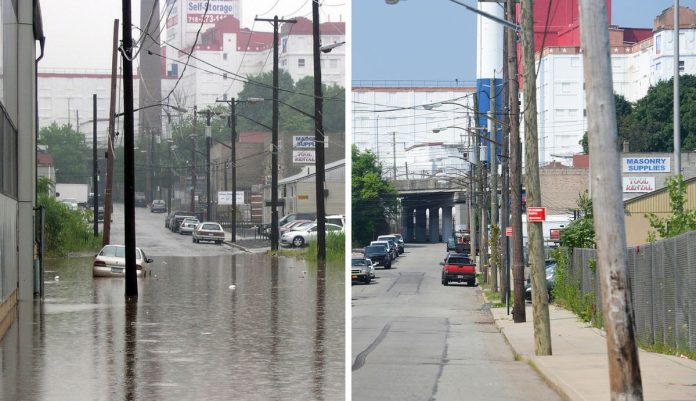 If there is a problem with waste flowing the wrong way, and your plumbing begins to gurgle, call on our team for immediate sewage backup service. Don't let your home become unsanitary with millions of malicious microbes infecting your health and well-being. When clogged pipes have made an unwelcome gift of old sewage in your home, count on us for effective and efficient Sewage Cleanup in NYC.
We keep your sewers and drain lines open and flowing, so that your wastewater goes where it's supposed to go—out of your life and living space. Our specialized equipment and advanced knowledge of cleaning up sewage and making repairs enables us to clean up your home or business safely and effectively. We understand the urgency of providing you with quick-response service—few incidents can interrupt your peace of mind at home as much as a toilet not working the way it should.
Effective & Efficient Sewer Cleanup
Sewage cleanup done the right way involves trained technicians with professional equipment. Fortunately, we are here to allay your fears and restore your life to clean, orderly normalcy. Our services for a broken-down system are your solution to malfunctioning pipes. When sewer pipes become plugged with debris, grease, and more, we work hard to rectify the situation so that your kitchen and bathroom are no longer soiled by overflowing wastewater. Without functioning plumbing, your house just isn't a home. Our team is always ready to make your home hygienic and livable again.
Sewage backups are unfortunately common, and are the result of blockages in your main sewer line that prevent the appropriate drainage of water. There are certain signs to look for that differentiate the blocked sewer line from the simpler clogged drainpipe. If just one toilet, bathtub, or sink seems to be giving you a problem, you may just have a drain clog. However, if every flush causes overflowing water in your home, you most likely have blockage in your main sewer line. Especially if you live in an older home, cracked, broken, or collapsed sewer lines may contribute to your sewage backup. Whatever the cause, we are the sewage backup service that will get your plumping flowing smoothly again.
The Sewage Backup Services You Can Depend On
Don't hesitate to call us when you are experiencing the effects of a blocked sewer pipe. We offer 30-minute response times, so we are the fast solution to your plumbing emergency. Let us perform a free evaluation of your situation. We will inspect your sewer line and tell you the cause of your problem and the most appropriate way to fix it. Our experienced team specializes in problem identification and solution. Trust us when you need your pipes working normally again. Our team thoroughly assesses and repairs your sewage problem so that you can resume your normal routine as soon as possible. Plus, we're available for emergency cleanup 24/7.
Sewer cleanup requires extra precautions to guarantee that your space has been properly disinfected. We take the extra steps necessary to ensure that we leave your home or business in pristine condition so that your health isn't threatened by any lingering bacteria. The sooner we can apply sanitizers to the areas that have been affected, the better and more sanitary your space will be. You can rely on our efficient and effective service any time you need it.
The safety and proper functionality of everyone in your entire household are our primary concerns. We are always committed to providing our customers with courteous, timely service in all of our repair work. When you make us your cleanup company, you can be confident that you will receive a higher caliber of professional sewer work. We go out of our way to give you the competent, attentive repair job that your drainage crisis demands. Let us show you the difference that our company is dedicated to making. For more information about our sewer cleanup, schedule a free estimate with us.