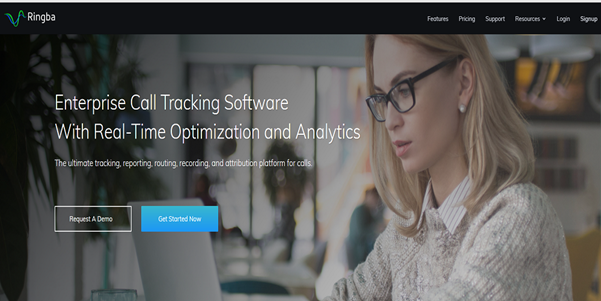 Call tracking is a must have software for any business which receives the inbound calls by any means. With any call tracking platform, you use, you will be able to record, manage, and track the calls in a better way.
By analyzing the calls, you will get the inbound leads also and later those can be targeted by the marketing team to convert those leads into the sales. Although there is many call tracking software but Ringba is currently leading the market in enterprise level.
Ringba Overview
Ringba is an enterprise level call tracking platform which helps the business to record the inbound calls, manage it, and get the insights from it. This call tracking and routing platform have been built for massive scaling. The software is designed to take all your call marketing to increase the ROI to the next level. Using Ringba you can do the following to name few-
Track the source of inbound calls which will help you understand which campaign is working better.
All the department's calls can be managed from a single platform.
You can create the call flows for multiple locations
Help you optimize your campaigns and improve the ROI
Access to telecom networks in 50+ countries
Route your calls very intelligently based on the categorization
Help you understand the other ways you can generate the business
Get the most out of the calls and data and drive the analytics
Features of Ringba
As said above, Ringba is a complete call tracking and analytics software which help the business to deal anything with the inbound calls. Here are some of the amazing features of the Ringba which will help you manage and understand the software in a better way.
Campaign Management
Once you will sign up for Ringba and login to the platform. Once logged in, you will be redirected to the dashboard where you can create a new campaign and manage the existing campaign. Mean to say, if you are already running any campaign, you can scale it for better performance or change the attributes for scaling purpose.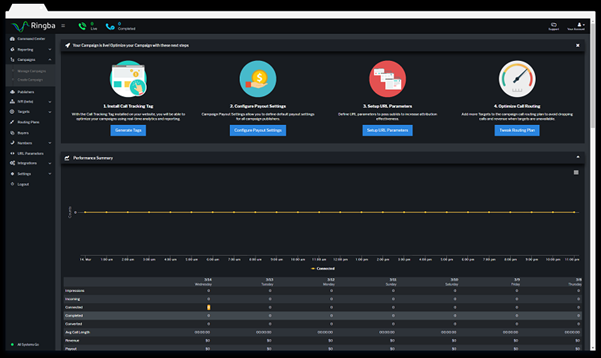 Analytics and Reporting
Analytics is something which needed in every sector and every project. And the same applies to call tracking as well. When you have loads of data, the business person won't have that much time to look at the numbers. Instead, they would need to have some figures and trends which either generate from some other tool or if it is inbuilt then you won't have to worry. The great thing is Ringba has this inbuilt and you can generate almost all kind of analytics.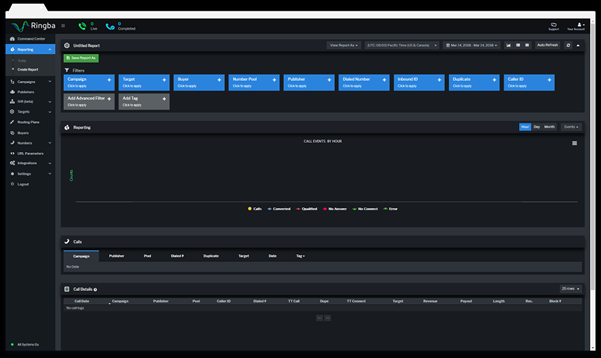 Automated Routing
Usually, in a Pay Per Call campaign, a toll-free number is provided, and users make a call on that number. Then using the Ringba platform you can route your call to different internal numbers. These routing will be done automatically based on the configuration done in the Ringba platform by your team. By this way, your company's SLA and first-level contact resolution will be increased.
IVR Builder
The ability to gain complete control over your call flow is exactly what you get with Ringba's drag-and-drop IVR builder. You can activate everything from call recording, whisper messaging, text-to-speech, customer prompts and more. Using this dead-simple tool from Ringba, you can create your very own interactive voice response menus and optimize your caller experience with complete flexibility.
Load Balancing
For enterprise level client, this feature is utmost necessary. When the load on one of the server is quite high, using the load balancer, it can be divided into multiple servers to achieve the high availability.
Ringba Plans and Pricing
Ringba offers quite a flexible pricing and plans for the customer to meet everyone's need. Here are the three pricing options available.

Depending on your need, you can sign up for any of the above plans.
Conclusion
This was all about the leading call tracking and management platform Ringba. If you are associated with any company which involves the inbound calls in any way, make sure you are taking help of Ringba in order to get the best from the calls.