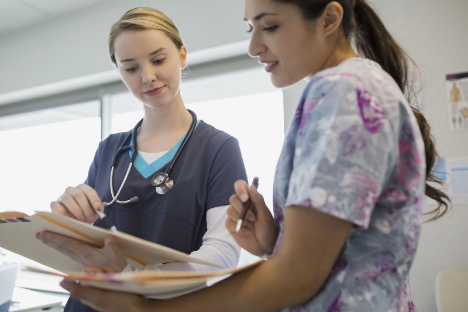 Gone are the days when healthcare was considered a worthy profession for doctors only. With the passage of time, people have become more aware of the utility of numerous other healthcare workers. This awareness has opened up newer and better opportunities in almost all emerging sectors of this angelic field. However, registered nursing is one of the most praised occupation these days. It is because nursing truly promises a brighter future in the following ways.
Reputable Profession
People have eventually realized that a doctor is unable to exhibit the best of his abilities without the presence of a trained nurse. This realization has led to an incredible increase in the reputation of nurses the world over. This has further compelled individuals to opt for registered nursing degrees at prestigious institutes like Global Health Education. 
Well-paid Field
Over recent years a significant percentage of the experienced and trained nurses has retired. This instantly highlighted a growing demand for trained nursing staff. This further contributed the most in making this a well-paid profession. 
Commendable Knowledge Boost
Working as a professional nurse is what prepares your nerves for all the challenges that an individual face in his life. Similarly, working together with a group of highly qualified professionals also nourishes you with the priceless treasure of knowledge. Precisely, the knowledge, experience, and perseverance that this profession offers, plays an unparalleled part in your personal and professional growth. 
Experience is Appreciated
The scarcity of trained and experienced nurses is currently one of the biggest threats to the sustainability of the healthcare sector. This has actually added a lot to the worth of experienced registered nurses. In other words, just like other healthcare professions, nursing also booms and nurtures with time. This is because an experienced nurse is better able to assist the doctor. He is also better able to take care of the patient according to the intensity of the diagnosed disease.
Worldwide Job Opportunities
Not so surprisingly, the scope of nursing is the same in all parts of the world. This further adds to the overall popularity of this profession. Individuals whose guardian or spouse is a government professional who keeps on shifting from one place to the other, generally prefer this profession. It is basically one of the most valued, cherished, reputable and highly paid professions the world over.
Healthcare Benefits
Almost all reputable healthcare service providers oblige their nursing staff by offering percentage discounts on their diagnosis and treatment. Some of them even offer these services for free. This is one of the most prominent reasons why people are regularly registering for nursing degrees. However, most of the people are not really aware of what are the education requirements for a registered nurse?
Despite that, nursing irresistibly guarantees a bright future in the healthcare sector. In view of the perks, facilities and growth opportunities promised by this profession, young individuals are highly motivated to adopt this as a profession.