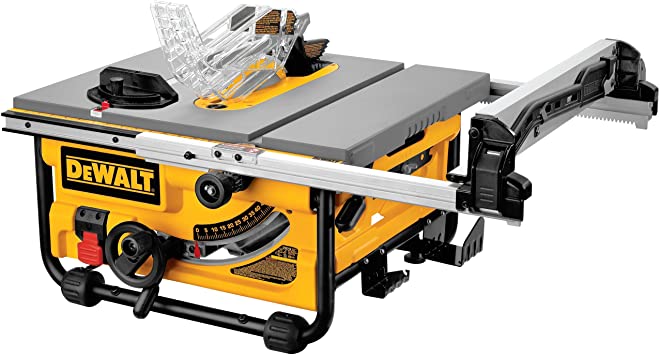 If you are a professional woodworker, you must have a fair idea of how useful and helpful a table saw can be. Nobody enjoys hassling with a large chunk of wood when there are more effective ways to cut them with a high-quality portable table saw. One of the most prominent brands in the manufacture of this worthy tool is Dewalt and the DeWalt DWS745 is no doubt a great option. 
There is no way you will talk about the biggest guns in the world of tools without mentioning DeWalt. This is why it is not surprising to find many woodworkers taking an interest in their table saws. But to determine what specifically suits their respective needs, they often have to settle some scores. Many are stuck in between finding the most suitable tool and getting it at a fixed budget. The DeWalt DW745 is a famous and popularly used model. In this review, you can learn about the DeWalt DW745 here. Specifically, you will learn about the pros and cons of the tool. 
Pros
If you want a tool that offers a little skewing and is easier to transport, the DeWalt DW745 is perfect for this. In fact, one of the most portable options you can get out there. Price-wise, depending on where you shop, the DW745 is relatively affordable for an average woodworker. In terms of size, this is one of the categories where the DW745 wins. Featuring a 25.75 x 26.5 x 13.87 in dimension, the unit is more preferred for people that would like to transport their tool. That is, it offers a tremendous extent of mobility when compared to other models. This is also evident in its weight- which is only 45 pounds. So, if you prefer portability to power- you might want to consider the model. Additionally, it is easy to use and does not take too much space. It is also worth checking out because of the tool-free adjusting system it features. It allows users to fine-tune the equipment to their taste to meet their desired needs. How about the dust collecting feature? It is mind-blowing, even though you won't get too much of it in this unit because of its design's full enclosure nature. The safety mechanisms incorporated are also worthy of taking note of. In addition, the Dewalt DW745 table saw is a great table saw that flushes with the user's workbench and helps them to run full sheets through it at a go. The parts are of top quality and can work many months without any malfunctions.
Cons
While there are more preferable options when it comes to choosing a tool that offers immense power, the DW745 model does not offer plenty of power. The model features a 15-amp motor but since the focus is on the impact, the RPM count maxes out at 3800 and even at that, you might find it difficult to use the unit for harder stock. This is some kind of limitation on the amount of work the tool can accomplish. In addition, the rip capacity of 20 inches may be invariably small for certain tasks. Though, it is generally sufficient for most hobbyists and amateur users. One of the major drawbacks is the plastic material the top plate is made of. Every serious DIYer may think this is irrelevant but the truth is, the materials used in producing the upper plate of the table saw play a huge role and you'll come to this realization with time. Plastic components are not as durable as the metallic types. Another complaint users might have about the saw is that the saw is not equipped for easy fitting with a shop vac that can help with dust collection. This is one of the biggest concerns with the DW 745 table saw. 
Conclusion
Generally, when it comes to buying a heavy-duty portable table saw, you are particularly interested in its capabilities. You do not just want to invest money in any kind of model as this would be a terrible approach. When it comes to the Dewalt DWS745 model, it is a great option for woodworkers whose preference is to get an affordable piece of equipment with impressive features. Perfect for any mid-sized DIY project, the tool is accurate, durable and easy to use. It also does not take so much space. Accurate cut, and impressive rip capacity, among others- are some of the top reasons you should consider getting a DW745 for your woodshop. This unit is a great idea for woodworkers who would rather go for equipment that is affordable and offers a good amount of features, especially everything you will need for some mid-sized DIY tasks.