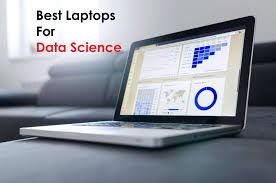 As a data analyst, you may deal with huge data collecting, analysis, and interpreting procedures. Handling such type of work related to data is quite difficult to do in a manual way by hand.
To make your work tasks easier, you also need a laptop that can work efficiently for you. A good laptop is essential for making your work tasks easier for you just like the Asus Chromebook c202sa.
A good laptop with high-end specifications is required for you so that you can focus on your work and get your issues fixed in no time.
The data analysis software, for example, IBM SPSS (Statistics Software) requires a minimum of 4GB RAM for a better smooth operation for processing data for the proper help to deal with greater data. 
But before starting out, I want you to know that finding a Best laptop for data analysis tasks is not an easy thing. That is why we have introduced a guide to the best laptops for data analysis. So, let's get started with the things you need to know before buying.
RAM
RAM is the most important thing for someone who is looking for a laptop for Data science. This is because if your device doesn't have a good RAM space then there are chances that your laptop won't be able to handle your data sets. 
With a powerful RAM, you can really speed up your processing of memory or in RAM. According to my opinion, the ideal RAM for data analysis is 16 GB. But for work at a smaller scale, you can also consider other options. 
SSD
The second main thing is to look for your hard drive. If you prefer to use a Solid State Drive then it will make a huge difference, because it is 2 to 3 times faster as compared to a regular hard drive. 
A good quality SSD is assumed to be 4 to 5 times faster that is a good thing for data analysis. 
Processor
The third most important component is the CPU. Your CPU should possess a good processing power, that must be further accompanied by a fast RAM and good Storage Speed.
As a data scientist, you will understand that your CPU is subjected to perform millions of calculations per second. So remember to make a wise choice. 
Make sure to buy a good and fast processor that can fulfil your needs easily. 
Display & Resolution
A minimum of 15 inches display is recommended for data analysis and other such tasks. But you can alter this size as per your needs. For example, you can go for a 12-inch display as well as a 20 inches display. It depends on your workflow. 
No matter what display size you choose, always select the one that is good for your eyes. While talking about the resolution, these days you can easily get a display with 1080p resolution at a budget price. So, do not go beyond that. 
GPU
If your work tasks involve deep engagement with the neural network or parallel computing then you need a Graphics card with as many shaders that you can afford. You can opt for NVIDIA or AMD, but do not select an Intel HD card.
Keyboard
Most of the data analysis work requires long hours of typing. That is why I strongly recommend you to grab an excellent keyboard that can suit your laptop. 
A good keyboard is the one that offers you with comfortability while typing. So, for excessive typing, you need to buy an external keyboard with a mouse as well. Go for keyboards that are from Logitech. 
Operating System
Here comes the most difficult debate about choosing the best operating system, whether Mac, Windows or Linux.
For operating systems, I do not have any recommendations for you. This aspect depends on the industry that you work for depending upon your personal preference.
But if I were at your place buying a laptop for my data analysis tasks, I would go for Linux or Mac OS.
The reason why I didn't add Windows here is because Windows does not connect well and it requires a lot of extra things for the workflow of a data scientist. So, it is recommended but for initial use only.
Final Words
I hope that you will enjoy our guide about things to consider while buying the best laptop for data analysis.
If yes then remember to give your feedback in the comments section.