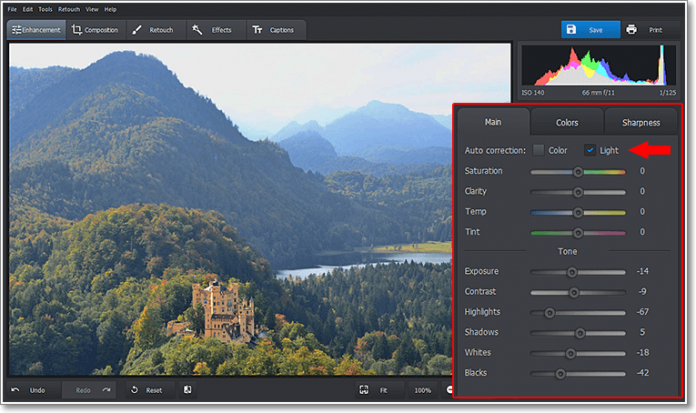 In many cases you may take photos that aren't that perfect. Some may be overexposed, others may be underexposed, or in a few there may be something in the photo that you didn't intend to capture.
If you'd like to be able to edit your photos to fix any issues that may be in them, there is one easy solution: PhotoWorks.
"Why PhotoWorks?"
Unlike other photo editors, PhotoWorks is designed to be beginner-friendly and make editing photos easy and intuitive. It has a simple tabbed user interface that can be explored without any difficulty to find the features that you need.
Every feature in PhotoWorks is designed to ensure that it can be applied quickly yet effectively. Instead of bombarding you with technical settings or complicated jargon, it will lay out its features in a manner that is easy to understand.
Despite its simple appearance, PhotoWorks has extensive and powerful features, allowing you to make a wide range of changes to your photos. In many ways it can rival more prosumer or professional-class editors, and hold its own.
Using PhotoWorks to Fix Overexposed Photos
The best way to understand how easy it is to use PhotoWorks is to actually give it a try. More specifically you could use it to fix your overexposed photos – and correct their colors quickly.
Not only will PhotoWorks give you several tools to fix overexposed photos, but it also has a convenient histogram that will let you check the exposure. The histogram can double up as a helpful guide that lets you know how effectively the alterations you make to your photo actually are.
Arguably the easiest way to fix overexposed photos in PhotoWorks is to use the Auto correction tool to correct the lighting. All it take is a single click and the editor will adjust the tonal range of your photo to correct it.
If you'd like more control, PhotoWorks will also allow you to adjust the overall exposure, whites, highlights, and other color and tone settings. In fact its Graduated Filter tool will let you correct washed out skies and restore their tone.
For more complete instructions on how to fix overexposed photos you can refer to https://photo-works.net/how-to-fix-overexposed-photos.php.
Other Key Features
Within PhotoWorks are numerous other features and some of the more notable ones will enable you to:
Beautify portraits by touching them up to remove unwanted blemishes, whiten teeth, edit eye colors, and more.
Adjust the frame and composition by cropping or removing unwanted elements from photos.
Stylize photos using artistic filters and effects to make them look unique.
Add customizable text elements as captions, watermarks, or other inscriptions.
Correct common issues such as red-eye, blurry images, tilted photos, or lens distortions.
All that is still just the tip of the iceberg, and as you start to use PhotoWorks you'll get a better taste of what it can do. Its capabilities coupled with how easy it is to use make it a great option for beginners as well as more experienced users alike.