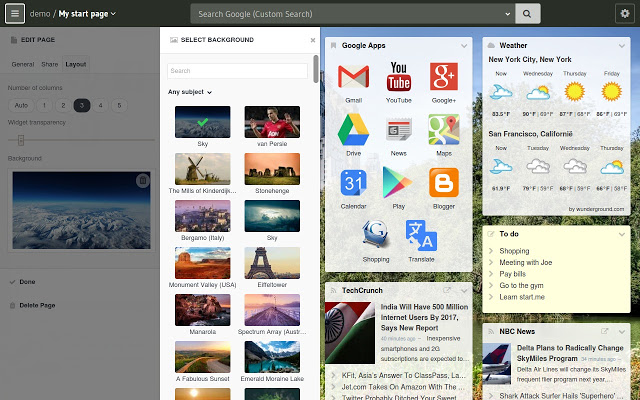 In this digital era, you definitely need to surf the internet on a daily basis. Maybe you need to find some research materials for work or you simply want to know what is happening in the other side of the world.
There are certainly some websites that you visit more frequently than others. If you want to save time and make your browser more focused for your activity, you need to personalize your web browser startpage. It might sound like a trivial matter, but you will be surprised what a neat browser homepage can do to help you finish your work.
Why Customizing Your Browser Homepage
You have survived a very long time without doing anything to your browser homepage. So, why start it now? Well, the answer is simple, because it can increase your productivity. If your work demands you to stay on top of the world news, you definitely need to visit plenty of sites every day.
Among all those sites you visit, there are definitely some you find more useful compared to the others. Unfortunately, in the midst of your busy days, you might not paying attention to the name of those sites and you end up forgetting them. However, if you put the websites on the start page, there is no chance you will forget them. It is also will be easier to access them since they will be right in front of your eyes once you open the web browser.
The main function of customizing your browser homepage is for organization. If you use Chrome, you can find a Chrome app which let you organize your favorite websites into different category. It certainly will help you to focus on your job more since you don't have to be distracted to find a certain website.
How to Personalize Web Browser Start Page
Personalizing your web browser start page is a piece of cake, and the good news is, there are many ways you can try to do it. If you want to use the easiest method, you can simply install a browser homepage customization application. The best thing about using a browser add-ons is the fact that the template is already there. You don't have to make any complicated changes on the html file and you simply need to add your favorite links.
But you need to choose the browser application well. Some application will make you use its own search engine and it is completely okay. Just make sure that the search engine is secure so you will not be redirected to any web page. Furthermore, make sure that the usage is simple straightforward. You certainly don't want to spend hours only to figure out how to bookmark your favorite links.
Design is not an important factor for a web browser start page application. As a matter of fact, it is best to settle with something as simple as possible. It is necessary so that you won't get distracted and you can clearly see the name or maybe the logo of the website on your browser homepage.