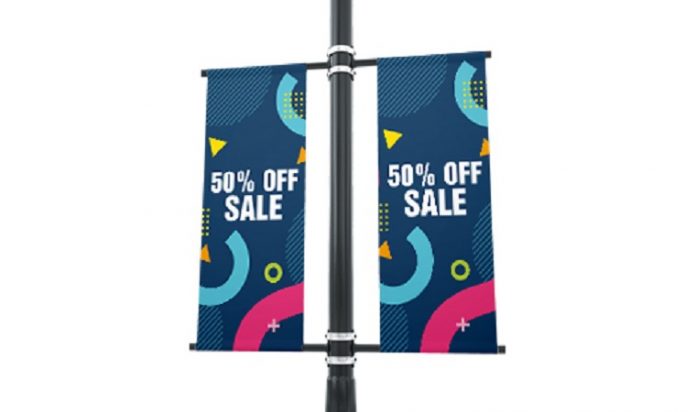 Over the years, the use of light pole banners is on the rise by several business because of several reasons. 
These are light in weight and will create a huge visual impact on the viewers. 

This will provide a better citywide exposure in the most effective and easiest way. 

The double-sided graphics will convey your message to the people on both sides of the streets. 
These pole banners come in different sizes. You can choose a banner of 18, 24 or 30 inches in width and 96 inches in height. Ideally, a single piece of vinyl is used to print your message, images and logo both at the front and back. 
The finished banner will come in a 2-inch pole pockets as well as a grommet at each of its corner seam. This will ensure that the product stays in place in the pole. 
There are lots of things to consider before you place an order for a pole banner in addition to the size. If you want a customized product then you will need to be more careful. Once the size of the banner is determined, you must shift your focus on the exact size of the print as well.
Choosing the material
When it comes to choosing the material of the pole banners, there are two options available: polyester or vinyl. Both these materials are made from similar type of plastic which is why it these look similar and often mistaken. However, these are not the same material. Though it may be hard to tell the difference between the two with a naked eye.
The polyester material is made from polymers and esters. This is why it is called 'polyester.' Polymers have a specific molecular structure that binds together creating the fibers of a polyester strand. On the other hand, the esters are organic compounds. Together these make the polyester fabric.

The vinyl material is made from a special type of plastic created from chlorine and ethylene. When these two substances combine, it creates a new substance called Polyvinyl Chloride or PVC in other words. This is commonly called vinyl. This fabric is harder due to the plastic-like structures of PVC. Vinyl banners typically use a polyester scrim. It has vinyl layers on both sides. 
However, you will need to consider the weight and thickness of the material and make sure that it suits your needs. 
The benefits of using
There are lots of benefits of using banners, in fact pole banners, when it comes to business marketing. 
You can use these cost-effective pole banners for:
Announcing a special offer, promo, or sale in any place where you can accommodate a single pole

Communicating with your customers even with a simple greeting

Directing your potential customers to your business if you have moved to another location and  

Welcoming clients to your store.
Therefore, these well-designed, eye-catching, colorful and large banners will do a lot more for your business apart from highlighting your product or service simply. Therefore, invest on it for high returns.