There is no doubt that one of the best way to relax oneself is watch videos. At that time, you may go to YouTube and look for some videos that appeal to you. Except YouTube, the world's most resourceful and popular online video streaming site, there are also plenty of other online video sites. However, people often find out that there seems no way to download one's favorite online videos. So, what to do then?
VidPaw YouTube Video Downloader made its debut in the early 2018 in the hope that people can freely download and enjoy online videos from any site. Since its arrival, VidPaw has grown a lot of popularity and reputation around the world. Meanwhile, VidPaw sticks to continuous improvements and the vision of providing a better VidPaw for users. Now, here comes the brand new VidPaw.
VidPaw presents to the public a whole new VidPaw. Firstly, a more beautiful and inspiring web design is brought to the spotlight. Secondly, VidPaw combines both online video downloading and online video streaming together. Thirdly, it's easy to convert YouTube videos in MP3 which is strongly anticipated by loved users. Fourthly, a free Online Video Downloader app for Android is here to encounter you. For more information, let's take a look below.
Introduction to VidPaw's New Features
VidPaw is formerly known as an online video downloader. Currently, it's updated to be a more powerful video downloading service as well as an online video streaming site. That being said, you can now type in a query in VidPaw's newly-designed interface and directly play the video on VidPaw. Also, you can download it for offline playback.
There are five more updates. Now, let me walk you through all the new features here.
#1 Watching a Video While Downloading It
The new VidPaw comes with a built-in search engine that enables users to look for any desired video from the whole internet with applicable filters. After the results load out, you can select one to start playing with smooth experience. While watching the video, there is a button below that allows you to directly download the current video to your Windows PC/Mac and Android phones/tablets.
#2 Delicatedly-Designed Web Interface
If you visited https://www.vidpaw.com recently, you would notice that VidPaw has a great change. VidPaw must look younger now with the vigorous blue as its keynote. The navigation bar has been extended with more options and more free online services are introduced. Also, VidPaw now is publishing posts with all kinds of topics so as to help you find the most favorite videos here.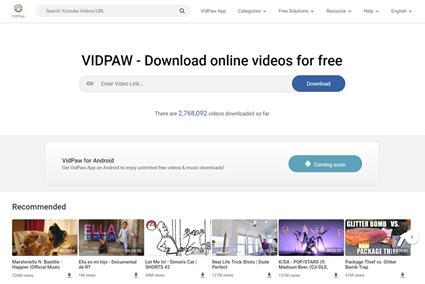 #3 Free YouTube to MP3 Converter
It's a great demand to convert YouTube videos to MP3, and VidPaw has now realized that. Users can convert YouTube videos in MP3 format with utmost 320kbps. If you are a big fan of music, you must not miss this new feature.
#4 Subtitle Downloader from Any Site
VidPaw brings you a new free online service – Subtitle Downloader. This powerful tool allows user to fetch subtitles of all languages from online videos and download subtitles in SRT format. Though this tool only supports to download subtitles from YouTube videos, it will support more sites in the near future.
#5 VidPaw App for Android
Last but not least, VidPaw now has its official Android app! That means you can now download videos from online sites like YouTube, Facebook, Instagram, Vimeo, Niconico through VidPaw App with ease. Better try than never! Let's hit the road!
Is VidPaw Safe to Use?
You may have this very question in your mind as well. Now, let me dismiss your misgiving.
Both the official site and VidPaw App will not pop up any disturbing ads to you, let alone any potential bundled apps. Also, VidPaw's techy staff will run a regular test to ensure VidPaw's performance and security. If you run into any glitches, it's greatly appreciated that you report the problem to VidPaw.
What's more, unlike other video downloaders, you don't have to apply for membership. To use VidPaw's website, you just need to visit it and download as many videos as you want for free. To use VidPaw App, you can simply use the app without an account or sign in with your Google account so that VidPaw can recommend appealing videos to you.
VidPaw will not collect or record any of your personal data or information. However, cookies will be collected to provide better user experience, which you can also opt out freely.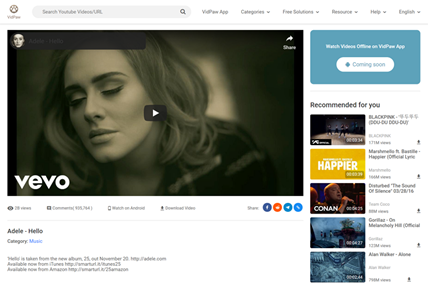 How to Download Online Videos Using VidPaw?
VidPaw is intuitive and authentic, and you don't worry about being unable to use it. You'll learn how to use VidPaw through the following quick tutorials. Now, please walk your way down.
Tutorial 1: Use VidPaw on Windows/Mac
Step 1. Open https://www.vidpaw.com on Chrome/Safari.
Step 2. Copy the YouTube link of the video you want to download. Or you can directly type in a keyword to search out related videos.
Step 3. Select to download the video in desired quality.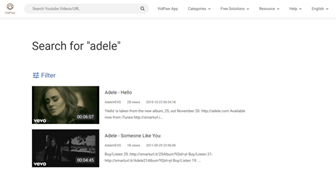 Tutorial 2: Use VidPaw on iPhone/iPad
Step 1. Firstly, you should install Documents by Readdle on your iOS device.
Step 2. Open Documents and Visit https://www.vidpaw.com on its built-in browser.
Step 3. Copy the link of YouTube video and paste in the search bar to download. Or, you can insert a query to look for related results.
Step 4. Select to download the video in MP4/MP3 with high quality.
Tutorial 3: Use VidPaw on Android
Step 1. You can download VidPaw app or visit https://www.vidpaw.com.
Step 2. Paste the link or search for wanted YouTube videos in VidPaw.
Step 3. Download YouTube videos in your selected format and quality.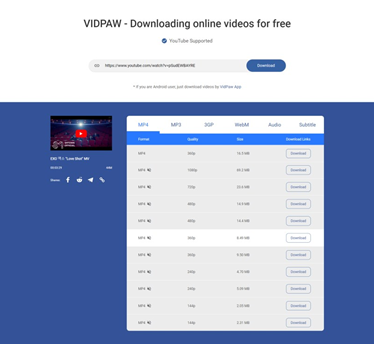 VidPaw always keeps beefing itself up for better performance. With the new version of VidPaw, you surely will experience a brand new online service. What are you waiting for? It's free and accessible for all of you.