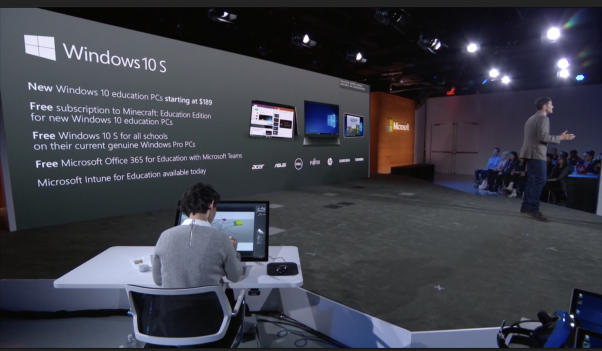 Microsoft introduced Microsoft Windows 10 S on May 2nd event, held in the New York City; the laptop targets education sector at higher-end base
Microsoft chose May 2nd as the day to host a special event in New York City. The hardware and software event was held to prove its commitment to education by introducing Microsoft Windows 10 S. Yes, the event was not held to launch new Surface Pro 5 or Surface Book 2. Instead, it was focused on education. The Microsoft's Chromebook aimed at showing the public on how it would compete with Chromebook from the giant internet company, namely Google.
Microsoft Windows 10 S Appeared on May 2nd Event
The coming of Windows 10 has been widely anticipated, while the Windows 10 Cloud has been around since the beginning of 2017. It is true that Microsoft officially announced Windows 10 S on Tuesday. Microsoft also announced that Windows 10 S would be accompanied by a version of Office Suite. Windows 10 S comes with a streamlined designed and improved security. It is a more secured variant of Windows 10. Overall, it looks and feels like PC as usual, as it also runs normal apps like Microsoft Windows, PowerPoint, and Excel.
It is expected to be a weapon for Microsoft in competing with Chrome OS, which is now dominating the education markets. The giant internet company – Google – has successfully positioned Chromebook as a more user-friendly alternative to Windows PC. However, Microsoft still has some advantages over Chromebook, particularly for offline functionality, since Chromebook is designed more specifically for internet-based operation.
Given the existing hardware that runs on Windows OS, Microsoft still has some homework to do, particularly when it comes to battery life. Improvement of battery life might be achieved by limiting the software the apps available on Windows Store. The company is also working on a project to make the use of battery power more efficient for its Windows 10 update, which will be made public in September. These are aimed at reducing the problems associated with battery life. Microsoft will apply the similar attributes for any version of Windows 10 that runs on Chrome OS.
Challenges That Windows 10 S Needs to Answer
Microsoft Windows 10 S is targeted on education market. Its design has some similarities in common with Chromebook. The Google's Chromebook only runs apps, which are verified and secured by Google. However, the new version of Chromebooks comes with touchscreen feature, which is also supported by Android. Microsoft 10 S will also be limited on apps available on Windows Store.
Of course, capturing education market is not a simple task for Microsoft. Besides Google with its Chromebook, Apple also has many iPads and Macs, which are now widely used in classrooms. Microsoft still needs to work hard to overcome some problems related to its products. Windows 10 S must be able to match the simplicity offered by Chromebook.
Another challenge that needs to be answered by Microsoft is targeting enterprise. Chromebooks are gaining popularity in financial firms across the United States. They are cheaper, requiring lower maintenance costs, and more mobile, thus making Chromebooks suitable for mobile clients. When it comes to prices, Microsoft needs to have tough negotiation with PC makers. They are actually not too excited with low-cost PCs, target education sector since the margins are so thin.
Microsoft Windows 10 S for Education Focus
In the previous hardware event, Microsoft used a creative theme to introduce the Surface Studio. This year's event is focused on education. As a matter of fact, Goole's Chrome Operating System has been widely used in education sector due to some of its advantages. They include simplicity, easy management, and fast performance. These attributes make it easy to access and to use by students.
For education purpose, Microsoft is also working to make it boot faster and support multiple users with simple management. Only with such feature will Microsoft Windows 10 be able to compete with Chrome OS. In other words, the company is required not simply to make few basic changes; instead, Windows 10 needs significant improvements.
Of course, education is not simply about Surface hardware and Windows 10. Many things can be devoted for education. Microsoft itself has tools like 3D Paint, Office, OneNote, Minecraft, and some other tools, which have been popular among students. Of course, combining these tools into something that focuses on education would be a great advancement. Furthermore, Microsoft is reportedly working on a project to develop giant screens or hardware like giant screens or Surface Hub to be used in school environment.
Prospects and Future of Microsoft Windows 10 S
Chromebooks are particularly popular in the US, where the Google's product accounted for 58% of laptop shipping in 2016. Microsoft Windows only had 22 percent share. However, Microsoft still dominates the market for the rest of the world. It hold 65 percent market share in 2016, while Android OS and Chrome OS hold 17 percent and 9 percent share, respectively. Therefore, it will be a wise idea for Microsoft to target markets outside the US first.
The first targets of Windows 10 are those countries outside the US, where Chromebook has not widely adopted. Chromebooks are widely used in Nordic countries, North America, New Zealand, and Australia. Windows 10 S could target schools that does not have IT department as long as it is able to provide laptops that can set up within 30 seconds by using USB drives. Right now, Chromebooks still have problems with Wi-Fi based setup system. If Windows 10 S can solve the problem, it will gain popularity faster.
Microsoft has some advantages in term of familiarity. Yes, most students, teachers, and company employees are certainly familiar with Microsoft Word, Excel, and PowerPoint. Therefore, it would not a tough task to convince enterprises and organizations to buy Office subscriptions since they are familiar with the apps.
On May 2nd event, Microsoft launched Surface Laptop along with Windows 10 S. This is actually a high-end laptop that targets education sector, particularly college students. The laptops start at $999. It also provides the users with chance to upgrade to Windows 10 Pro, which allows them to run applications outside Windows Store. No information is yet available on the shipping date.