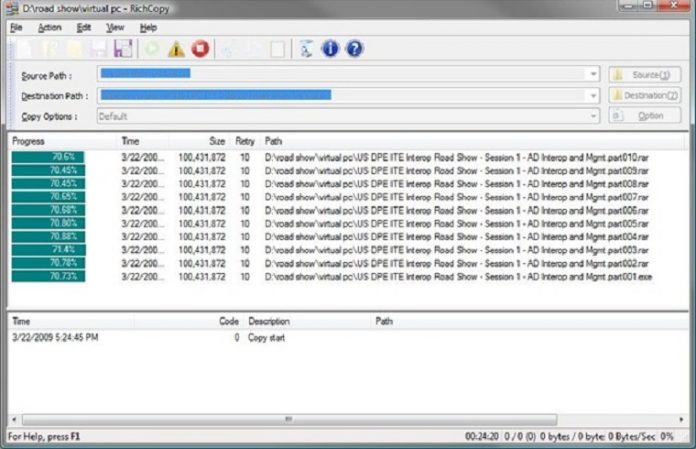 Microsoft RichCopy is your new and enhanced software to help you copy files. Though it offers a fine tune and renders complicated configuration of every copy detail, it is still the fastest copier for companies and organizations. It comes with a simple GUI for simple uses, but once you start using it, you will come across the advanced options it offers.
Once of the major benefits of RichCopy is that it offers multithreading which permits you to copy several files at one point of time. It simply means rather than copying a single file at one point of time in a specific order, RichCopy allows you to copy multiple threads side by side. It permits several files to be copied in parallel, thereby reducing the total time required to complete the process. Along with it, the software can also copy files which are being used and those files which have special attributes. The configuration framework permits all these data to be stored or to be forgotten. It simply means you can for instance, create a simple backup for all your data and folders without safety attributes
All those who have tried copying bulk amount of files in Windows know that it could be a very lengthy and tricky procedure. A simple mistake will make Windows complete stop the copying procedure leaving you with no info about what all files and data has been copied and what all has been left. And, no matter what you do, you cannot see the error message again. But, RichCopy puts an end to all this problem of yours.
You can also avail this software as a backup utility, choosing more than one folder and subfolder to be copied to a common place.
Thus, it has a long list of pros with zero cons,
It is simple to run and the functions are also simple
It has advanced options
It can easily help you get your work done in minutes
So, RichCopy is a utility program which comes to you from Microsoft. The tool has been updated periodically to meet the evolving needs of companies, entrepreneurs and people. It is a simple reply to all your file copying requirements. Apart from offering multi-thread copying, it also offers the facility to pause and resume the file copying procedure, so in case you lose network connection at some point, you easily pick up from anywhere you have left it.
Surely, these are just the most common and simple features of Richcopy. The software offers a huge aray or granular controls which allow you to personalize all the fancy aspects of file copying. It helps you with filtering of files, saving attributes, customizing the cache size and a lot more. If you are in a regular need to copy loads of file over the network or from one storage device to another, then these features will prove to be of great use to you. So, just go ahead and download RichCopy and start using it now!