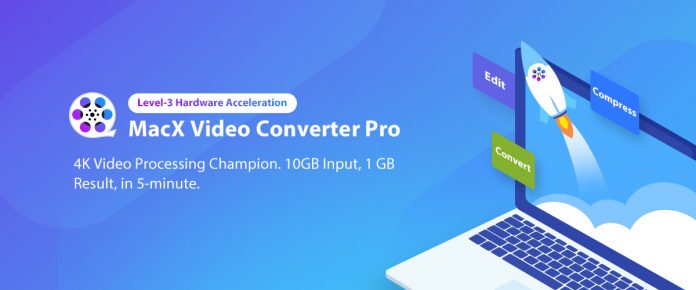 It is obvious that 4K is the next big thing in the world of videos, TVs, streaming services and also games. When it was first launched several years back, it seems absurd to watch something in a better quality than HD. But now that it is here, people are starting to demand nothing less than 4K. As 4K videos becoming more popular, devices that support this resolution are also increasing in number. Furthermore, since iPhone 6 is launched, people can even record videos in 4K with a mobile device.
While it is true that 4K videos will deliver more remarkable watching experience, 4K videos and device storage are actually mortal enemies. One or two minutes of 4K video can take up to 300 to 400 MB of space. Now imagine how much space you have to specially dedicate to store your 4K movie collections. Yes, you always have the option to convert the 4K video to a lower quality to save storage. But it means you also have to sacrifice the quality, not to mention that it will take ages to process 4K video by an ordinary video converter.
Thankfully, MacX Video Converter Pro comes to the rescue. MacX is more powerful compared to the other tools. It can be used to upscale to 4K or downscale from 4K, support H.265 HEVC, compress video size and it also comes with a useful video editor. Most importantly, it is the fastest 4K video converter we have ever encountered. Our test shows that it can convert and compress 4K video up to five times faster than similar tools. Let's find out the other features of this converter tool and why you might find it useful.
MacX Video Converter Pro – The Most Reliable Tool to Convert and Compress 4K Video
MacX is the first video converter in the world that comes with Level-3 Hardware Acceleration tech and this feature is the one that makes all the difference. Hardware Acceleration is basically a process to boost video processing speed by tweaking the hardware such as replacing the hard disk or upgrading the memory. But in case of MacX, there is no need to go to such extreme. Hardware Acceleration in this video converter is achieved by shifting the video processing task from the CPU to the GPU, which has more power to do computing intensive task like converting 4K video.
To prove the power of Hardware Acceleration and its effect for video transcoding, we tried converting a 2.5 GB 4K MKV video with 22 minutes and 33 seconds duration. When the Level-3 Hardware Acceleration was enabled, the video was successfully converted to MP4 (H.264) in only four minutes and 5 seconds. We converted the same video using another 4K video converter tool that doesn't support Hardware Acceleration and it took more than 33 minutes to complete the job. Even when the Hardware Acceleration of MacX was not activated, converting the same video to MP4 only took 20 minutes, which was still significantly faster than the other converter we tested.
Thanks to the Hardware Acceleration, besides more impressive speed, this tool is also capable to produce lossless video quality and smooth video conversion. It is also because MacX adopts the High-Quality Engine, Deinterlacing tech and Auto Copy Mode to ensure the original output video quality.
Besides converting and compressing video size, this 4K converter also can download and edit video. It allows you to capture and screen record videos. Furthermore, the built-in editing tools also make edit video mac easier than ever. MacX also can download videos and music from more than 300 sites and automatically converts them to over 200 device-specific format. This way, you can watch the converted videos in the best quality no matter what device you use.
Converting and Compressing 4K Videos with MacX Video Converter Pro
Feature-packed video converter tools are usually very complicated to use. It will take a while to figure out which button does what. But that is not the case with MacX. You can convert 4K video to various formats with these simple steps.
1. Open the program and choose the video you want to convert by clicking the Video+ button. You can add more than one video to convert and compress several videos simultaneously.
2. After that, you have to choose an Output Profile. There are plenty of device-specific profiles you can choose. It doesn't matter whether you want to watch the video in your iPad, iPhone, PC or Android tablet, just click the right profile and you will be able to watch the video in the best quality.
3. Carefully examine the output profile and make sure you have chosen the right format and quality. You can put a check mark on the Hardware Encoder box if you want to activate the hardware acceleration and speed up the converting process. You also can maximize the image quality by checking the High Quality Engine and Deinterlacing box.
4. Click Run and the converting and compression process will be started.
Save Your Time and Convert with MacX, the Fastest Video Converter
MacX is a great and reliable 4K video converter. Converting 4K Video becomes much faster and easier than ever thanks to its level-3 hardware acceleration feature. This tool doesn't only save your time but also guarantees lossless video quality after conversion. With this video converter, watching and storing high quality videos will not be a burden for your device's storage anymore.
MacX is more than just a tool to convert and compress video. With excellent editing features, sophisticated screen recorders and a great video downloader, you can rely on one simple tool for myriad purposes. If you want to convert 4K videos without any hassles, this tool is the answer.
Now, before you go have fun with the endless conversion possibility offered by this tool, why don't you join 1-min video shooting survey to win GoPro and more gifts. Win the GoPro use it to record the best 4K videos and use MacX Video Converter Pro to convert and compress them in a blink of an eye.