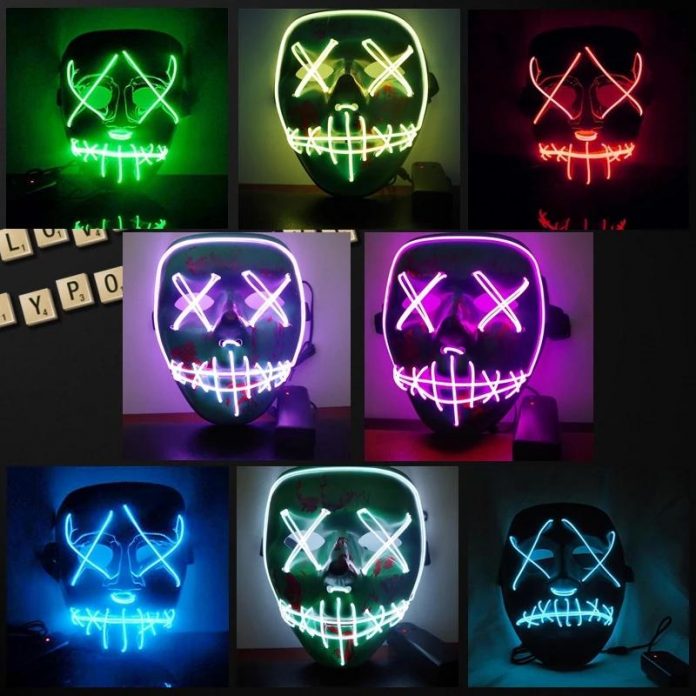 The weekend should be the time to escape the busy routine and stressful workplace atmosphere. It's a time to relax and enjoy the things you like. For those who love electronic dance music or EDM, going into rave party is a great thing to do on weekend. It would be a good luck to have a big rave is scheduled near where you live this weekend. You need to be all out for the party to blend with the crowd and enjoy the vibe. Wearing a light up rave mask would make your rave party experience even more exciting.
Light up mask is a mask with glowing light effects. The light effects usually come from electroluminescent (EL) wires attached to the mask. The EL wires are flexible enough to form various shape creating the amazing light effect. What makes light up the mask so popular as rave party mask? EDM lovers know very well that rave party isn't just about dance music. The loud and rhythmic music won't be perfect without stunning visual effect from the lighting system. Projector lights to laser are commonly used to create visual effects suitable to the music. That what creates amazing atmosphere and vibe during the rave party encouraging all people to dance and have fun. Not just the visual effect from the lighting system but the partygoers are also creating their own visual effects using light sticks and wearable lights up using EL wire attached to their outfit and accessories and yes, that's including light up face masks. A true rave partygoer wants to express it on the dance floor and to stand out from the crowd.
It won't be difficult to make your own EL face mask. You will only need a face mask, EL wires, batteries, and a simple electrical wiring system. All materials can be easily bought from the local hardware store and it only needs few gluing and soldering before the light up face mask is done. You can easily find DIY guidelines on the internet suitable for even beginner to get in done in about an hour. Unfortunately, not everyone has the privilege to have enough leisure time to do a DIY project even as simple as making an EL face masks. You're too busy at work and you just want to have fun without too much hassle. In this case, buying a ready to wear EL face mask is a more reasonable option.
With the rising popularity of EL faces masks for rave party accessories, it won't be difficult to find one to buy. There are many products available online with different visual effects. Night huntsman EL mask is among the popular ones. There are options for battery powered light up face masks with automatically changing light color and even with sound effects.
There are several factors to consider to buy light up rave mask. The first one would be to make sure the EL mask is high quality and 100% safe from both the materials and the electrical system. Second, choose the one with the mask shape that comfortably fit on your face. The strong elastic strap would be an important feature. Once you get the mask, you are ready for the rave party!