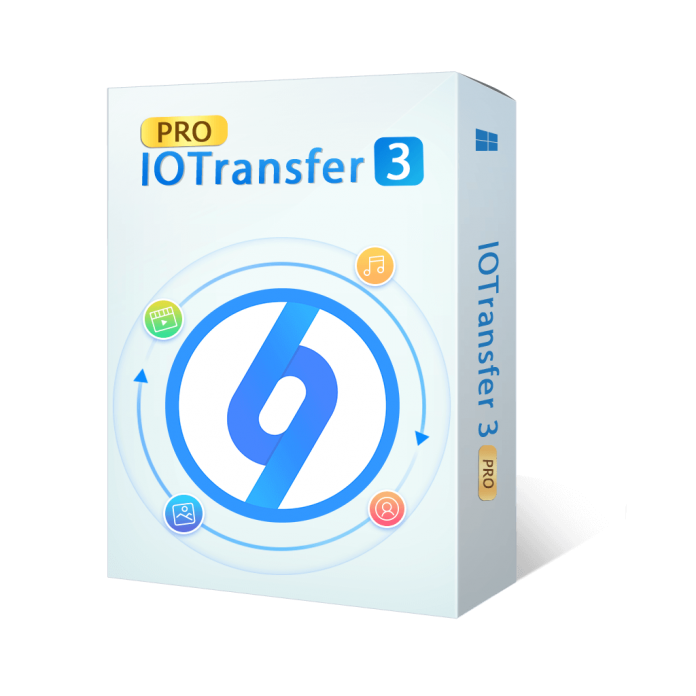 iPhone is a device that is no longer a strange smartphone in our daily life when the utilities it offers are so great. However, when you use this phone with this closed operating system (iOS) sometimes you will encounter some difficulties and one of them is how we transfer data between iPhone and other devices.
In this article, I would like to introduce to you the IOTransfer 3 software with the ability to manage images, music, contacts, videos, podcasts, e-books, and even move data between devices.
Part 1. About IOTransfer 3
IOTransfer 3 is very professional iPhone data transfer software and all-in-one iOS manager with many features that you can easily manipulate with just a few clicks. With this smart iPhone transfer tool, you can easily move data between iOS and Windows PC with just a few clicks, besides it also supports deleting history, browser caches, etc. to deeply clean your phone and boost it with ease. More than anything, it covers a wide range of functions, not limited to data transmission and junk files cleaning.
The main function of IOTransfer:
AirTrans wireless transfer function
Full-featured iPhone / iPod / iPad manager
Multi-language support
Clean up Junks files
Online video downloader with free format converter
Unblocked YouTube video downloader and converter
Data can be entered by drag and drop
Support for importing and exporting iOS Contacts in TXT & CSV format
Supported image formats: Selfies, Panoramas, Bursts, Screenshots, Videos, Animated, etc.
Support exporting audio from video on iPhone (Extract audio from iPhone video)
Minimal configuration for PC
Support: Windows 10, Windows 8 / 8.1, Windows 7
Memory RAM: at least 2GB
Hard disk drive (hard drive storage space): At least 500 MB of free disk space.
iOS requirements: iOS version 8 or higher.
Part 2. Instructions for Using IOTransfer 3
First, you must download the software for free from the official website. Then, install it into Windows PC following the step-by-step instructions of the software.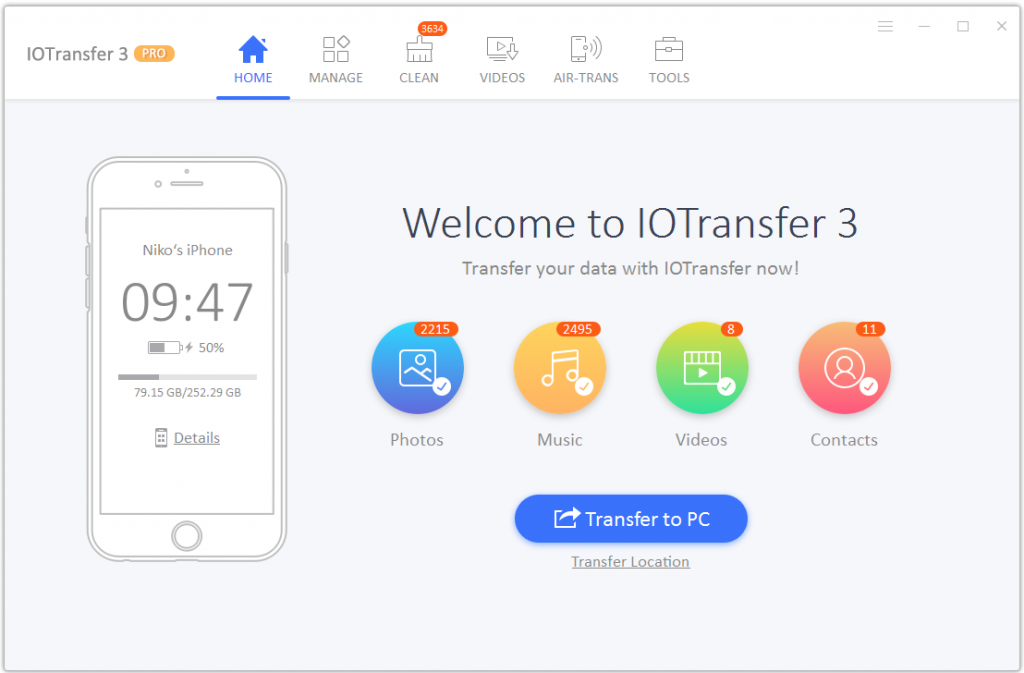 In the main interface that has just been installed, select the feature you want to use. Here are some guidelines for using some of the basic features of IOTransfer 3.
Note: You need to connect your iOS device via USB cable and then choose to authorize IOTransfer 3 to manage the files on your device.
Transfer data to PC
At IOTransfer 3 main interface, select the type of data to transfer to the computer, including Music, Video, Photos, Contacts, etc. After that, just click Transfer to PC and all you need to do is waiting until the process is complete.
How to delete Junk Files on iPhone / iPad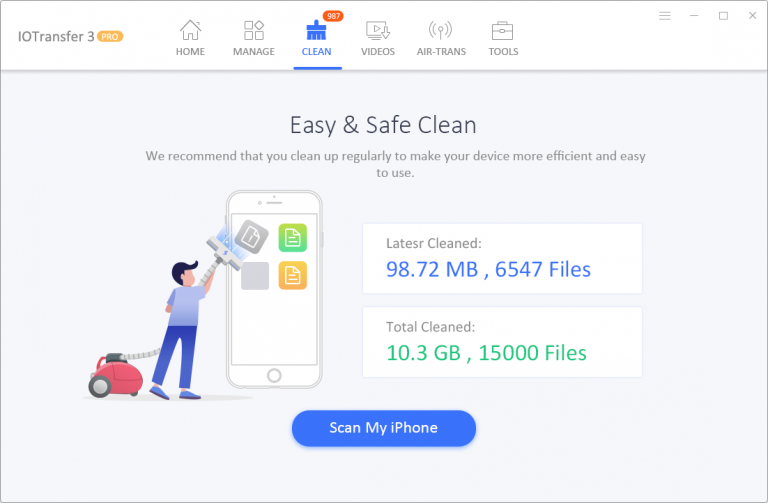 In the main interface, select the Clean icon at the top of the software. Just click on Scan my iPhone, IOTransfer will perform this task quickly.
Download online video with IOTransfer
Please select the Video icon in the main interface of the software. To download videos to your computer, simply paste the download link into the URL box. Click Download button to proceed. Then your favorite videos will be saved to your computer.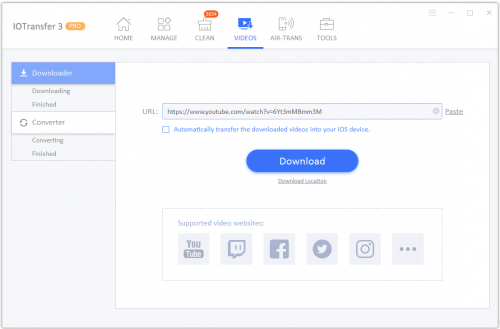 After the video has finished downloading, to convert to the format that suits your needs, select the format in the Output Format section > click Convert to finish.
Use the IOTransfer 3 AirTrans feature
Another important feature included in this software is the AirTrans feature. This feature allows wireless communication between your iOS device and Windows PC. Next, let's see how to use IOTransfer 3 wireless data transmission (AirTrans).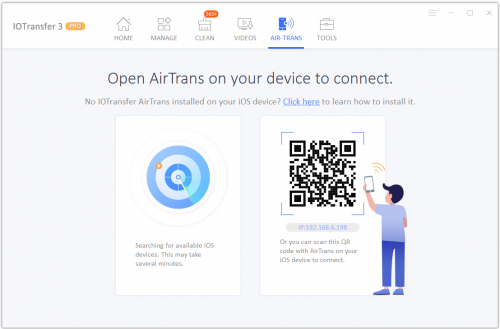 Step 1: First, you need to install IOTransfer 3 mobile application from iTunes AppStore.
Step 2: Open IOTransfer 3 application on iPhone/iPad, and launch IOTransfer 3 software on your PC.
Step 3: Switch to AirTrans option and then click Start transfer. Please select the name on your iOS device from the software search results. So you have completed the wireless data transfer between iOS and Windows already.
In addition, IOTransfer 3 is also equipped with a lot of other useful features waiting for you to be quite broke like downloading photos from Instagram, creating animations or managing photos on iCloud.
Part 3. Conclusion
Above is a short assessment of iPhone management software, IOTransfer 3. Hope this article will help you get a better overview to decide whether to use IOTransfer or not.
Have you ever used IOTransfer and any other software that you know is good for transferring data between iPhone and other devices? If any, please share with me in the comment section below.