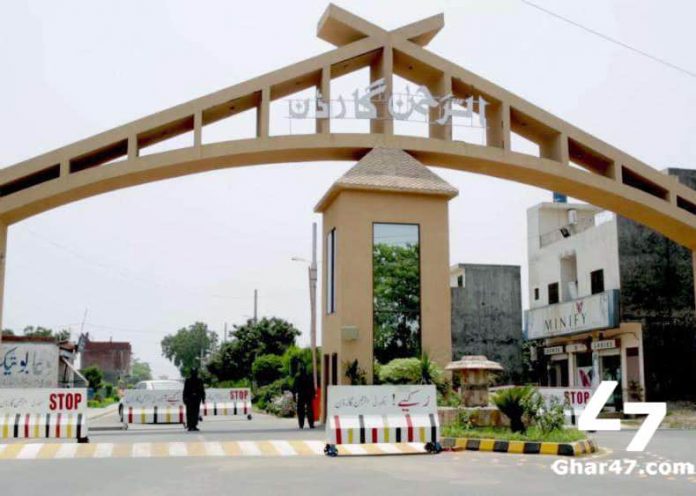 Investing in Al Rehman garden will be worth it, as it is an LDA-approved society that has all top-notch facilities in it. The owner of Al Rehman garden is Mian Muhammad Mushtaq who is an officer of Pakistan Administrative Services.
Al Rehman Garden is doing its best to provide the best services and good quality of life to its customers.
Dream houses, residential plots, and commercial plots are part of this society
LOCATION:
It is located on GT road in Lahore. Many universities and important roads are close to this society. Shahdara railway station is a 20 minutes drive from here. Lahore's famous university UET University of engineering and technology is 35 minutes drive from here.  The new campus that is on the Lahore Bypass is 15 minutes away.
FACILITIES PROVIDED BY AL REHMAN GARDEN:
     

Jamia mosque has space of thousand people to pray

     

Educational centers in a society like; LGS Al Rehman garden

     

Parks for children and jogging tracks.

     

Hospital; Al Rehman hospital provides health care to the members.

     

Shopping malls like Square mall.

     

Gas connection

     

Electricity,

Al Rehman garden

has its power plant so that the supply of electricity will be completely uninterrupted.

     

Gated community

     

Secured environment; they have trained and armed guards.

     

Installation of surveillance camera

     

Water supply

     

Good infrastructure
PAYMENT PLAN OF AL REHMAN GARDEN:
Al Rehman garden has 7 phases that have plots of different sizes. The current plot-wise payment plans of this society are as follow;
These prices are of phase 7.
PAYMENT PLAN FOR 3 MARLA PLOTS:
The total price of Marla costs PKR 12 lac and 60 thousand. Booking will be on 2 lac. 60 monthly installments are approximately PKR 12,000/-. On balloting, you have to pay 90 thousand.
PAYMENT PLAN FOR 5 MARLA PLOTS:
The booking will be on PKR 3 lac. 60 monthly installments of PKR 17 thousand. Yearly 5 installments of PKR 80 thousand must be paid, on balloting, the price of 2 lac and 80 thousand will be received by the society. The total price of 5 Marla plots is 20 lac.
PAYMENT PLAN FOR 8 MARLA PLOTS:
The payment plan for 8 Marla plots includes payment on booking that is about PKR 4 lac and 25 thousand. 60 monthly installments of PKR 28 thousand. 5 yearly installments of PKR 1 lac and 20 thousand. On balloting price of PKR 3 lac and 35 thousand. The total price of 8 Marla plots is 30 lac and 40 thousand.
PAYMENT PLAN FOR 10 MARLA PLOTS:
The total current price of 10 Marla plots is about 35 lac. For Booking an amount of 4 lac and 75 thousand will be charged. Monthly installments (60) PKR 32 thousand. Yearly (05) installment PKR 7 lac and 50 thousand.
Some areas of Al Rehman garden are still under construction but about 70% of work of the society has already completed and families are living here and enjoying a calm environment. The possession of the plots is also very easy to get.
ZARAI FARMHOUSES:
Zarai farmhouses are also open for possession. This is a big economic opportunity that you surely don't want to miss out on. These farmhouses have up to 6 Kanal.