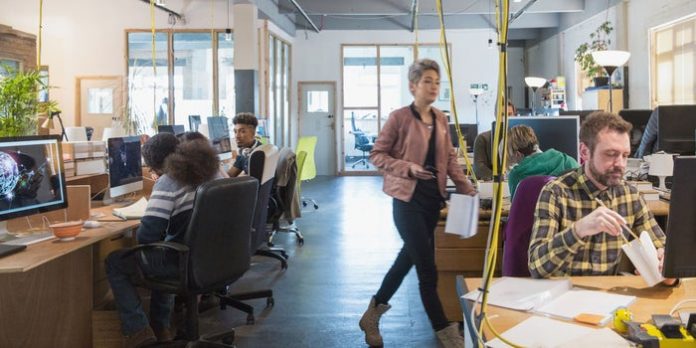 One of the knocks against entrepreneurialism historically has been the isolating nature of the work. If you are active in a home office, then you're losing out on the social benefits of the traditional office. Online forums are not always as useful for bouncing ideas off of other people when compared to a co-worker that you know and trust.
Shared working spaces fit the bill for many entrepreneurs, including gig economy workers, because it provides the social benefits of working with others while still allowing you to be your own boss. It can also serve as a source of inspiration so that you can push your skills and ideas to the next level.
Why Choose Shared Working Spaces?
If you are a startup, sole proprietor, or freelancer who is just starting to embrace the entrepreneurial spirit, then the cost of setting up a home office can be surprisingly high. Signing a lease at a shared working space can lower those costs significantly for you. Some providers even offer conference rooms, administrative services, and an on-site receptionist. It can be an all-inclusive experience.
There are some additional reasons to consider choosing a shared working space as well.
There are options for synergy and collaboration.
Entrepreneurs who work independently can find themselves distracted by their environment. Instead of choosing a mall or a coffee shop to get out of the home, working in a shared space can provide you with options for collaboration. It provides you with a sense of community that isn't possible when you walk this path alone. You will feel energized and happier after a long day of work compared to a solo journey.
You can gain valuable business contacts.
Entrepreneurs need a professional network just like every other career-minded professional. If you're operating in a shared working space, then the expertise you need might be a couple of desks away. You can offer your services to others as well, helping to secure new customers without the need for marketing. At the very least, you can benefit from the word-of-mouth referrals that you can generate in this situation.
You have flexible options available.
Shared working spaces will provide you with amenable plan, cost, and space options. If you need to make adjustments to your situation, then you can scale to the correct size immediately. Most providers don't require deposits or upfront fees either, and some memberships are offered on a month-to-month plan. This advantage allows you to explore the idea of this option to see if you can find some inspiration there. Most entrepreneurs come away feeling more focused, confident, and productive.
You have greater access to critical partnerships.
If you assemble in the same shared space as other entrepreneurs, then your startups are more likely to attract the attention of venture capitalists and angel investors who are seeking new opportunities. This area serves as an incubator where you can focus on growth while being available to larger corporations who want to tap into a fresh market.
There are services and amenities available to use.
When you operate in a shared working space, then you will have immediate access to the amenities that will keep you productive. There is high-speed Wi-Fi, complimentary coffee or tea, privacy nooks, and free printing included in most plans. Some spaces provide hands-on programming workshops, panel discussions, and expert Q&A sessions to foster your imagination.
You will have access to more emotional support.
Entrepreneurs encounter self-doubt all of the time. When you decide to step out on your own, then there is no safety net available to catch you if you fail. By surrounding yourself with like-minded professionals who have similar goals, you'll find that it is much easier to push through the moments of uncertainty.
Is a Shared Working Space Right for You?
When you move out of your home office as an entrepreneur, there is an indescribable feeling of happiness that occurs. You know that you can do things your way. Graduating into a shared working space can inspire this feeling.
You may find that there is poor compatibility with the other members in that space. If you work in a specific field, it may be helpful to seek out shared areas that are specifically designed to accommodate what you do.
If you are ready to thrive as an entrepreneur, then today is the perfect time to consider working from shared working spaces. It could be the one element that your inspiration is missing.