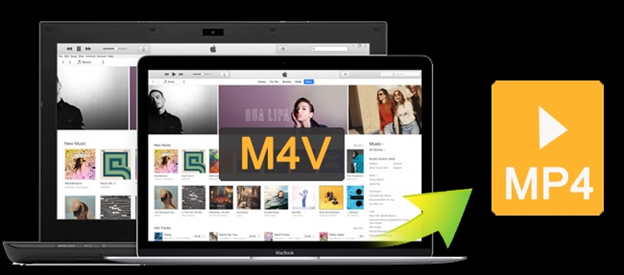 Part one: Introduction
"I am a gadget freak, and love to watch various TV series, movies on my system, phone, and play on my Xbox. I received some film in M4V format. They are playing well on the Mac but unfortunately not on my Android phone and Xbox. So is there a way I can convert M4V to MP4 video format?"
All the movie enthusiasts who want to play M4V movies on their device might need some guidance on how they can convert M4V to MP4. Now, M4V videos are used to store movies, TV series on iTunes store, and they work well with Quick Time as well. Thus, to play them on other platforms, you need to convert it to a suitable format.
An MP4 video format represents better compatibility. Therefore you are advised to convert M4V videos to MP4. You can refer to the guide below that explains the complete process of converting M4V videos to MP4, and bulk conversion quickly.
The article will help you to use online as well desktop versions of software, so you can understand the process and convert M4V to MP4 video format without any help.
Part Two: How to use online UniConverter to convert M4V to MP4
In terms of simplicity and access, using an online tool allows you to convert M4V to MP4 without downloading any software. In addition to you get this tool at zero cost. So, it is a double benefit for you. The online platform that we are talking about is the Online UniConverter with which you can convert M4V to MP4 by visiting its browser page online. It has a secure and fast processing speed.
If you want to know what steps you need to follow, then, go through the step by step guide mentioned below to perform the file conversion of M4V to MP4 format.
Step 1: Open Online webpage
You need to visit the web page: media.io
On visiting, an interface like below will appear. It is the online platform for the conversion.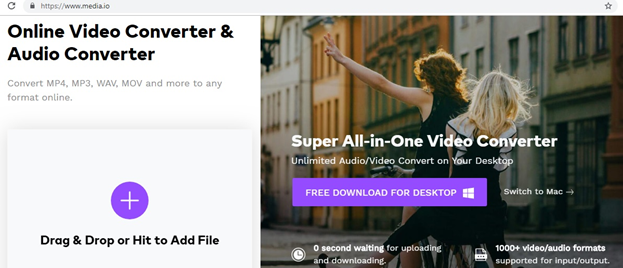 Step 2: Select M4V file from your device
Now, you need to click on Add File button to select M4V file from your system or device and then press the Open button.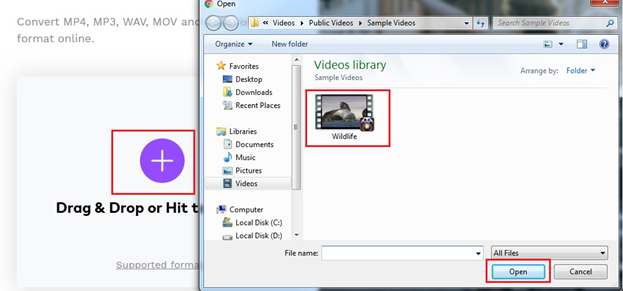 Step 3: Define format as MP4 and convert it
Now, define the final format as MP4 and post that press the Convert button.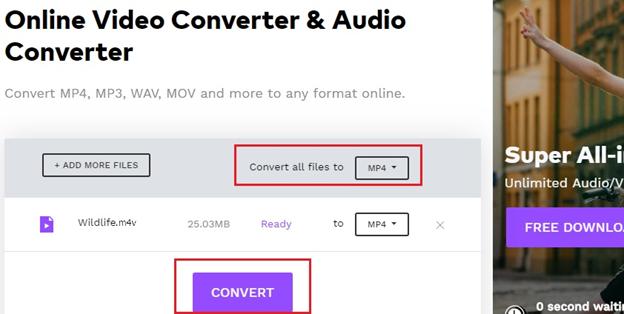 Once you are over with the steps mentioned in this section, you will find it quite easy to follow. As stated above, you do not need to be tech-savvy to access or work with the above online platform to convert M4V to MP4.
Part Three: How UniConverter (Desktop) works
Online UniConverter is an excellent online video converter that solves the issue of file format compatibility that you have been facing for long. But if you need a professional converter, then, UniConverter (Desktop) is a better choice.
Now, you might wonder, why?
To answer this question, I would introduce to you the UniConverter (Desktop). :
It is a complete package to deal with:
Incompatibility issue,
Conversion facility to audios/videos,
Uploading and downloading videos,
Adding metadata information to videos.
The list of usability of this desktop version is much more to bring attention. Thus, it is considered the most trusted solution to perform any file conversion task.
The steps for using UniConverter (Desktop) to convert M4V to MP4 video format is as follows:
Step 1: Launch UniConverter (Desktop) to import M4V movies
To start the process, launch UniConverter (Desktop) and from the main interface, under the Convert section, click on Add Files to import your M4V movies into the application.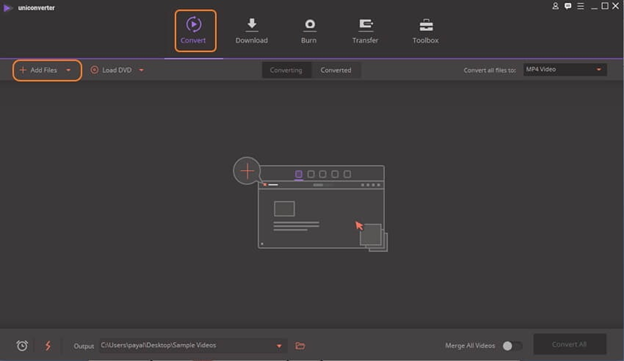 Step 2: Select output format with editing options
In the next window, before selecting the desired format, you can go for the uploaded video editing options such as cut, trim or to add special effects. So if you are a movie organizer, you would enjoy using this desktop converter very much.
Otherwise, go to "Convert all files to" tab and select MP4 under the video section. You can also set resolution same as the source or choose to create custom.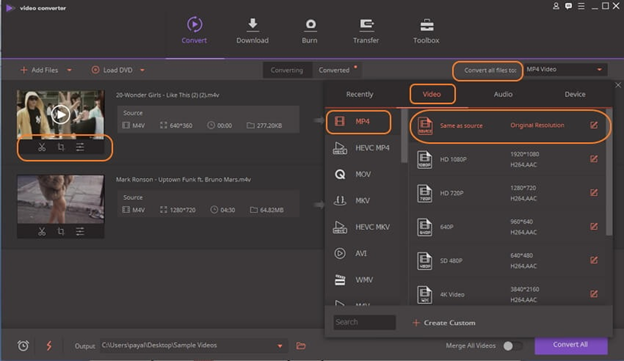 Step 3: Convert to the desired format
Now, as you are over with editing, proceed with clicking on Convert All button to initiate the conversion process.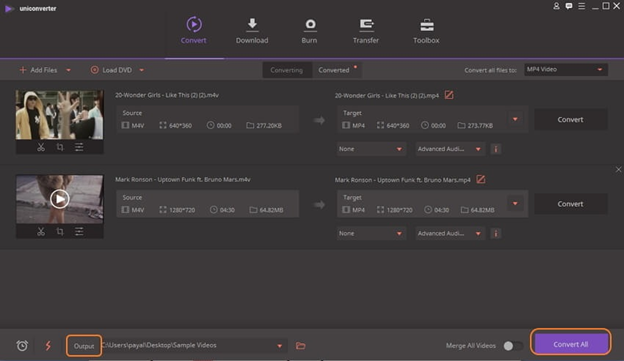 Soon the process will get completed. You can then visit the output folder to access your converted MP4 media files.
It is to note; this software will help you solve compatibility issues with any format with easy access any time without the need of an Internet connection.
Part 4: The difference between Online and Desktop
Till now, you have gone through both the processes, that is the Online platform and the Desktop version. There must be a lot of things revolving in your mind. You might be confused as to which software you should choose and which not. Well, there is no need to think, as both methods are good to go.
Also, to help you with your decision, here is a list of three significant differences between the two:
1: Online platform provides ease of access to its services irrespective of the system and location.
Desktop version need first downloading the tool, then, can perform the conversion
2: Though online services are free, they come with particular limitation in terms of file size and formats.
On the other hand, desktop version reflects no limitation with unlimited file size supports and multiple formats compatibility.
3: Batch processing is limited to two files at a time with the online platform, while with a desktop version, many files can be uploaded and converted at a time.
Thus, you can say that there are specific differences in terms of accessibility in both of the platforms.
Part 5: Information about Wondershare Technologies
In the final section, we have for you a little bit of information about Wondershare Technologies. Its primary product lines include software such as UniConverter (Desktop), Online Converter, or Filmora. Wondershare Technology has more than ten years of experience in providing innovative solutions under audio-video conversion and compression technology. The company is still working to improve its usability with its renowned team. It is a global leader in technology and an active member of National Planning Software Enterprises.