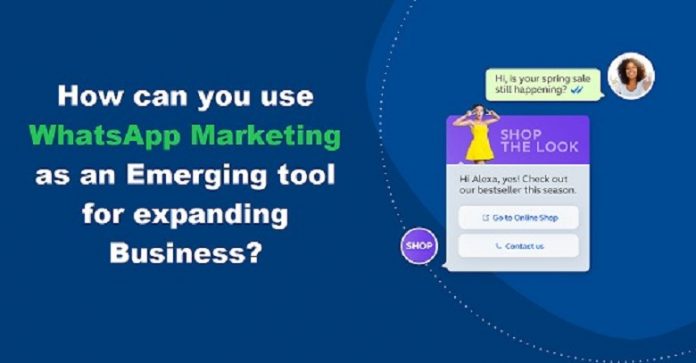 It comes as no surprise that mobile phones have absorbed the majority of our attention. In particular, WhatsApp, which we use daily, is one of these apps. WhatsApp is readily available on IOS or Android mobile phones, and it is easy to use. WhatsApp is among those cross-platform apps that are currently dominating the world in the form of messages at a large level.
Because of this, WhatsApp has become renowned as the most effective marketing tool these days. Texts sent via WhatsApp attract the most attention from readers. It is easy to use. Due to its increased user community, it gives an additional number of potential customers with minimal effort. This method not only allows you to send mainstream press communications in bulk communications. But it also allows you to connect to numerous people, both domestically and internationally.
People who want to make their business more effective can use WhatsApp Marketing Software and various marketing tools. It helps reach a larger audience. This article will basically help you out by letting you know how you can expand your WhatsApp business by using marketing tools exclusively for WhatsApp.
WhatsApp Marketing Services
WhatsApp Marketing Services has the most appealing feature, which would be that no reader or user will ignore the message. Traditional SMS advertisements skip over messages if the device is turned off, but this is not the case with WhatsApp messaging. The text will be delivered and sent successfully as soon as the user opens and connects their device to the internet.
This type of WhatsApp marketing service is extremely beneficial to the largest number of people in the smallest period of time, something that no other marketing instrument can guarantee.
Including the Do Not Disturb (DND) telephone addresses, WhatsApp messages are sent quickly. And also, the recipients can see the text as long as they have access to WhatsApp. It allows marketers to reach about a 900 million-strong membership base, which no other marketing tool can match. There are also several benefits to using WhatsApp Marketing Services.
By using WhatsApp Marketing Services, one can easily seize the possibility of a broader consumer base at once. Not only would one use WhatsApp Campaigns to text, but also to reach out to the press in order to market their products. There is a feature on WhatsApp called "broadcasting," which allows you to send countless texts to a large address book at once.
Without having to individually pick each and send them individually to every person on the contact list. By sending out marketing messages, one can easily spread awareness of the product by using numerous features like broadcast. These services are extremely essential to be aware of when starting a WhatsApp business.
Benefits of WhatsApp marketing
If one comes to this platform, that individual can be confident that the marketing messages will reach numerous people quickly and in one of the most appealing ways possible. Business requires contact, and the more contact, the more this business will flourish.
Even more, marketing messages will reach a larger audience and spread awareness of your business even more. WhatsApp marketing ensures that you get the most out of your messages, which no one can ever match. The best and greatest Whatsapp Marketing Solution Provider is Whatso.
Suppose you are shaking hands with the proper people. You have almost certainly stored a list of contacts of hundreds of Whatsapp users for each and every industry that will be receiving your marketing messages. WhatsApp makes sure that they have a segmented database for every industry that will help them distribute your communications to even the most relevant individuals.
By enlisting the help of Whatso, you can rest assured that your information will be delivered in the most appealing manner possible to your target audience. You have the option of subscribing to the most comprehensive marketing benefits at the lowest feasible cost. This is why help from the best provider of Whatsapp Marketing Solutions, like Whatso, is required.
Whatso
Whatso is a company's marketing tool. This can be used by companies like coaching institutes, restaurants, and real estate companies who want to welcome their customers with personalized WhatsApp messages. Pictures, movies, and texts and emails can all be attached to the tool. Try out Free WhatsApp Marketing Software. Unsolicited communications are not supported by WhatsApp Messenger.
As a result, it is indeed a good idea to be innovative and utilize a moral marketing strategy to get out to your target market. One such technique is to employ Whatsapp Marketing software that controls the WhatsApp Chat through a computer. As well as benefiting small businesses
Whatso is among those tools that have the strong capability of Whatsapp marketing. Through this, various businesses, big or small, can flourish easily. This is an example of Whatsapp Marketing Software. The below-mentioned software also provides the best Whatsapp marketing solution. They will help you out and give you the best outcome for your business and your queries.
There are several marketing software programmers available that are used for businesses. Whatso Whatsapp marketing software is the best in the market today. Whatsender is another free WhatsApp marketing software. Whatso is regarded as one of the best Whatsapp marketing software and a Bulk Message Software used for Bulk Whatsapp marketing.
Bulk Whatsapp Marketing
Bulk Whatsapp Marketing is an advanced and efficient way to reach out to prospective customers or establish a loyalty scheme. The majority of WhatsApp messages vary and appear in a variety of formats. They can come with images or videos, as well as a limitless number of characters. An image or video is equal to a thousand words. Add a picture, video, or v-card to your bulk Whatsapp messages to make them more interesting.
With much more than 1,000 characters per text, one can use WhatsApp information to distribute bulk Whatsapp messages. With the ability to upload pictures, v-cards, or videos, this should be enough to improve communication. Inside is a YouTube clip URL that has gone viral, generating millions of views. It is easier to do bulk WhatsApp marketing as WhatsApp is an easy-to-use app and has numerous consumers.
The self-managed bulk Whatsapp platform may be used on various devices like smartphones, tablets, and computers. There are several benefits of using Bulk Whatsapp Marketing. There are numerous marketing software programmers that are stated above, that can help with the same.
Conclusion
Whatso is the most influential and effective WhatsApp software and SMS messaging programmed, allowing users to create mass customized messages. Texts could be sent to more than a hundred different nations. Whatso is a simple and powerful bulk communication software for smaller companies and businesses looking to boost leads and profit by sending out tremendously effective messages all over the world.