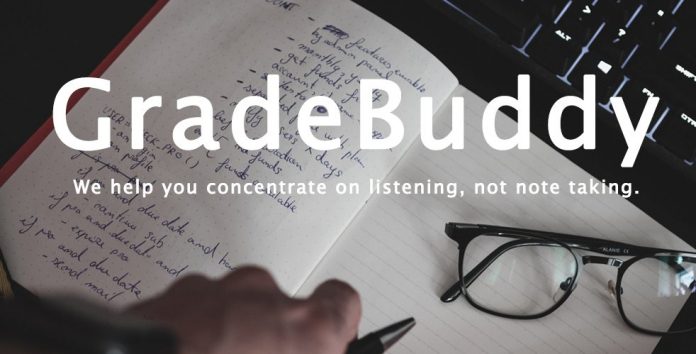 Our Story
Have you ever missed a class and struggled through a dry textbook trying to complete your notes? What about sleeping through an 8:00 am lecture due to working late, finishing up a paper due at 9:30, or work asking you to come in early, or stay a little later? Don't you wish there was a guaranteed way to find quality lecture notes for USA students so you don't fail your next exam? Wish no more, the staff here at Gradebuddy, is here to help you succeed!
Gradebuddy is an online community designed to help spread quality notes from different college classes and disciplines. Student note takers upload notes, and each uploaded file is reviewed by an editor to assess the overall quality of the notes. In addition to lecture transcripts, various other review materials are available; these materials include, but are not limited to, practice exams, exam study guides, flashcards, power points, scholarly articles, and papers. A variety of materials are provided because everyone learns differently, and the goal of Gradebuddy is to enable access to a variety of mediums to assist you in your coursework.
Our Mission
Gradebuddy believes the best way to get quality notes is to receive them from students. Students who have taken the course or are taking the courses are transcribing the lectures. These students are from colleges all over the United States, and they are either an independent notetaker, who uploads a few sets of notes or are a part of our Marketing Ambassador Team. Market Ambassadors earn up to $500 per course, and they are responsible for uploading every set of notes they take for that course. One of our note-takers, Victoria S., had this to say about Gradebuddy:
"I pretty much earned money for going to class and taking notes. And I got to help a lot of people on top of it. It's kind of the best job ever."
One of the core principles that Gradebuddy was set up on was the give-and-take system. To gain access to all of these resources you can either spend money or credits. Credits are earned by uploading your notes. On average it takes 20 documents to allow you one month of free Gradebuddy Premium; this comes out to about 100 credits per document. Another way to earn credits is by having friends sign up for Gradebuddy. For every friend who creates an account, you'll get 200 credits.
Pros and Cons of Gradebuddy
PROS
There is a wide selection of disciplines; everything from African American Studies to Zoology can be found on Gradebuddy

If you attended a larger school, there is a good chance of finding notes that are an exact match for your class

Variety of resources available to help you study

Free and Premium members both have access to the flashcard section of the website

If you are unsatisfied with Gradebuddy premium, you can receive a refund
CONS
It is not possible to download files

Small colleges do not appear in the search, so you will have to search through other schools

Each college uses a different naming and numbering system for courses, so it may take a while before you find course material relevant to your class.
Conclusion
Gradebuddy is a great aide in assisting you getting caught up in your coursework; regardless of the reason why you missed your class, this website is designed to have your back. Sometimes, the naming system for courses can be a bit confusing, but after a couple of times using Gradebuddy, you'll become a pro.
The flashcards are also a great touch to the website, giving it a sort of Quizlet feel. Also, the Marketing Ambassador job that pays you up to $500 a course for notes; this is a pretty great way to help offset the cost of going to college. What are you waiting for? Sign up for Gradebuddy and continue excelling this semester!
Related Question
How Much Does Gradebuddy Cost?
The cost of a Gradebuddy subscription will vary depending on how long of a subscription you would like. Below is a chart with our three subscriptions and the price, in both dollars and credits. Whenever you subscribe, you are billed a one-time payment to your account, and you may cancel at any time.
| | | | |
| --- | --- | --- | --- |
| Type of Membership | Total Cost | Cost Per Month | Cost in Credits |
| 1 Month Membership | $33.95 | $33.95 | 2,000 Credits |
| 3 Month Membership | $47.85 | $15.95 | 4,000 Credits |
| 12 Month Membership | $95.40 | $7.95 | 14,000 Credits |
Why Doesn't Gradebuddy Allow Downloading?
Gradebuddy doesn't allow downloading, due to the risk of people downloading the notes, then redistributing them, without our consent.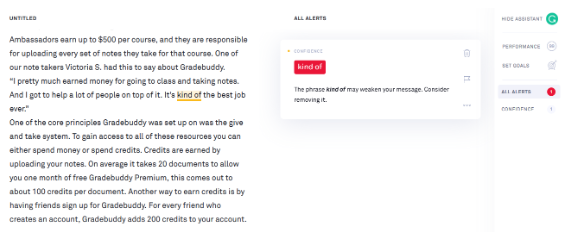 I'm allowing this one error, because it's a direct quote.