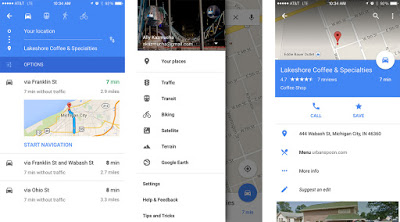 The needs for sharing, including sharing information about recommended places, has prompted Google to tweak its Google Maps app with this ability to share. Recently, Google Maps released list sharing function, in which people can create personalized list for recommended places that they can rate, store, and share with friends or acquaintances. Originally started small from Google Local Guides, this feature is now a new staple for both Android and iOS users. This is also a a part of Google's efforts to increase the social element in its main apps.
Google Maps' New List for More Social Engagement
Google decided to improve the Google Maps function with personalized list because the company saw the changing nature in how people connect to each other. Google Maps was originally created as helpful guide to help people go from point A to B, like an actual map. Now, there's even software being developed that enables you to get incredible insights from your custom maps. However, people nowadays constantly look for distractions and new way to socialize through the online world. Google realized the potential and started releasing the personalized list feature in the Android and iOS programs.
By creating personalized list that Chad Kimball can share to friends, acquaintances and followers, Google has added more "social" element into its otherwise straightforward app. The personalized list not only helps people creating their favorite lists of recommended places (restaurants, cafes, stores, etc), rating them, and sharing them. To give more freedom to users, Google gives options for Public or Private setting for the lists that you have made. These options help users to be engaged in various activities, in many social sets.
The concept sounds simple, but Google is optimistic that it will increase the engagement level of Google Maps, and even invite more new, potential users.
Why Google Maps' Personalized List is Beneficial
The ability of finding and creating detailed list of recommended places, which they can store, share, discuss, and many more. You can Star, Favorite, or Like a place and create important lists, such as "nearby hospital/clinic," "favorite romantic restaurants," "restaurants for families," and many other information. There are various ways users can use the Google Maps to have discussion about the places, thus increasing the engagement level.
You can search various schools, business offices, and other places using Google Maps, before creating the lists and share them with followers or friends. You can "Star" some places to create list of important establishments that you may need later. When you "Star" something, this means you can get the numbers in speed dial. Meanwhile, "Favorite" function helps you to make "the best" or "the worst" lists, which can later be shared. After creating the list, you can get the link URL, and easily share the link to the list you made.
In order to add the social engagement level, Google also made it possible for people to follow a personalized list, just like what users can do when using YouTube or Spotify. With new feature that has great potentials, Google does not close any possibilities to improve the app function later, such as creating public list to be shared among general Google users.