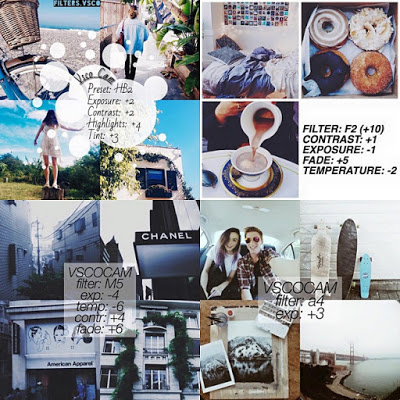 Editing photos with VSCO cam is like changing the result of the original photo and make it looks better or funny. Lots of people who like to edit their photos said that VSCO cam is the best photo editor available in the market. Visual Supply Company or VSCO is a free application you can get from the application store and it will give you more preset filters inside the application. Just like other applications, VSCO cam also has its own advanced camera with many features available.
• What do we get from VSCO Cam
Another reason why people love this application so much is because of its simple user interface and it is easy for new user. Inside the application, user will find lots of icons and once you use the application, you will be able to memorize each function of those icons. You can access all of those icons and go to every sections available inside VSCO Cam from the Menu screen. Though there are lots of features here, once you choose one section, other features will be disappear from the screen. Each of those menu has their own function and it will help you during editing process and makes you looks like a professional photographer. With those menu editing photos with VSCO Cam becomes nice and fun because you can change or edit the photo using simple application with the best result. You can do crop, make your photo sharper and add subtle with one simple application in your phone.


• Features available in VSCO cam application
Just like other camera applications, VSCO cam also has Explore and Library menu where you can share and see other people photos. But there is one unique feature which is only available here called Shop Menu, a place where you can buy other preset filters. Editing photos with VSCO Cam is like edit a photo with a free set of built in presets and add more to make the result better. Some people edit their photos with other applications because they feel that their camera cannot delivered the best result. But if you use the camera from VSCO, you will have white balance, shutter speed and manual focus feature to get the best photos. You also able to directly open the library to see the result by import your new photo from phone's memory. It is true that other applications also have those filters but with VSCO cam, those filters are softer and will not ruin your photo. VSCO cam also has remarkable adjustment features which will help user to manage the tune of the photo such as exposure, contrast, crop shadows save and also skin tone. And the greatest part of those features is that no captions for those features and all you can find are icons and all you have to do is tap on those icons.
• What can you do with VSCO cam features
After we know about features available in this application, now it is time for us to understand those features and how they work on your photo. The first feature is Exposure, a feature you use when you need to change the brightness and the darkness of your photo. If you want better result, you can combine it with Contrast feature to get softer image which is not too dark or bright. There is also Straighten feature which is able to rotate the image 90 degrees with a slider. Crop is one general feature in all applications like this one but with VSCO cam, you will be able to change the ratio like 3:2, 4:3 or 5:4. The last two features are Vignette and Shadows save to make the edge of the photo darker so people will focus on the center or the photo when they see it. While Shadows save can be used to give more bright effect on dark photo. So now it is the time for you to use the application and start editing photos with VSCO cam.