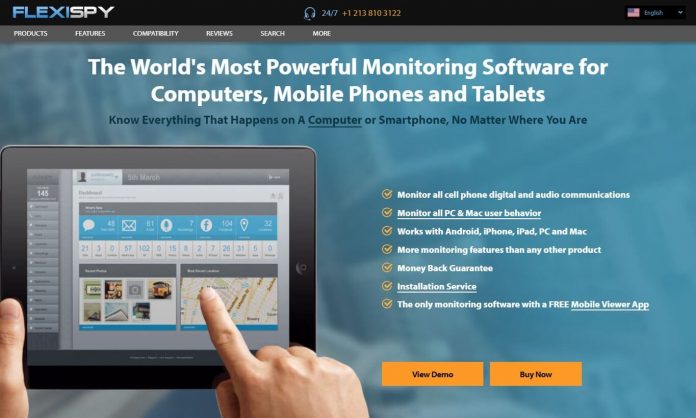 FlexiSPY is one of the most advanced spy phone apps in the world. It has everything you'd expect in a phone monitoring system, and more. It records phone calls, captures keystrokes, lets you read email, SMS, Facebook and WhatsApp messages, track device locations and even remotely turn on microphones to record conversations—all without the user knowing.

FlexiSPY Features & Packages

It comes in two versions – Premium and Extreme. The premium version offers the basics you'll find in many other spy software, with the exception of call interception and call recording. These two features are offered in the Extreme version. On the FlexiSPY website there is a comparison chart, so you can easily match the features that are most important to you.

FlexiSPY Premium Version

The premium version has all the standard features you'd expect from a spy app, allowing you to track every text message, call, website visited, and multimedia file on your target's phone.

It captures even more on a rooted device, such as Facebook activity and instant messages sent via WhatsApp, Facebook Messenger, and Skype. FlexiSPY has continued to add new features to its spy app since it first launched.

Here are some other premium version features:

Keylogger. Every keystroke typed on the target phone is captured. You'll be able to see every username and password.
Track GPS location. It uses GPS to track the phone's location. You can view their location history on a map, and track their current location in real-time.
Keyword Alerts. You can set up text or email alerts that will notify you if the phone sends or receives messages with certain words.
Take Screenshots. You can remotely take screenshots of the apps they use.

FlexiSPY Extreme Version

The Extreme version allows you to listen in to and record calls, send fake text messages, and remotely control the phone's camera and microphone. Some of the key features of FlexiSPY Extreme include the following:

Live Call Interception
Call Recording
Listen Live to Phone Surroundings (bug their phone secretly)
Ambient Recording (record their phone's surroundings)
Remotely Take Photos
How Do The Advanced Features Work?

Live Call Interception is a feature that allows you to intercept calls on the target phone to be monitored while they take place, without the phone user's knowledge. How this feature works is you're hooked into a call as a third party. It's similar to being on a conference call, only nobody knows you're on the line. Your phone stays muted. The one condition is the target device needs to be capable of 3-way calling, so check with the phone carrier to ensure this feature is enabled and/or available.

Call Recording lets you record both incoming and outgoing calls (including WhatsApp and Skype calls). You can record calls that are made to and from specific numbers only. All recordings are uploaded to your FlexiSPY account. From there, you can download recordings directly to your computer.

Ambient Recording is similar to Call Recording and allows you to secretly record what's going on around the phone. Here's how it works: Under the Call Controls in the FlexiSPY online portal, click Start Ambient Recording and enter the number of minutes you want to record. This turns on the phone's microphone in stealth mode and records conversations taking place near the device.

The FlexiSPY Extreme comes with a host of advanced features, making it an excellent choice for power users. Please note that these features are only available on a jailbroken iPhone or rooted Android device.

What is the Best Way to Spy on Any Cell Phone?

From this FlexiSpy review, it is obvious that FlexiSpy is one of the most popular spy apps out there. But the truth is that FlexiSpy and other spy apps are ineffective and generally don't work. That is why we are recommending Data Burglar – databurglar@yahoo.com

Data Burglar offer the most reliable cell phone monitoring service with one of the highest global success rate. If you want to successfully spy and monitor any cell phone, Data Burglar remains your best option.

Some Things That Make DataBurglar Unique

1. DataBurglar's more advanced features, like call interception and instant messenger monitoring, are available on all phones; Android phones, iphones, windows phones etc (rooted / non-rooted and jailbreak / non-jailbreak phones).

2. DataBurglar allows you to remotely spy on any phone. This is another very unique and special feature of DataBurglar, since other spy apps require you have access to the target phone.

3. Let us examine the general features DataBurglar offers below;

Supports iOS: DataBurglar runs on iPhone/iPad with iOS 6.X and above.
Supports Android: DataBurglar also runs on Android 2.3 and above.
Call Recording: Records voice call. You have phone conversations recorded.
Phone Tracker: Phone Tracking of incoming and outgoing calls.
SMS Tracker: SMS Tracking of incoming and outgoing messages.
Spy on Whatsapp/Whatsapp Tracker: Tracks the Whatsapp messages, and recover deleted whatsapp messages.
GPS Tracker: Tracks the gps coordinates periodically. The location is displayed also for a phone call or sms.
Remote Monitor: The logs are stored on a server that you can access through internet.
Integrates with Contacts: You can see the contact name and id for every sms or phone log.
Remote Commands: Control the phone remotely.
Picture Tracker: Tracks the photos taken with target phone.
MMS Tracker: Tracks incoming and outgoing mms messages. Saves the text and the image.
Browser Tracker: Tracks the browser's activity.
Instagram Tracker: Track Instagram without Root.
Tinder Tracker: Track Tinder without Root.
Facebook Tracker: Tracks Facebook messages, and recovers deleted Facebook messages.
System Logs: Tracks when the phone is restarted or when the ring mode is changed.
Calendar Tracker: Tracks the new events in the calendar.
Skype Tracker: Tracks the Skype messages.
Viber Tracker: Tracks the Viber messages.
Contacts Tracker: Tracks if a new contact is added.
Telegram Tracker: Tracks Telegram messages with or without Root.
Surrounding Recording: Record Surroundings with a command.
Line Tracker: Tracks the Line messages.
Applications Tracker: Tracks installs/uninstalls of applications and apps usage.
Hike Tracker: Tracks Hike messages without Root.
Block Apps: You can block applications.
Block Numbers: You can block numbers for phone calling or sms.
Web Block: You can block websites based on keywords or website url.
Alerts: You can configure alerts based on phone numbers or keywords.
Kik Tracker: Tracks messages from Kik.
Remote Wipe Out: Erase your device remotely.
Snapchat Tracker: Tracks the messages from Snapchat.
Hangouts Tracker: Tracks the messages from Hangouts.
Video Tracker: Track the videos taken with the phone.
Twitter Tracker: Tracks the messages and posts from Twitter.
Internet Live Control: Send commands to the phone using the Internet.
BBM Tracker: Tracks the messages from BBM without ROOT.
WeChat Tracker: Track the messages from WeChat without ROOT.
VK Tracker: Track the messages from VK without ROOT.

Conclusion: DataBurglar is without a doubt the best way to monitor any cell phone. Apart from the fact that it offers more features, it is also reliable and requires no access to the target phone. Send an email to Data Burglar – databurglar@yahoo.com to request and use this amazing service.