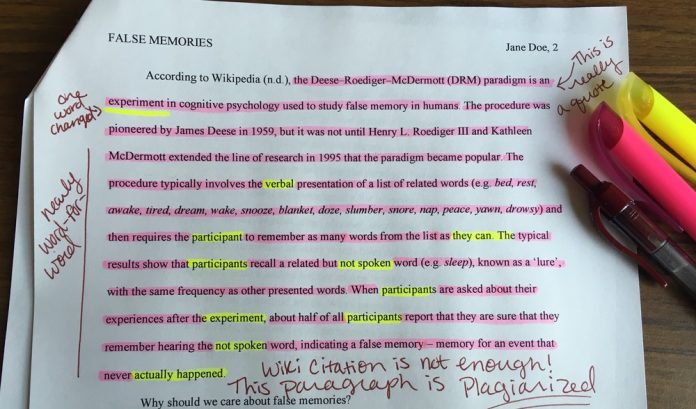 Studying at a reputed university is quite a challenge as students are tested throughout the tenure. They have to score high grades in all courses to pass with flying colors. Considering the level of completion that exists in the business world, only the best students are able to survive and excel.
Why is producing an original term paper so important?
The term paper is submitted by every student before the end of a semester. The requirements including topic and scope are decided before the paraphrasing and writing stage is initiated. The importance of this paper is high because it carries a lot of weightage. If your term paper grade goes down, it would be hard to get a good final score. This is why teachers and advisors always remind students about giving important to their papers.
Every academic paper goes through a proper process and then the student is awarded with a grade. Initially, students have to create a scope and discuss things with their advisor. They begin the research work when he gives them a proper approval. Plagiarism is a major problem which has numerous consequences.
Do you know that a term paper gets immediately rejected if the supervisor finds out that it has copied content? For any student, this is probably the biggest disgrace. You lose your reputation as well as the chance of getting hired by a good company. This is because one of the consequences of producing copied content is being rusticated from the institution. Using a checking software is by far the best way to deal with this problem. There is no other method that can help you with efficient plagiarism checking.
A major percentage of students are in a state of haste when the submission date is round the corner. One reason is not planning things properly. They do not distribute the writing tasks due to which a lot of things remain incomplete. At the last moment, students rush with things which simply adds to the trouble. To deliver the paper before the deadline, they rephrase the beginning and ending while the content in the middle remains unchanged. Academic institutions have detailed procedures to check term papers including the use of an online tool.
Writing a term paper is all about delivering well researched information on time. Most of the students opt for relying on already submitted work by their peers. While, a few of them go for paraphrasing to convert the original work into their own words. Here, in this case, manual paraphrasing can be challenging. Not everyone can remove plagiarism and isn't pro in rephrasing. So, the next step they take is to choose a paraphrasing tool that helps students in real time.
Depending on the use of a paraphraser, students can either learn paraphrasing and new sentence structures or can choose to depend on article spinner for whole life. Speaking honestly, dependency on such AI writing tools isn't a good practice.
You lose marks if the produced information is not backed by a good research or things are not concluded on time. It is important for students to save time wherever there is a possibility. If you use an online tool for highlighting copied material, a large time slot is saved. Does a plagiarism checking application require a long time span to read the uploaded content? The answer to this question is no.
Time efficiency is one of the many plus points of these tools. Students do not have to reserve several hours for plagiarism checking if they use an online checker. A good tool does not take more than a minute to go through the uploaded content. After that, the student knows about the areas which have to be changed. He has to edit the content and scan the content again. This process concludes when no content sections are highlighted as plagiarized.
Every tool is not time efficient so be careful when you are picking one. Some students only run after free options and simply ignore the factor of technological progress. How much time does the tool require to check the uploaded material? This is an important question which should be taken into consideration.
Comparison with all web pages having published information
Provision of original content means delivering information which has not been published online in the past. Thus, when you are selecting a plagiarism checker, make sure that it performs a comparison with all the active web pages. In this way, if there is no similarity, all doubts of producing copied content would be eliminated. This step is very critical because teachers and advisors expect all students to deliver 100% unique term papers. Even a small chunk of copied content can result in immediate expulsion.
Very simple to understand tool
There are several categories of online soft wares and tools. Some of them have a minimum requirement of technical skills and users who do not have a computing background cannot use them. Plagiarism checkers do not have any technical complications so all types of users can use them.
These tools are very simple to use so performing the plagiarism check is not a problem in anyway. There is a straightforward step to select / upload content. If the file is saved, browse the system storage and select it. There is no need to select content if it is in the PDF or DOC format. Once you are done with the uploading, move on to the next step.
When you click the "check plagiarism" button, the tool executes a scanning process to check each line. The content is compared with content already available online. In case of similarities, the areas which require rephrasing are highlighted. Some plagiarism checkers also have a feature to make the required content unique. Term paper submissions should not be taken lightly because they effect the future. Students should be careful and conscious so that their results do not suffer.
Conclusion
It is completely unethical to be submit plagiarized content. Students suffer in several ways when they are found guilty. The academic future is ruined forever and institutions apply strict policies. When a student is unable to complete his degree, his employment options are eliminated as well. Lastly, it is a big source of degradation. You can forget about pursuing any degree or taking part in an academic program.
As plagiarism can be so damaging, it is important that students take it seriously particularly while working on academic assignments. Do not worry about saving a lot of time because plagiarism checking tools have a short process. If you have one day to check thousands of words, it can be easily done by using a quality tool.