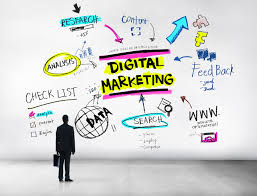 Digital marketing is the most effective way to spread the word about your new business.  Getting the news about your operation out on the internet instantly expands your consumer pool exponentially, but digital marketing isn't a flat method.  
Choose to champion the digital realm for business, and learn what it takes to gain attention online.  Here is a brief look at some digital marketing tips that will put your new business on the proverbial (and digital) map.  Consider what your efforts might be missing and how you might improve upon your current approach.  
Optimize your digital content for SEO
If you're not yet familiar with the concepts of search engine optimization, today is the day you learn.  SEO is a non-negotiable element of a successful digital marketing campaign.  
Learning what the umbrella of SEO covers will help you to create content that is visible to your target audience online.  Learning how Google sifts through the pages of the web to index search results will steer your campaign in the right direction.  
Add mobile optimization to the 'to do' list
Mobile web users are the majority online, and your digital content should be catered to the masses.  Make sure every piece of content you upload to the web is built to function and display with ease on today's most popular mobile devices.  
Build for speedy loading, and include various types of digital media to boost the appeal of your content.  Responsive design is always a good route for your company's digital content.  
Reach out to people through social media
Social media is a powerful digital marketing tool, as there are many different ways in which you can use it to spread the word about your business.  Start by adding social media sharing icons to your business website and blog for simple sharing.  
Add a few social media profiles for your business into the mix, and make sure the content on your pages is engaging and relevant to your operation.  
Use high-quality images and videos
High-quality images and videos not only look better, they load faster on your pages.  You also need digital content that doesn't drive web users away.  
When people have to wait for more than a few seconds to see an image or start streaming a video, they will typically move on to the next listing in the Google indexing.  
Work to build a web of backlinks
Building an intricate web of backlinks is helpful to your digital content, because it makes your content look more reliable to Google's search algorithms.  Delve into the specifics regarding backlinking, and make building backlinks a new part of your organization's digital marketing efforts.