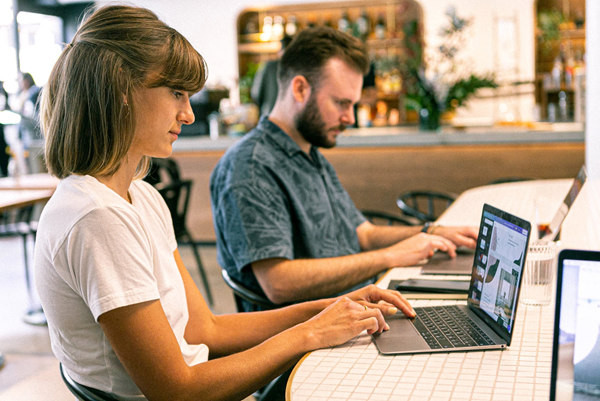 For a small business, and for young people just starting out, product promotion and branding are the first important factors determining the revenue in the business process. Of course, the brand of an enterprise is not natural but famous, having to go through many stages of development and promotion to the community. Thanks to the help of technology 4.0, digital marketing – creates unexpected success.
Building Customer Identity (Personal Branding Brings a Face to the Business)
Branding is about building business awareness with tactics and marketing campaigns with the ultimate goal of creating a unique and solid image in the market. Entrepreneurs need to target each campaign to be able to model and build customer identities. The information needed to build customer identities includes name, age group, occupation, job, income, their favorite media channel, problems you can solve, …Personal branding allows you to connect large-scale to people who aspire to be like you or are part of something you trust, whether your customers or your team.
Search Engine Optimization Strategy (SEO)
If you take the time to write articles for a content marketing campaign, remember to invest in improving search engine optimization (SEO). In digital marketing, content is considered a factor. important. But without search engine optimization (SEO), the content, no matter how great the investment in meaning, cannot reach customers.
SEO seems technically complex, but if you really care and spend some time reading, we can understand the basics. You can use online tools to find the right keywords to attract your audience to the site and further improve the effectiveness of the page. Search engines (SEO) assist in adjusting the article structure, investing in quality content, and consistent writing style on your website. Therefore, startups should not ignore tools that help increase website traffic, articles, and help the website be highly appreciated on search engines.
If you are learning about the great benefits that SEO marketing can bring, you can learn more about How to Write a Killer SEO Strategy for Your Online Shop. Besides, you will not be hard to find stores with discount code or promo code (Coupons, deals, promo codes, promotion, sale-off, …) with this app.
Reach Customers Through Personalized Email
Personal email is one of the best interactive channels when startups want to build relationships with customers through digital marketing. It is not only a cost-effective marketing strategy but also less annoying customers. Moreover, potential customers should be approached regularly but not too aggressive and make customers feel uncomfortable.
Before interacting with customers, businesses must survey and research further behaviors such as building customer identities, sketching portraits of customer targets to organize email content accordingly. Then, businesses can choose an automated email service provider to interact with customers who are supported by preferences, habits, and hobbies.
Invest in Marketing Through Social Media
Today, social media has become a powerful marketing tactic in a booming e-commerce era today. From small and medium businesses to giant corporations, they use social media to promote their products or services, directly or indirectly. The decision to choose which social network to run the campaign must stem from an understanding of customers' identities and interests. Each platform appeals to a different demographic and businesses need to do research to find out where they're using. Utilizing social networks, you will encounter a lot of potential customers and their relationships. This will help businesses increase the spread of the brand.
First, create a business profile on channels like Facebook, keep adding, enriching information, and start delivering content that your business's target audience wants. Always stay connected with the target audience. The number of page followers will increase to thousands and will also be a source of access to the business website. Do not forget to interact regularly and promptly with customers to create sympathy with them.
Promote Customer Service
Customer care through digital marketing not only increases customer sympathy but also is an effective brand promotion and sales promotion channel. Today, consumers are smarter and they not only look for a place with quality products/services but also appreciate after-sales programs, warranties, support advice, …
Moreover, professional and dedicated customer service will help the reputation of the business go further and attract more attention. An effective customer care strategy always brings great benefits to businesses. However, many companies do not have an effective customer care strategy, resulting in slow sales and even loss of customers, so do not hesitate to invest yourself in a smart switchboard system. to save maximum calling costs (For example, High security, Record a call Integrated e-Voice and SMS Marketing, Diverting calls). This can be an effective way to reach customers for businesses.
Storytelling is Part of a Marketing Strategy
Storytelling is the oldest but most effective way to reach an audience. A true story with a simple, clear storytelling style will win consumers' hearts. Do not try to seduce them with an exaggerated story, they will immediately recognize. You do not need to be too elaborate on the story of a business idea. If your business does not have a "shaky" history, you should not try to create. Failure to hide failures is a way to create emotional connection while revealing admirable personalities of the business, although saying this is not easy.
Let customers participate in your story. People always like to be part of the story. So let your customers be the characters in your story. Real-life stories from customers will help them connect them directly with brand stories effectively.
Finally, remember that brand storytelling is an ongoing process. Every day, your business is growing, transforming, adding new chapters to its story. Make brand storytelling an integral part of business and marketing to attract and retain customers.
Digital marketing needs many factors combined to succeed. Therefore, startups should choose smart methods, optimize costs, and take advantage of technology development, or apply Marketing Automation Tools and Platforms to support the development of businesses to achieve success such as desire.