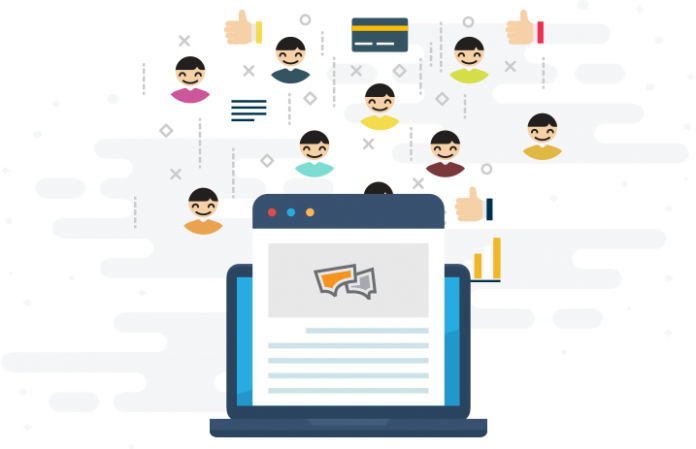 Customer experience has become the backbone of every business. Businesses are employing various tools to engage and enhancement of customer experience. Automating support processes with these tools have proven to increase customer experience. As businesses work towards providing better customer experiences, data is needed to optimize their support systems that can be generated by the live chat software.
Businesses face many types of challenges such as lack of visibility of customer's journey, no real time assistance or serving multiple customers across various channels from one tool. These challenges hinder to deliver the best customer service.
REVE Chat – Overview
REVE Chat combines the power of omnichannel live chat software and the live engagement platform to make customer conversations real and engaging right on their preferred communication channel. It also provides an all-new messaging experience to your customers with the live support software.
REVE Chat provides a live engagement solution to assist visitors and customers in real time and amplify customer experience. REVE Chat also provides deeper insights and analytics about your customer's journey, their conversations across the channel, team performance and other key business metrics to help you understand and deliver higher engagement.
Live customer engagement platform
REVE Chat offers live customer engagement platform for making meaningful customer conversations by assisting them with live chat and visual engagement tools. With the help of these tools, you can assist your visitors & customers in their journey and raise chances of sales conversion.
Combining video chat and live chat with co-browsing solution aids complete engagement between the agents and the customers. Some of the most popular use cases of live engagement tools are customer service, sales or product demos, and customer on-boarding. It widely covers industries ranging from banking, financial services, and the travel sector.
REVE Chat's platform offers key features such as:
Co-browsing – Collaborate with your customer's screen in real time with co-browsing and provide a better in-person experience without any downloads.
Video chat – Connect with customers face to face and offer real-time assistance with video chat to boost engagement.
Screen sharing – Help customers to share their web screens with agents to provide real-time help on your website or app.
Live chat – Convert your website visitors into leads and provide real-time support with live chat.
The co-browsing and video chat solution comprise the power of WebRTC technology that allows a seamless peer to peer communication without installing any plugins. It delivers a seamless experience to customers who look for instant in-context communication while browsing your website. The power of visualization can be used to remove the hindrances and provide a clear and effective journey to the customers.
Omnichannel customer communication
REVE Chat offers omni-channel customer service to engage visitors and customers who contact from multiple channels. Delivering omni-channel communication helps to reach out to your customers across their preferred channels. By unifying the customer conversations you can get a complete overview of your customer activities and your team can efficiently manage all conversations and serve them where they are. It helps in gaining valuable customer insights for better customer engagement in real time.
The messaging channels are:
Facebook messenger – Manage your customer's messages on your Facebook page with REVE Chat's multi-channel live chat software integration with the Facebook messenger.
Messaging apps – You can engage with your users across messaging apps such as Viber and Telegram using REVE Chat.
Skype messenger bot – Manage your Skype conversations with customers using REVE Chat's unified live chat platform.
Mobile SDK and Chat API
REVE Chat also has chat API and mobile SDKs (available for iOS and Android platforms) to provide in-app messaging, co-browsing and video chat inside your apps to boost user engagement and improve customer satisfaction.
The other features of REVE Chat include visitor analytics, advanced reporting, canned responses, auto triggers, queuing and department management that help to your team to deliver a better live chat experience.
To conclude, implementing REVE Chat's customer engagement tools will help you to provide a runway to grow your business. It will help in acquiring new customers, retaining loyal customers and provide a better customer experience.