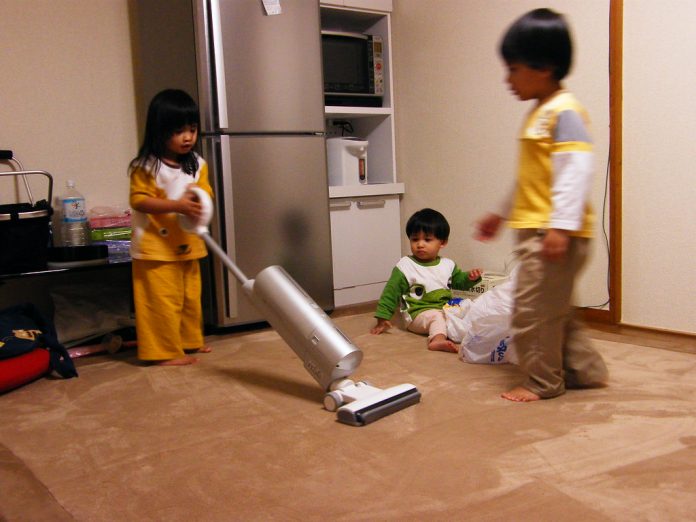 Hanging with friends and family outside is almost impossible in this pandemic. Inviting over for a steak night or slumber party is the best possible way to unwind and socialize. But, before the fun, safe, and budget-friendly house party, you have to clean and tidy your house. Well, that's what the best house host energy would do.
Ah, deep house cleaning is really a daunting task to do. You might be scratching your head now, but there's nothing you could do but clean your home.
A better way to do this is to internalize the process of deep cleaning. Convince yourself that it is not a boring, tiring, and time-consuming chore. Thinking of it negatively will keep you from cleaning your house.
Here are some practical tips on how you can deep clean your home from start to finish. 
Pre-Deep House Cleaning Tips
Before diving into house cleaning, prepare the best upbeat playlist. Let the upbeat cleaning playlist accompany you. It will strip off your boredom. 
Light Decluttering
Before you engage in the actual deep cleaning, you will need to do this light task first. Start decluttering all the obvious and visible knick-knacks on the tables, countertops, floors, and TV racks. Do it room by room. In that way, there will be less work required when the actual deep cleaning starts.
Strategize and Make a Checklist
You need to plot out which rooms you will tackle and schedule when you will do it. Also, keeping in mind how much time it will take to finish a thorough deep cleaning job. Do not be hesitant to split the work into multiple days, weeks, or even months. If you are very busy or have a spacious house, you might want to call a maid service for assistance.
Moreover, making a checklist will help you track all the tasks needed. In deep cleaning houses, its complexity will be reduced by the guidance of your checklist.
Stock Cleaning Tools and Equipment
Ensuring that you have everything you need before you start the actual deep cleaning is a must-have habit. It puts you in a position closer to being successful in overall cleaning. Do not put yourself in a frustrating and time-consuming situation of finding proper tools during the general deep cleaning.
It is advised to acquire and prepare these tools and equipment:
Broom

Damped cloth

Vacuum cleaner

Mop

Feather duster 

Dish soap

Sponges

Hydrogen peroxide

Insecticides

Alternative stain removers (baking soda, lime, white vinegar, etc)

Wood polisher

Wood cleaner

Lint Roller

Fabric and floor detergent

Brush with stiff bristles

Paintbrush

Acetone

Glass Shiner

Paint thinner
Moreover, not being prepared with the tools and equipment kills the momentum and messes with the rhythm you build as the deep cleaning progresses. 
Hire Professionals
A deep house cleaning is not for everybody, most probably because of time and willingness issues. It is also fair to mention that there are people who do not know the basics of deep house cleaning. If one of the reasons stated above is the case, then hiring professionals is the best option.
Cleaning professionals are experienced, excellent, and efficient in their craft. Hiring them would save you a lot of sweat and money.
How to Deep Clean Entire Home
Windows: Remove cobwebs and bugs. It is essential to vacuum window track and windowsills. If you don't own one, a wet damped cloth, toothbrush, and paintbrush are a good substitute. As a finishing touch, apply the windows with a glass shiner.
Floor: There are different floor types, so there is no absolute deep cleaning method here. Just remember: for tiles, use a mop, water, and floor detergent. Meanwhile, for wooden floors, use odorless and eco-friendly floor wax.
Doors: Wipe down with a clean damped cloth. As for glass doors, apply glass shiner generously.
Garbage Cans: Emptying trash cans is not enough. You need to sanitize it regularly to prevent very unpleasant odor build-up.
Cabinets and Drawers: Remove knick-knacks and empty them. Use a vacuum cleaner to eradicate its dust. You can use wood polish afterwards.
How to Deep Clean Kitchen
Oven: Ovens at your home are often greasy. Clean the insides by a 3:1:1 proportion (by volume) of water, white vinegar, and baking soda. If that oven cleaner hack does not convince you, then a normal water solution and dish detergent will do. Also, never forget to clean the wire racks.
Dining table: When there are guests, the dining table must be on its A-game. Deep clean your "food bonding" table by wetting a damped cloth using mild dish detergent and water. For gentler cleaning, white vinegar is the best substitute for dish detergent. Also, never forget to include the chairs in the deep cleaning process.
Kitchen Sink: Make sure there are no strained food leftovers from your previous dish. Scrub and rinse repeatedly all the corners of the sink using a toothbrush or soap-dispensing brush. Always include nooks, crannies, and hard-to-reach areas of the sink. 
Comfort Room Deep Cleaning
Scrub and disinfect everything! That will always be the golden rule. Everything from every corner of a comfort room must be scrubbed and disinfected. Aside from the floor and toilet, it must also include the faucet, shower hose, flush knob, racks, holders, doorknobs, etc. Also, it is necessary to apply an anti-bacterial spray.
Your bathroom curtains must be replaced more often than you normally do because there's a chance that bacteria will accumulate there. Also, always shine your mirror. That's the very first thing the guest will look at.
Bedroom Deep Cleaning
Again, you must start with decluttering. For the closet, remove all the clothes and mattresses first, then use a vacuum cleaner to remove the dust. From this point, you can also put a furniture polisher if you want. As for the bed, remove the foams, mattresses, pillows, and blankets. Use a vacuum cleaner and eradicate its dust. Rinse repeat until you reach your tidiness standard.
Final Thoughts
Deep cleaning is not for the lazy. It requires focus, dedication, and a serious amount of knowledge. From the planning to the actual deep cleaning, it needs a lot of time and effort. Now that you learned all tips necessary in deep cleaning, you can now confidently invite your friends over for a small gathering.