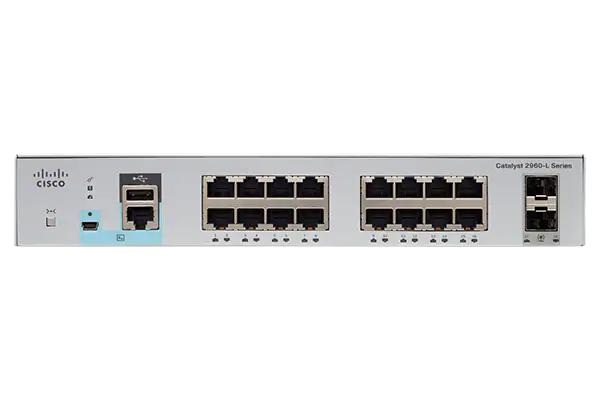 Cisco 2960-L Series Switches are smartly managed, fixed Gigabit Ethernet switches that provide enterprise-class access switching for branch offices, out-of-wiring closet applications, and critical Internet of Things deployments. as well as small and medium-sized companies. They run on Cisco IOS Software and support simple device management and network management through the command-line interface (CLI), as well as an integrated web interface.
The Catalyst 2960-L Smart Managed Switches are secure and reliable enterprise-grade switches designed for small office deployments. These switches can be configured and managed through a built-in web interface that allows customers a fast and reliable way to get a small network of branch offices or offices up and running in minutes. These switches even have limited CLI support for troubleshooting and monitoring.
The Cisco Catalyst 2960-L Series and 2960 Series Smart Managed Switches are fully managed switches that offer advanced Layer 2 and Basic Layer 3 features, as well as Power over Ethernet Plus. These switches provide enhanced network security, network reliability, and operational efficiency.
Cisco Catalyst 2960-L Switches Feature:
8, 16, 24, or 48 Gigabit Ethernet data ports or PoE + with line speed forwarding
2 or 4 fixed 1 Gigabit Ethernet small form-factor pluggable uplinks or 4 fixed 10 Gigabit Ethernet SFP uplinks
Perpetual PoE + support with an influence budget of up to 370W
An enhanced version of Cisco IOS LAN Lite software
CLI and/or intuitive web user interface management options
Reliability with an increased mean time between failures (MTBF) and an enhanced limited lifetime warranty (E-LLW)
Network administration
Cisco Catalyst 2960-L Series Switches offer a superior CLI for detailed configuration and management. The switches are also compatible with the full range of Cisco network management solutions.
Cisco DNA Center on Cisco Catalyst 2960-L Series Switches provides a simple web user interface to enterprise network customers for zero-day plug and play, switch discovery and management, topology visualization, and network image management. software.
Cisco Prime Infrastructure offers comprehensive network lifecycle management, including an extensive library of easy-to-use features to automate the initial and daily management of your Cisco network. Cisco Prime technology integrates operational expertise and hardware and software platform expertise into a strong set of workflow-driven configuration, monitoring, troubleshooting, reporting, and administrative tools.
Cisco Network Plug and Play support the Cisco Application Policy Infrastructure Enterprise Module (APIC-EM) and Cisco DNA Center on Cisco Catalyst 2960-L series switches. This provides a simple, secure, unified, and integrated offering for enterprise network customers to facilitate the deployment of new devices in branch offices or campuses or to provide upgrades to an existing network with a near zero-touch deployment experience.
Network security
Cisco Catalyst 2960-L Series Switches provide a variety of security features to limit network access and mitigate threats.
Improved quality of service
Cisco Catalyst 2960-L Series Switches offer intelligent traffic management that keeps everything flowing smoothly. Flexible dialing, classification, and scheduling mechanisms deliver superior performance for data, voice, and video traffic – all at wire speed.
Smart Power over Ethernet Plus
Cisco Catalyst 2960-L Series Switches supports both IEEE 802.3af Power over Ethernet (PoE) and IEEE 802.3at PoE + to supply a lower total cost of ownership for deployments. PoE eliminates the need to supply wall power to PoE-enabled devices and eliminates the cost of adding wiring and electrical circuits that would otherwise be required in WLAN and IP phone deployments.
Warranty
Cisco Catalyst 2960-L switches accompany an Enhanced Limited Lifetime Warranty (E-LLW). The E-LLW offers equivalent terms because of the standard Cisco Limited Lifetime Warranty, but adds next business day delivery of replacement hardware, when available, and 90-day Technical Assistance Center support.
Your formal warranty statement, including the warranty applicable to Cisco software, appears within the Cisco information pack that accompanies your Cisco product. We recommend that you carefully review the warranty statement shipped with your specific product before using it.
Cisco reserves the right to refund the purchase price as its exclusive warranty solution.