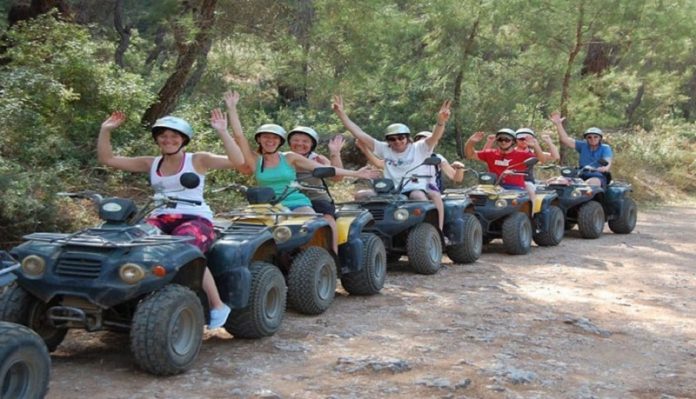 Joining in Bodrum Quad Safari is what you exactly need if you want to have a memorable day in beautiful Bodrum by riding an off-road vehicle! This vehicle has 4 wheels and powerful engine enough to make you feel as the conqueror of Bodrum's nature's wonders! You will say goodbye to the shores of Bodrum for a couple of hours and enjoy a path twisting along the depths of nature, mountains, forests and amazing sceneries.
Excited already? We bet you are! If so, feel free to keep reading and learn more about this lovely adventure admired by many adrenaline addicts!
What is A Quad Vehicle?
A Quad vehicle, or ATV, is a type of motorcycle with 4 huge wheels designed specifically for off-road experiences. It has a strong engine as well as 2 seats for one passenger and one driver. Also, it has no doors or ceiling, so you can feel the every part of nature during the ride!
As an important note, you don't need any type of driving license for this journey!
Training Before Riding the Quad Bike
In this activity, Bodrum Quad Safari, you first come to the special track's starting point. This area is far away from the crowded places in the city; actually, it is in the center of nature. Isolated from uproar, have a nice breeze and surrounded by natural elements… You will love the experience even at the first seconds!
In the field, you are met warmly by professional instructors. They give detailed information about the ride, safety procedures, equipment, route, timing etc. After getting a lot of information, you take a training session. Since you will be taught the basics to ride it, you will practice driving for a short time and get fully ready!
Amazing Quad Safari into the Nature
Then, you will leave the field as a Quad convoy. Along a path that divides the natural settlements, you will be riding the Quad bike on your own or with your beloved one. During the session, you will observe amazing places at a glance –sometimes panoramic sceneries will be there to bless your soul. Tweets of birds, scents of flowers, and exciting natural obstacles such as muds and puddles… Huge amount of fun and joy awaits you!
After a couple of hours, you will ride back to the fields and leave the place.
In the end, you will have a life-time memory in Bodrum!
The Best Bodrum Quad Safari Tour
We can imagine you cannot wait for signing up for this amazing adventure. If so, you can start searching for information for the quad tours in Bodrum. Yet, if you don't want to waste your time on research process, we would like to introduce you the best one: Excursion Market's Bodrum Quad Safari!
Since they have a professional and friendly team and very affordable prices, this team will offer you the best option. As well as quad safari, you can also check other Bodrum excursions they have and make your holiday in Bodrum totally unforgettable.
Have a nice vacation!