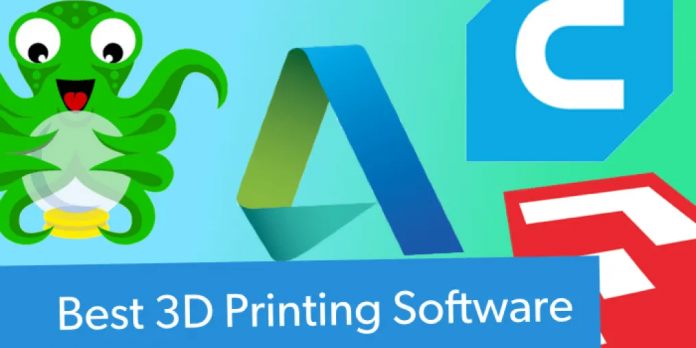 What is 3D Printing?
3D Printing is the making of three-dimensional objects. In the 1980s, this term was known as "Rapid Prototyping". It helps to make complex shapes and objects, that would be otherwise impossible to construct by hand. Using special software, you can build 3D objects that are then used in various fields, such as simulation, architecture, civil engineering etc.
Pros of 3D Printing:
Following are some advantages of using 3D Printing Softwares:
3D Printing allows producing complex geometry that cannot be made manually. With just a blueprint and a 3D printer, you can print anything.
It saves time by quick production of prototypes in less time than using a conventional method. If you have made a prototype, you can modify it and create a new prototype, thus enhances speed and decreases expenses.
It is less expensive than conventional methods. Although setup cost is much higher, once setting up the apparatus, you have to spend no more money. Using 3D printing technology, you will find out that cost of producing products is equal for small-scale and mass manufacturing.
If we Using 3D Printing, the excess raw material is never produced. It means that all your material is used in your finished product, and there is no leftover material.
One of its main advantages is "Single-Step manufacture". The printing machines run independently of the machine operators. Even a single operator can run multiple 3D printing machines. Thus it reduces the labour cost.
Cons of 3D Printing:
Although 3D Printing has multiple benefits, this process is also associated with a particular disadvantage. Some of these are explained below:
Although 3D printing technique cuts down the labour cost, 3D printing machines are still expensive compared to the conventional manufacturing machines. The 3D Printer is a costly item. Also, it requires some maintenance cost.
Using 3D Printing, we can use only 100 different raw materials. Whereas using conventional manufacturing machines, a large number of various raw materials can be used simultaneously.
The size of objects made using a 3D printing technique is tiny and limited. It means that we cannot make large-sized machines using 3D printing technology. However, in the future, large items can be created using 3D Printing technology.
As printing machines can run independently of the machine operators, it will decrease jobs. Machines will replace humans, and thus it will affect the economy of that country.
Counterfeiting is one of the most dangerous aspects of 3D Printing. If blueprint of your product gets in someone's hand, he can make that product for himself. Thus, companies manufacturing unique products will be significantly affected.
5 best 3D Printing Softwares:
There are several 3D Printing Softwares  and some are free 3d print software and some are paid. present on application stores. Some are free to install, while some cost money. We are going to explain to you the 5 best 3D printing software in the following:
Autodesk Fusion 360:
If we talk about 3D printing software, Autodesk Fusion 360 is the best 3D printing tool, designed till now. It is a 3D CAD, CAM and CAE tool. It allows user to built design at industrial as well as mechanical level. It is designed by "Autodesk". Some of the features offered by Autodesk Fusion 360 are listed below:
Mesh Modeling.
Solid Modeling.
Parametric Modeling.
Assembly Modeling.
a) Advantages of using Autodesk Fusion 360:
It allows you to print objects of any shape efficiently. The detail and ease of creating are impressive.
Autodesk Fusion 360 provides good customer service. In case of any issue, the designer helps you out quickly.
It is a useful tool for beginners. It includes a beginner's guide that helps user to learn the designing skills rapidly.
b)The disadvantage of using Autodesk Fusion 360:
Sometimes, you will experience some bugs, but the Autodesk is very efficient and launches updates every week to remove these issues.
Due to the presence of a lot of features, the user may get confused.
As we said earlier, Autodesk launches updates every week, sometimes it irritates the user.
c)Pricing:
Its package starts from $40/month.
Ultimaker Cura:
The user interface of this tool matches the workflow of the user. It is designed by "Ultimaker", which is a Netherlands-based leading 3D Printer manufacturing company. It is an open-source software tool. Some of its features are listed below:
Custom Mode gives 400 settings for granular control.
Integrated workflow.
Remote Printing.
Team Sharing.
Manage Multiple Printers.
Admin Console.
Queue management.
a) Pros of using Ultimaker Cura:
Ultimaker Cura is free to use.
Ultimaker cura receives regular updates.
Ultimaker Cura is an open-source software tool.
b) Cons of using Ultimaker Cura:
Due to custom mode, a lot of time is required to customise its settings.
The processing speed is slow.
c) Pricing:
It is free to use.
MeshLab:
It's a popular printing tool used for designing 3D triangular meshes. It allows the user to edit, heal, render and convert meshes. It is intended by "MeshLab". Some of the features provided by MeshLab are listed below:
STL compatible.
3MF compatible.
OBJ compatible.
File and meshes are edited.
It has integrated 3D modelling.
Cloud-based platform.
Standalone Slicer.
a)Pros of MeshLab:
It provides 3D colour mapping and texturing.
It provides an easy way to clean and render meshes.
It's open-source and free to use.
b)Cons of MeshLab:
It's user interface lacks some basic designing options.
While using 3D MeshLab, you will notice that several buttons have multiple functions.
c)Pricing:
It is free to use.
Solidworks:
Some of the top designers prefer Solidworks due to a wide range of tools and features offered by it. It is designed by "Dassault Systems". Some of its highlights features are explained below:
Library services.
Conceptual design services.
Advanced surfacing.
Mould Design.
Design automation.
a)Pros of using SolidWorks:
Allows you to rotate a 3D part to see any angle you need.
Easy to work with.
Easy to use drilling and tapping options.
Free to use.
b)Cons of using SolidWorks:
PDM interface should be modernised.
Updates require regular subscriptions.
Need to improve 2D drawing tools.
C)Pricing:
Free to use but subscription also available.
Tinkercad:
TinkerCad is a 3D modelling and designing tool available free for educational purposes. TinkerCad comes with the easiest to use interface. It provides you with almost all the designing features. Some of these features are listed below:
Support STL Files.
3MF Compatible.
OBJ Compatible.
Standalone Slicer.
Downloadable Applications.
Mesh repair.
a) Pros of TinkerCad:
TinkerCad is an excellent baseline CAD program. Easy to train people.
Can build complex shapes with its prebuilt features.
It is free to use.
b) Cons of using TinkerCad:
Workspace is a little trickier to use.
Less important extension support.
Internet is required to use tinkercad.
c) Pricing:
It is free to use.
Our Verdict:
3D Printing technique is far better than conventional subtraction method. Although this field requires further innovation, it is cheaper and easier to use than the subtraction technique. If you are willing to do 3D Printing, Autodesk Fusion 360 is the most compact 3D printing tool. If you are a beginner, Tinkercad is right for you. All the above-explained software tools are authentic and easy to use.