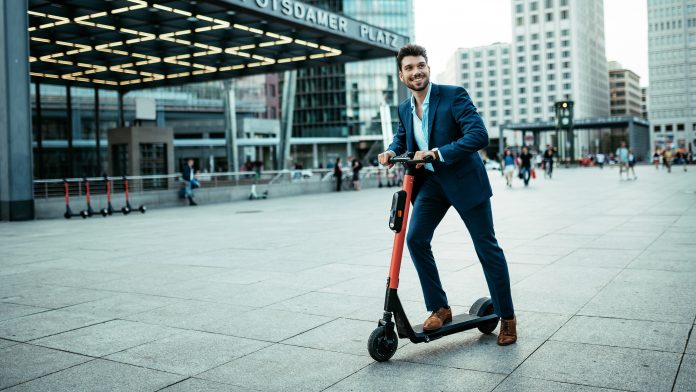 Many people still dismiss electric scooters as simple gadgets, but in truth, electric scooters in Canada are treated as a real vehicle.  So, are electric scooters legal in Canada? Would you need a license or insurance? Here, we will answer those questions.
The legal requirements to ride an electric scooter in Canada are classified under Federal law. Meaning, each province in Canada is allowed to make changes like age requirements and where they are permitted to be operated.
Electric Scooter Laws in Canada: Summary
At the moment, some provinces in Canada have launched their pilot projects. However, as mentioned there are a number of regulations that are distinctive to all eight provinces. 
Electric scooters in Canada are limited to a power output of 500W and are limited to a maximum speed of 24 km/h. 

It is fairly easy to get an electric scooter from many online stores (you can import and export these power-assisted bicycles without any severe restrictions), unlike cars and some other vehicles. However, their usage is still fairly restricted. In some provinces, for example, electric scooters are not allowed on certain lanes, paths, roads, and thoroughfares. These restrictions mainly depend on the local municipality regulations and not federal laws. 

Age restrictions of drivers vary from province to province (again, this is based on local municipality regulations). Also, some regions

do require a license

to ride an electric scooter. 
Electric Scooter Laws in Different Provinces
Province of Alberta
At the moment, private electric scooters are not allowed in public areas in Alberta, due to the provincial rules regarding small vehicles. 
However, rented scooters through various ride-sharing services (Lime and Bird Canada) are allowed for a maximum speed of 20 km/h. You can ride scooters in bike lanes, shared paths, and roads with a speed limit under 50 km/h. Electric scooters are not allowed on sidewalks in Canada.
Also, you must be 18 years old or older to ride an electric city in Alberta, and the law insists that you must always pass on the left. Using the bell on the electric scooter to alert others are also required. 
Province of Ontario
Effective on January 1, 2020, the province of Ontario has launched a new pilot to permit electric scooters on Ontario's roads, and the key elements of this pilot are:
Must have 2 wheels and brakes

Must have horn/bell

No pedals/seat allowed

Must have a white light on the front, at least one red light on the rear, and reflective material on the sides

A maximum speed of 24 km/h with a maximum power output of 500W

Maximum weight of 45 kg

Must be at least 16 years old

No passengers or cargo may be carried

No baskets

Riders must stand at all times

No license required, but bicycle helmet required for drivers under 18 years old

Maximum wheel diameter is 17 inches

Not allowed on controlled-access highways
More specifically, Toronto is building new bike lanes and introducing new campaigns to teach riders how they can benefit from having an electric scooter. Scootering is only allowed in these new bike lanes, and there is a $60 ongoing fine for anyone older than 14 riding an electric scooter on sidewalks. Also, you can't use electric scooters on park multi-use lanes in Toronto, or you'll risk a $305 fine.  
Ottawa follows almost the same rules as Toronto, but there are some exceptions. In Ottawa, electric scooters are allowed on rural pathways and any bike lanes that are separated from pedestrian walks. 
Province of Nova Scotia
In Nova Scotia, electric scooters are in a bit of a legal loophole. You will see electric scooters anywhere around downtown Halifax these days, but there isn't much in legal regulations about where and how you can ride them.
Nova Scotia's Motor Vehicle Act currently doesn't have anything on electric scooters, and so the lack of clear rules mean you can currently ride the scooters on both sidewalks or on streets. It is well expected that Nova Scotia's traffic laws will be updated to regulate electric scooters, and so we'll have to wait and see. 
Province of Quebec
Electric scooters are also allowed in Quebec as a part of a pilot program for the province. However, Quebec has stricter rules regarding electric scooters than Ontario, and the scooters must:
2 yellow/white turn signals on the front, and 2 yellow or red turn signals on the back

2 yellow turn signals that can be observed from both the back and the front of the scooter

Must weigh less than 45 kg
All riders in Quebec must pass a certification course (and agree to provide data for the pilot program). The proof of this training must be carried at all times when operating an electric scooter. The riders must be at least 18 years old and are not allowed to carry any passengers, cargo, or pull/push trailers. 
You can use an electric scooter in Quebec on any road with a speed limit of less than 50 km/h, except when crossing such roads at intersections. 
However, an unsuccessful pilot program in Montreal in summer 2019 has caused the city to ban shared electric scooters citywide, but privately-owned electric scooters remain perfectly legal. This is mainly caused by how citizens of Montreal were dropping the shared scooters everywhere and not on the designated parking spots, which has disrupted the traffic.
Conclusion
Electric scooters are allowed in at least 4 provinces in Canada, and while many provincial laws are still not optimal, we can expect it to be better in the future with provincial governments have started taking measures to make their provinces more friendly to electric scooters due to clear demand from Canadian residents and due to the eco-friendly nature of the vehicle. 
Laws for electric scooters in Canada can be confusing at the moment, and it's understandable if you still have questions. Don't hesitate to ask us if you still have further questions on the subject, and we'd be happy to answer.