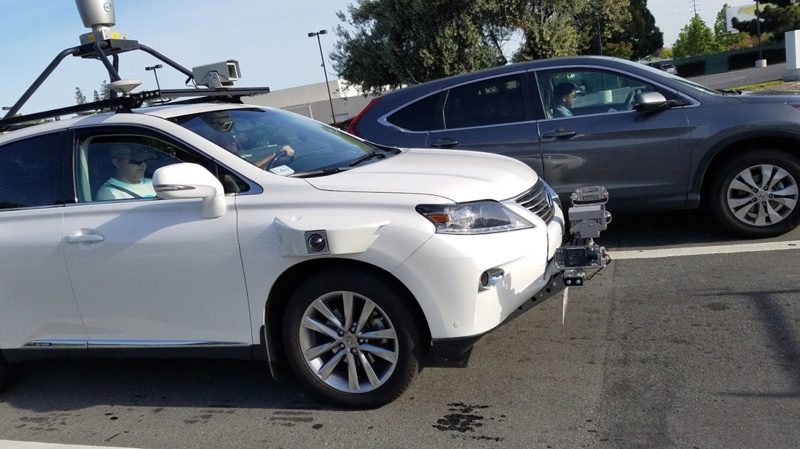 These days there are a lot of improvements, especially in gadget and gizmo world. We already know that in the year of 2016, Google launched their prototype self-driving car and putting real human inside the car on the real world because they are confident enough to put their project to be mass produced and used by a lot of people. Not long ago, Apple and Lexus did a collaboration in the same terms which is self-driving car.
Self-driving car has been promoted into the surface by some big brands such as Google and Apple. The increasing number of accident caused by human errors is the vital key of the development of self-driving car. Although there are some people consider this development useless, but those two big brands insisted to invest their money in this self-driving car project. Even though the early price on the market will be expensive, the development of self-driving car is progressing pretty quickly. Demands from people also what makes some companies working much harder to invent a new experience in driving. As we know, computer hardly does mistakes. By using a certain software, a self-driving car can avoid fatal accident and protect the driver from further harm. A self-driving car also has another abilities such as calculating when and where to stop, maintaining speed to prevent accident, prioritize space efficiency during traffic jam, and many more.
Google is the first company that creates a self-driving car. In 2013, Google started this project and its name is famous now and called Waymo. Waymo itself have proven significant progress. The total mileage done by Waymo is expected to be at 3 million in May 2017, flourishing greatly from 1 million on its debut in June 2013. Then, google started this project in real traffic and road in 2016. A lot of road has been traversed by the car, especially on Kirkland, Mountain View, Metro Phoenix, and Austin. Although it only touch real traffic road for a year, there are many people interested in this car and this is what makes google developing the Waymo by encouraging people to try their early ride program.
A year later, a company that works in similar world to Google, Apple Inc., started their project in self-driving car cooperating with America's famous luxury car brand, Lexus. Lexus offered its RX450h SUV model to be tested in this project. The reason why they use SUV is comfortability and safety. We know that SUV cars have more space and can be equipped with formidable engines to tackle all possible terrain condition, especially the city traffic and road. The RX450h itself is one of three RX variant that excels in luxury sport which is coming from Lexus. The 450h is used because of its hybrid performance, so people who prefer manual or automatic car can enjoy their desired experience when experiencing the car. The interior and entertainment features installed on the RX are very good. They installed Mark Levinson Audio and you can watch anything you want on backseat because it is equipped with dual screen Rear-Seat Entertainment System. There is also intuitive 12.3 Inch widescreen multimedia and Heads-Up display to let you experience intuitive technology.
The Apple Company revealed their project with Lexus in late April 2017. The truth is that Lexus RX450h is being tested by the manufacturer at that time. This is where Apple comes in. They make a collaboration with Lexus, and they tried to formalize the collaboration in the paper in order to achieve the requirements needed so self-driving cars can be manufactured and can be tested in the country. Some media have managed to get a short footage about the related car and action (they saw the car in one of the testing ground for it in Silicon Valley, one of the place where Apple has a prominent presence).
The car in the talks look similar in the outside, compared to the Waymo car of Google. The launching of this Lexus and Apple car is located near the Waymo car company, which is very near from the location of Apple's HQ in Cupertino. Similar equipment with the Waymo car are installed into the Lexus such as LiDAR, radar, and optical cameras. All off those equipment are pretty much detachable and off the shelf components. So we think that those external components are coming from Apple, this also include Velodyne's top of the line LiDAR unit which is placed at the roof of the car and extends a few feet out from the roof.
If we look closely and pay attention to the shot taken by the media about the information in the DMV, which is already been seen by public by a request, we can conclude that Apple is still at a very premature stage in its autonomous technology program compared to other companies that work in a same field. Those seniors of Apple in autonomous technology are Waymo with their nearly a decade development and Uber. But, the shots and the information we have seen may lead Apple to carve a new road, by expanding themselves into autonomous technology and this, include a self-driving car. The equipment installed on the car is lack of any obvious parts, so we can also conclude that the Apple is still struggling to develop their software regarding the self-driving car. A lot of people are eager to see the development of this project by Apple, and of course we also curious about when the Apple will put their project into the real traffic and road.
So after, we knew that Apple and Lexus is collaborating in self-driving car test program, we could expect that in the near future, Apple will make a sufficient software that works well on road installed on the car as a great self-driving car in the world. The footage and image shown by the media feels like a short glimpse of a newly found white whale species, rare and creating curiosity for those people who love gadgets and gizmos. The test is already done, but who knows, maybe in the near future, we could see another car installed with odd equipment provided by Apple as their self-driving car project.