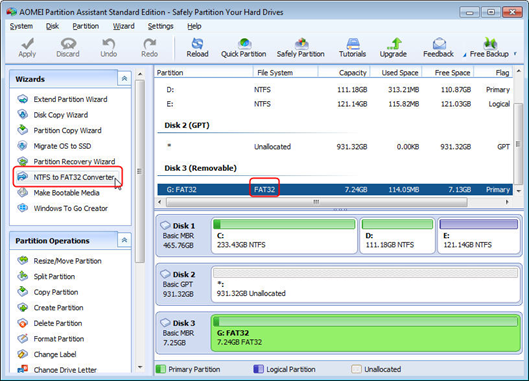 As all we know, FAT32 and NTFS are two most commonly used file system when formatting partition. They are created for keeping track of files in the hard disk. FAT32 is used in earlier versions of Windows like Windows 95, Windows 98 and so on, it is compatible with more devices such as game consoles including PS3 and XBOX360, but it does not have the security that NTFS provides. Usually, you'll find that the default format of USB drive is FAT32. Convert FAT32 to NTFS is easy, but it's not so easy to convert NTFS back to FAT32. AOMEI Partition Assistant's "NTFS to FAT32 Converter" is a professional and FREE software to convert NTFS to FAT32 file system without losing data, and it also supports to convert FAT or FAT32 to NTFS file system. AOMEI Partition Assistant is a partition magic for managing your disks and partitions. AOMEI Partition Assistant also supports to resize partition, extend partition, move partition, merge partitions on Windows 10/8/7/Vista/XP, etc. The latest version of AOMEI Partition Assistant is 6.3.
How to convert USB to FAT32 or NTFS with AOMEI Partition Assistant?
Step1: First of all, you need to download AOMEI Partition Assistant free. It works under Windows 7/8/8.1/10/Vista/XP. Then install and launch Partition Assistant. Your USB will be detected automatically. Now click "NTFS to FAT32 Converter".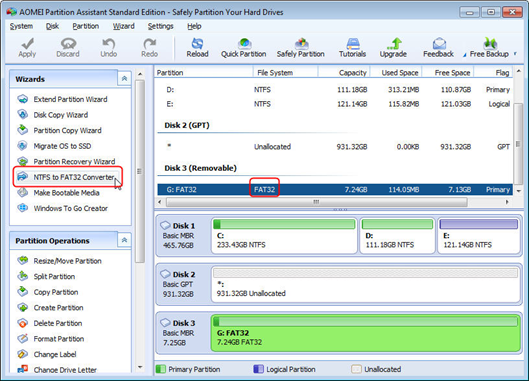 Step 2: In the pop-up window, choose the option you need.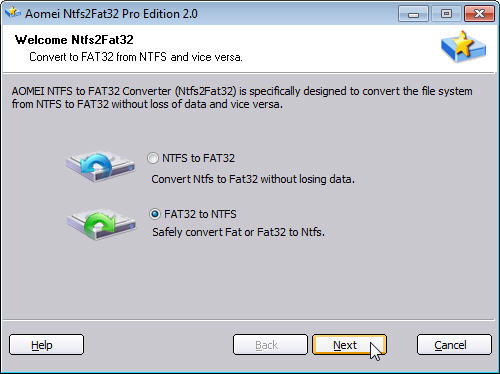 Step 3: The program will search required partitions. Select your USB partition and click "Next".
Step 4: You can view the pending operations here. Click "Proceed" to confirm. Please pay attention that if you have devices such as Xbox, PS3 and Android, make sure whether they need FAT/FAT32 file system or not.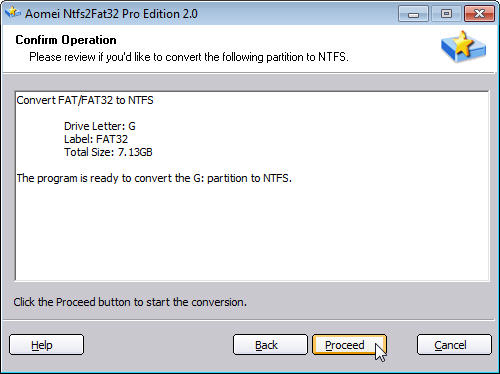 Conclusion
Apart from changing USB to FAT32 or NTFS, AOMEI Partition Assistant provides the function of changing FAT32 to NTFS or NTFS to FAT32 without formatting and data loss. AOMEI Partition Assistant is designed for Windows home users. It has other powerful features such as convert dynamic disk to basic disk, migrate OS to SSD, allocate free space, make bootable media, you can use it to manage your partitions easily and safely. Enjoy more advanced function and use it to maintain your partition today!