System clone or migration means to make an exactly same copy of operating system (OS) as the original one and transfer it to another storage device, like hard disk drive (HDD), solid state drive (SSD), etc. If you want to migrate operating system to another drive, like migrate OS to SSD or replace old hard drive with a new one can get a better running speed and performance. AOMEI Backupper can help you achieve all these operation. AOMEI Backupper is a best backup software that can help you to clone from large hard drive to a smaller SSD and clone from MBR disk to GPT disk is also available, you can easily clone system/disk/partition/volume to ideal destination path without interrupting any running programs.
How to clone Windows 10/8/7 to SSD or another HDD?
Step1, download AOMEI Backupper, install and launch it, and then select the "System Clone" option under the "Clone" tab.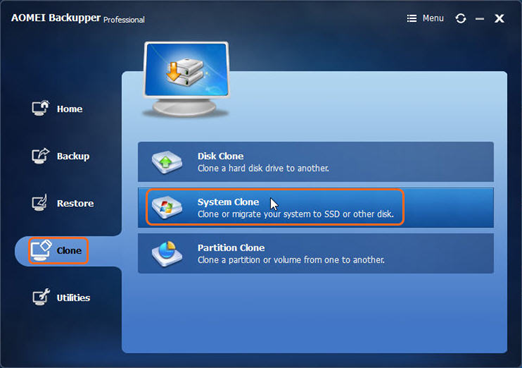 Step2, sometimes users don't know which partitions need to be selected so that the system will be bootable after cloning. Therefore, the program can automatically select source partitions for you. Here, you just need to select a disk that is large enough as new location (here is Disk1) for cloning system, and then click "Next" to continue.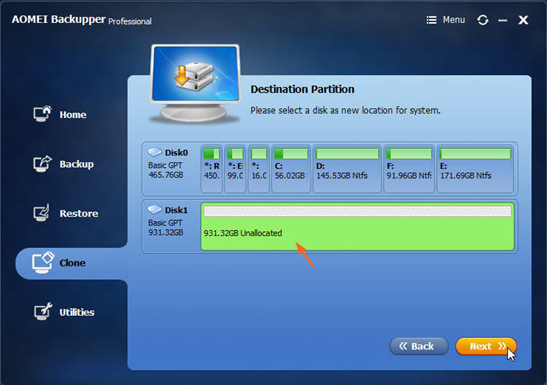 Step3, now comes the operation summary window. After you confirm the operations, you need to click "Start Clone" to perform the system clone.
Step4, after the system clone progress reaches to 100%, just click "Finish" to exit the interface.
After Words
AOMEI Backupper is not only a cloning software for you. Also, it has backup function such as system backup, system image backup, files/folders backup, partition backup.etc. Now AOMEI Backupper 4.0.4 has released! Try this backup and restore software to avoid the trouble of system crash or data loss!