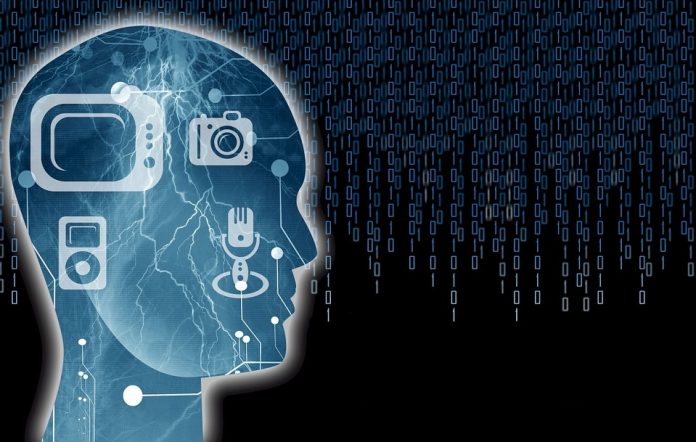 Technology trends are changing the way in which businesses interact with each other as well as with the users.  The technologies such as AI, IoT and blockchain will soon become the central element of the next generation business model. Researchers have shown that 61% of firms have now adopted AI, and their applications are in the initial stage.  We can say the same for IoT and Blockchain also.
Transforming your current business as a whole may seem impossible, but blending these new tools into the existing business system will do wonders for your ROI. So, embrace these three new trends in your industry to reap the highest benefit out of your selling plans. Together they offer vast potential for firms to rethink the way they sell.
Artificial Intelligence (AI)
AI is the advanced technology, which will bring needed changes to the country's economy. A study of 2,500 U.S. buyers and decision makers by PwC stated that business leaders think AI will be requisite in the future. Moreover, 72% named it as a "business advantage."
Firms have already used some AI apps in their day-to-day actions such as product ideas, the navigation system, chatbots, and many more technology trends you need to prepare for. However, these are the preliminary AI apps. Today, firms are working on the research as well as the growth of a more subtle AI system.
Reasons for firms using AI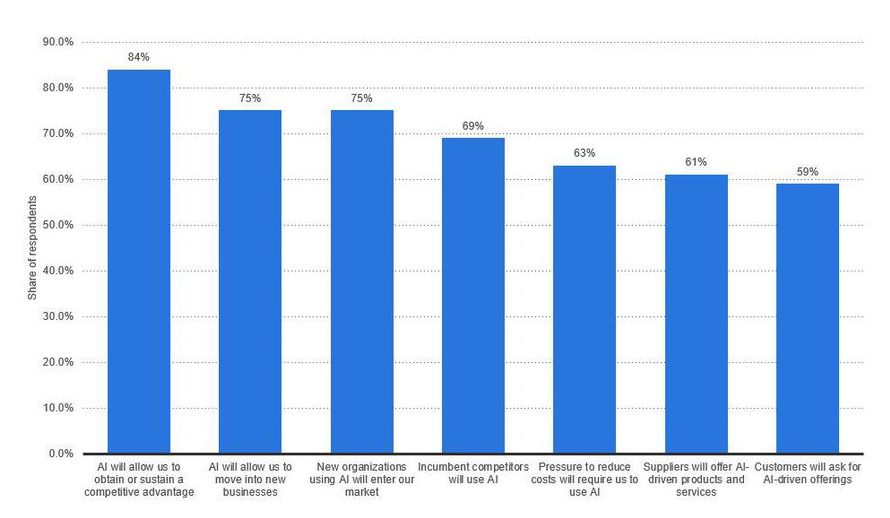 Source: Statista
Now, industries such as food, beverage, logistics, and more readily use built-in intelligent systems to run the supply chain and other tasks. AI hopes to enter many other areas such as cybersecurity, banking, marketing, sales, and healthcare to create a fluid experience for the users, and so forth.
Gartner says that AI will be virtually everywhere in the next ten years. The McKinsey report backs this comment by saying that AI is foreseen to produce from 3.5 to 5.8 trillion USD yearly by 2025. Hence if you are thinking of moving your business ahead without AI tool, stop it there itself.  AI will soon be a part of every business means making it vital for the survival of the brand.
Blockchain
Blockchain technology is actively removing intermediaries' role in the trade. It promotes direct interaction among the people and firms over the internet. It has now changed the way that the industries sell by giving more open, secure, and cost-effective data.
The technology has linked with Bitcoin and used in the fiscal system. Since the data stored in each block are safe and hard to tamper, firms began using this method in many areas. Today we can find them in places such as logistics, trading, energy control, travel insurance, data analytics, and more. Now about 90% of the major European and North American banks are exploring Blockchain.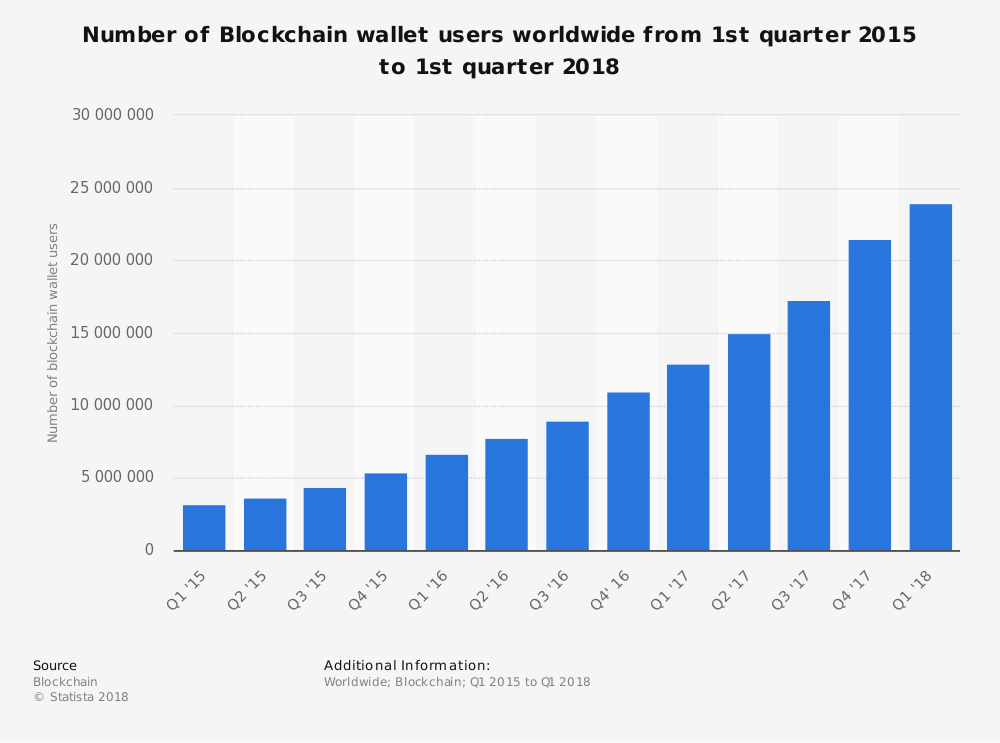 The above report by Statista tells about the total number of Blockchain wallet users in the world between 2015 and 2018 to 2019. It has risen since the birth of the Bitcoin in 2009, and it spread to 32 million Blockchain users at the end of 2018.
Therefore, you probably should try this scheme if you do not want to stay behind the sales race.  We are sure that Blockchain apps will show real value and create a lot of opportunity for your firm.
IoT
The IoT or Internet of Things connects many devices such as smartphones, home appliances, wearable devices, surveillance cameras, and more. Therefore, they can convey and transfer the data over the system without human intrusion.
Kevin Ashton, the father of IoT, says – We need to empower computers with their means of gathering information so that they can see, hear and smell the world for themselves, in all its random glory. RFID and sensor technologies enable computers to observe, identify and understand the world — without the limitations of human-entered data." Make use of technology users list, which lets you reach your right target prospects and help you grow your business along with the technology!
Ashton's dream will soon come true. The number of IoT tools are growing at the ever-increasing rate.  As per the Statista report, there will be more than 70 billion IoT devices connected by 2025.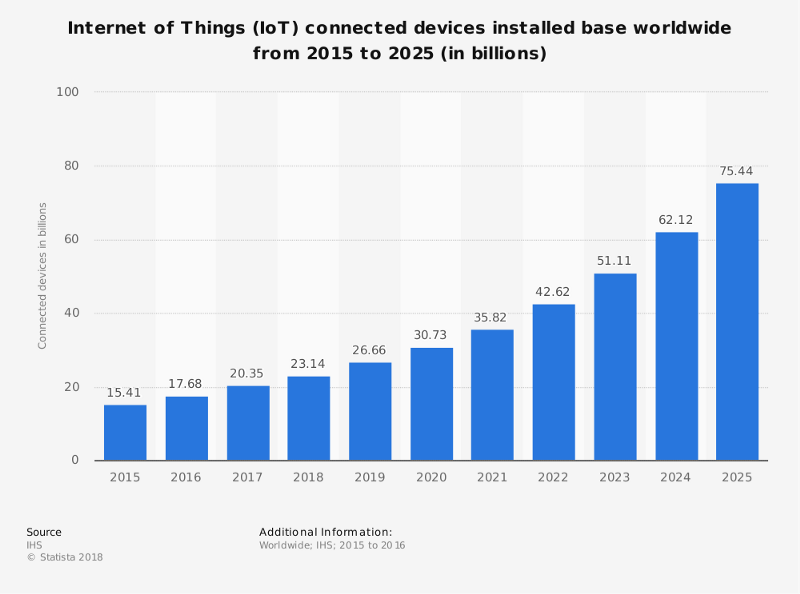 When you link IoT with other smart technologies, it plays a vital role in saving the earth. It is the other reason why IoT devices are seeing high growth rates. McKinsey's report states that companies can produce 11.1 Trillion USD by 2025 if they couple the digital and physical world. In addition, IoT also started drawing a large number of investments. According to Business Insiders Intelligence, there may be almost 15 trillion gross IoT investments by the year 2025.
All the major firms like IBM, Intel, Microsoft, and Oracle have adopted this technology long ago and funding in forming an IoT solution for their users. Since the adoption of these trends has become crucial for any industry's gain and survival, you can start adding them in your business this year, and renew the way you work.
As a final thought, you can align these trends to your present business plan than starting it from scratch. But some business leaders fret about the risks linked with this adoption and thereby do not take the next step towards progress.  While risk assessment is vital to your firm, you must not solely ignore the power of these trends.
With the help of experts, you can analyze the type of technology that suits your market needs. At the same time, the executives must also address the adverse impacts of these trends, including job replacement and privacy issues without fail.
———————————————————–
Author Bio:
Clara Beck is a Business Manager at Thomson Data based in Plano, Texas.  She's best known for writing about small businesses, entrepreneurship, and technological innovations. Connect with Clara on LinkedIn.