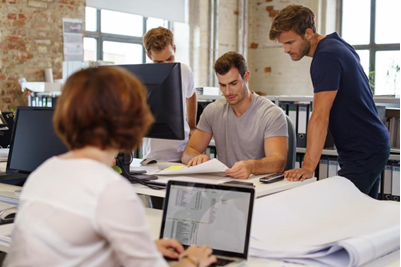 Thinking of pursuing a career in enterprise architecture? Here's a comprehensive guide on how to become an enterprise architect
Do you want to get a high-paying job in IT? That's a smart thing to do because that's where the future is at.
An enterprise architect is a position that you shouldn't overlook. You can develop your IT skills, guide the executive team, and bridge infrastructure with an organization's goals.
It's a sought-after position, especially since more companies are taking a holistic approach to IT. You can position yourself to meet these challenges in your IT role.
Read on to find out how to become an enterprise architect and land that coveted job.
The Typical Day of the Enterprise Architect
An enterprise architect is unlike any other IT position. In the past, IT departments worked separately from the other departments of an organization.
They were tasked to make sure that systems worked. It didn't matter how they just needed to work. This would create an environment that could be incredibly inefficient for companies to implement.
As companies came to rely on technology networks for more business functions, IT departments became integrated into the organization.
As a result, businesses recognized the need to have IT work with company objectives in mind. Enterprise architecture combines the IT department and aligns it according to the company's strategy.
It's the job of the enterprise architect to guide this process for the company.
The Skills to Fit the Job Description
You have to have a certain skill set to be an enterprise architect. It's your job to develop policies and that the IT department complies with any regulations, such as HIPPA.
The enterprise architect will also meet often with the company's executive team. You have to present ideas and accept feedback on ways the infrastructure can support the company's goals.
On top of that, you need to hire, train, and manage IT staff.
How to Become an Enterprise Architect
Now that you have an idea as to what an enterprise architect does, how can you get started as an enterprise architect? Take a look at some of the basics to become an enterprise architect.
Self-Assessment
The first place to start is to take a self-assessment. You know how demanding this position is. You need to lead, train, and create policies.
You need to be a strategist, a people person, and a technical genius. Doing a self-assessment will tell you which skills you need and which ones are solid. That will give you a chance to improve and be better at your work.
Education and Certifications
You'll see a lot of the same education requirements for enterprise architecture. At a minimum, you'll need a bachelor's degree, usually in business information systems or IT.
After your degree, certifications to show your in-depth knowledge of enterprise architecture will be very important. There are different enterprise architect certifications to choose from. Take your time a understand how each one will position you in your job search.
Network for Your Dream Job
Is there a company that you already have in mind? You'll want to see what kind of opportunities exist for enterprise architects. You can attend meetings of IT professionals in your area.
Another option is to get on LinkedIn to connect with hiring managers at your target company or companies. By contacting them early on in the process and making an effort to get to know their needs, you can position yourself to have the skills and experience to get an interview.
Resumes and Interviews
You need to have a resume prepared to send out to recruiters and hiring managers. You'll also want to upload this to your LinkedIn profile.
Keep in mind that most large organizations get hundreds of resumes per job opening. To help HR staff sift through the stack of applications, they'll use programs that focus on certain characteristics for job applicants.
If you get past the initial computer algorithm, you'll go to the next step of having your resume seen by a person. If they like what they see, they'll contact you for an interview. The lesson here is to customize your resume according to the company and the recruiter.
The resume should include verbiage that seems most important to the employer. You can usually find that in
Follow the Trends and Changes
As an enterprise architect, your main job is to guide the overall IT strategy so it aligns with the strategy and objectives of the company. About 90% of enterprise architects are involved in technology innovations in their organization.
You have to take a big-picture approach and see where technology is changing and how your business can benefit. You may see something like artificial intelligence or cloud computing having the ability to cut costs and improve systems.
The mistake that a lot of enterprise architects make is that they see changes and tell executives that they have to adapt right away. It's like following a shiny object because it's a trend.
You have to have the ability to discern what emerging technologies the company should adapt because it will help reduce costs or meet other company goals.
Telling your company to adopt one trend after another with zero results will put your credibility at risk. It can also lead to very costly mistakes that can cost you your job.
Take the Next Step to Become an Enterprise Architect
If you want a cool IT job, enterprise architecture is the way to go. How to become an enterprise architect starts with understanding the position.
It's a high-level position that requires a strategic mind that sees the long-term and has minute technical knowledge. You also have to be a stellar communicator to get your company's executives and employees on board with your vision and various projects.
You may be surprised to learn that you're as much of a salesperson as you are a technical guru at your company. You'll also need to have a rich mix of skills, certifications, and experience to land the dream job. Once you do, you'll be able to have a job that makes a lot of money and won't ever bore you.
Do you want more great tips? Check out this site again to stay up to date on the latest technology trends.