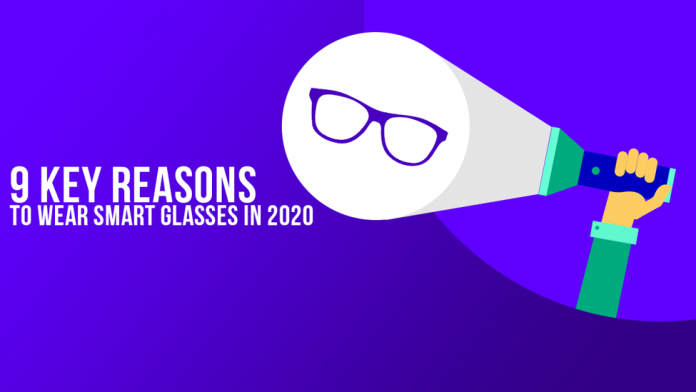 As technology evolves in an unrelenting fashion, smart glasses have started to make inroads into the mainstream. This year marks the beginning of what is to come next, as more people have started to open themselves to the idea of adopting something spectacular. No matter how daunting tech eyeglasses may seem in the current state of affairs, they will soon become a regular wearable technology in the foreseeable future. If the inevitable is going to happen anyway, why not stay ahead of the curve? Read on for five top reasons why you should give wearing smart glasses a try.
A Cutting-Edge Device
Although smart eyeglasses are only a precursor to a lot more advanced tech gear, they are easily one of the most sought after products in the market owing to its novelty. For instance, imagine yourself going out with a friend without your phone because these glasses will be the only thing you'll need. You can easily make calls, listen to music, surf the web & do so much more with this eye accessory.
A Plethora Of Applications
It's no secret that there's always a deluge of applications once cheap eyeglasses go mainstream. There would definitely be something in store for early adopters in terms of enjoying what benefits various apps could offer. Whether it's organizing your checklist or searching the internet for your favorite cooking recipe, there would be a native app designed ergonomically for users.
Always Stay Connected
Smart glasses enable you to express yourself by means of vlogging on the go. You can always maintain an unbreakable connection with your loved ones, share experiences & make memories to cherish for years to come. Moreover, with the help of a built-in camera, tech eyewear is the next big thing in taking pictures when it comes to wearing a hands-free device.
Customize To Perfection
Although these aren't your regular safety glasses, smart eyewear offers the same level of customization in terms of colors & size. As tech iterates on improving itself, people would be able to personalize their tech eyewear just like any other regular ones. Soon you will be seeing them in a wide range of options to let you choose the one that resonates with your aesthetic preferences.
Train Smart
Just like other wearable technology, smart eyewear is meant to organize your training schedule in the best possible manner. You don't even need your earphones to listen to your workout playlist in the gym when you have these. There's a whole lot of entertainment that you could get your hands on!
Visual Appeal
Tech glasses will only become more comfortable to be able to wear for long hours. Moreover, they will soon become a fashionable accessory for everyone, just like other tech gadgets that have become something that people purchase to show off to their peers. Just like other contemporary eyewear, smart eyewear will transcend into various styles & designs for the sake of mass appeal.
Navigational Maps
Enjoy real-time navigation with the help of integrated maps. Instead of glancing towards your smartphone for directions, you will be seeing guidance on a real-time basis in front of you. This ensures a distraction-free view that keeps you focused on the road & be more aware of your surroundings.
Seamless Gestures
Tech glasses come integrated with intuitive gestures to give commands & dictations. This is the ultimate hands-free experience offered by any other wearable technology. Feel free to send emails using only voice dictation or head movement gestures.
Augmented Reality
Probably one of the biggest reasons why people will start adapting to this technology. Smart glasses will offer the ultimate AR experience that any technology could offer. The sky is the limit for various AR games here. On the whole, as new applications emerge, tech eyewear will become a staple product for AR applications.